Tropical Storm Ida, no longer a hurricane, quickly closed in on the Gulf Coast today with winds of 70 mph, and landfall was forecast for Tuesday morning near Mobile, Ala.
The National Hurricane Center said tropical storm warnings extend from Grand Isle, La., eastward to the Aucilla River in Florida, which is roughly the eastern end of the Florida panhandle. The warning zone includes New Orleans and Lake Pontchartrain.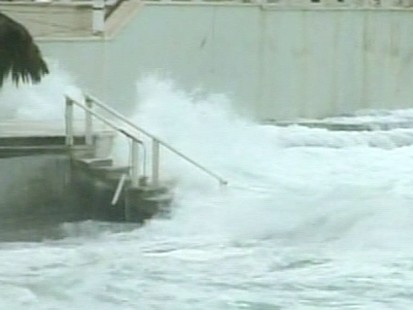 The governors of Florida, Louisiana, Alabama and Mississippi have declared states of emergency, and though mandatory evacuation orders were canceled, people in low-lying areas or mobile homes were still urged to get out of the storm's way.
"People are already heading out," said Grand Isle resident Neal Perrillioux. "They aren't taking any chances."
Four years after Hurricane Katrina, some 1,700 families in Louisiana and Mississippi still live in federally issued trailers.
The first bands of rain began to pelt the coastline in Alabama, Mississippi and Louisiana midday today. Forecasters said residents in the warning area could get 3 to 6 inches of rain, with as much as 8 possible in some spots.
Early this afternoon Ida was moving to the north-northwest at 18 mph. Its center was 110 miles from the mouth of the Mississippi River, and about 220 miles from Pensacola, Fla., said the hurricane center.
The storm is projected to make a sharp easterly turn after landfall -- bad news for western Florida and south Georgia. Parts of north Georgia, which had record flooding in September, were told to expect an extra 4 inches of rain.
Early this afternoon Craig Fugate, the head of FEMA, the Federal Emergency Management Agency, issued a statement: "This storm is a reminder of the importance of personal preparedness and, whether you live in the Gulf Coast or in another region of the country, I encourage you to visit Ready.gov and make sure your family has a disaster plan."
Stretches of southeast Louisiana that do not have levee protection are one concern. Forecasters say those areas could have flooding.
There are economic consequences as well, even with the storm still out on open water. The price of crude oil rose $2 today, to more than $79 a barrel, as traders kept an eye on closed or damaged drilling rigs in the Gulf of Mexico.
November Hurricanes Rare
Ida has been an aberration after an unusually quiet Atlantic hurricane season. It was only the third storm of the year to reach hurricane strength. Meteorologists said that's probably because of El Nino, a giant swath of warm water that periodically forms along the equator in the Pacific, rearranging the jet streams that blow over it and keeping storms in the Atlantic from wandering very far north.
The Atlantic hurricane season typically peaks in September, and ends Nov. 30.
Ida still managed to cause extensive damage As it crossed over Central America late last week, it caused at least 124 deaths in El Salvador and destroyed 500 homes in Nicaragua.
But some people calmed as word came that the storm was losing strength.
"Even though we're telling everybody to be prepared, my gut tells me it probably won't be that bad," said Steve Arndt, director of the Bay Point Marina Co. in Panama City, Fla.
ABC News' Suzan Clarke, Rich McHugh, Sabrina Parise and Monica Nista contributed to this report. Additional reporting from The Associated Press.