ABC News on the move Access ABC News anytime, anywhere. Click on the menu below to explore all of our services.
Mobile Website m.abcnews.com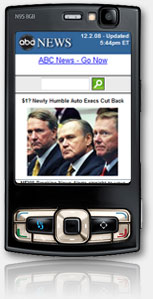 Get the latest in breaking news directly through your mobile phone or wireless device. Just type m.abcnews.com into your mobile browser for updates in entertainment, politics, global & national news and more.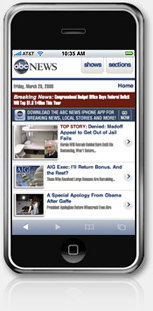 Use an iPhone, iPod Touch, Google G1, or Blackberry Storm? These devices feature our enhanced smart phone site where you can experience photos, blogs, podcasts, and more. Just visit abcnews.com/m on your mobile browser to get it all.