May 6, 2014— -- High school gossip has evolved over the years from a few nasty words scrawled in magic marker on a bathroom wall to anonymous apps that smartphone-savvy students can check instantly.
"Inadvertently, the people who developed these apps have created a digital bathroom stall for thousands of people to see," John Dodig, principal of Staples High School in Westport, Conn., told ABCNews.com.
The problem of hurtful words being transmitted over anonymous apps at Staples became such an issue that Dodig said his school received a "geo fence" from Yik Yak, a popular anonymous bulletin board app. The geo fence works by taking the school's latitude and longitude and blocking the app on campus.
The company said it has managed to geo fenced 85 percent of primary and secondary schools in the United States.
For people who don't know Yik Yak from Snapchat, here's a quick, decoded guide to some of the most popular apps on teens' phones.
Yik Yak
Originally targeted to college campuses, Yik Yak works like an anonymous bulletin board, displaying messages from people in a user's areas that can be voted "up" or "down" on the page.
Tyler Droll, founder and CEO of Yik Yak said the app was designed to be like "a city's central plaza or campus bulletin board."
"Yik Yak users interact with everyone around them," Droll said. "'Yaking' is the welcoming, authentic and anonymous version of tweeting."
Despite the fact the app's terms of use prohibit harassing, vulgar "or otherwise objectionable material of any kind or nature," it has turned into ground zero for gossip at many high schools and even shut one down in March after a bomb threat was posted.
In an essay for New York Magazine, a Staples High School student wrote about how the app transfixed and hurt students by becoming a source of gossip.
Among the messages written, according to the essay, were:
"The fact that O. P. has diabetes makes me happy."
"S. D. + 10 years = trailer park."
"When you write something nasty, all of a sudden everyone has seen it. It's terribly hurtful, embarrassing and leaves scars and creates another problem we didn't have to deal with [before smartphones]," Principal Dodig said.
Yik Yak's solution of putting a digital fence around his school was a huge help, he said, however, now it's up for the community at large to do its part.
"It really boils down to an extra effort on everybody's part to really focus on making kids aware that words can have lasting, horrible effects on people," he said.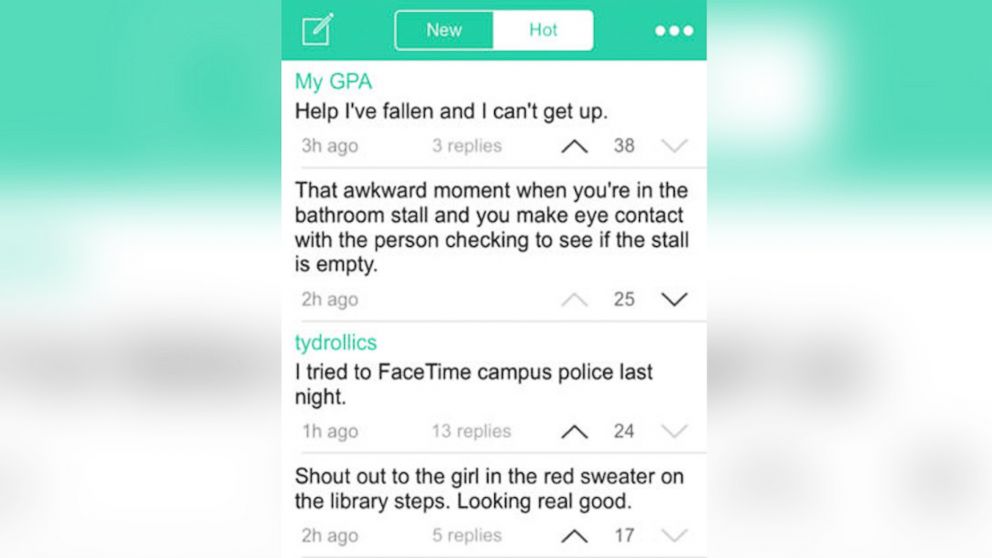 Gaggle
When Gaggle is used at its worse, users can see cruel words and provocative photos.
Before starting Gaggle, users are sent to a screen listing rules, including, no pornography and "NO bullying, period. That means no harassment, stalking, threats or harmful slurs."
The Katy Independent School District in Texas blocked the app from the district's Wi-Fi network this week after it became too much of a nuisance, according to the Houston Chronicle.
The app is similar to Yik Yak but also allows users to posts photos that can be voted "up" or "down" on the page. To make matters even more confusing for educators, there is another unaffiliated online learning tool also called Gaggle that helps students and teachers manage homework assignments.
What's the Difference Between Rumr and Truth?
Turns out, not much.
Both apps work by leaving strangers out of the conversation but instead let users anonymously send messages to their phone contacts, whether one-on-one or in group chats.
Opportunities for cyber bullying are still inherent in the apps, however on its website, Rumr says the boundaries make its app safer than others.
"Much of the concern with anonymity is due to the malicious and negative behavior it seems to attract," Rumr's website says. "Because many of the services have no boundaries, the malicious behavior is amplified. By introducing the constraint of keeping these chats between your friends, the environment becomes inherently safer."
Another app, Backchat, works similarly but allows users the chance to guess who has anonymously messaged them, turning it into a game.
Whisper and Secret
Ever heard the saying, "think before you speak?"
Secret and Whisper are billed as places where users can express themselves safely and anonymously by sharing their innermost thoughts.
Secret connects friends but doesn't tell them whose secret they're viewing. Whisper, however, doesn't let users know if they're viewing a friend or stranger's secret.