Earlier this month, I had a brief, close encounter with Steve Jobs at one of his New York stores. I found myself unexpectedly standing next to him as he nonchalantly perused his turf.
But instead of trying to collar him for a quick exclusive interview, as any journalist worth his salt would do, I did nothing. I froze.
As penance for blowing a rare opportunity, my editor had me ask you, ABCNews.com readers what you would have done in my shoes. We invited you to write in with the one question you'd ask the Apple mastermind given the chance.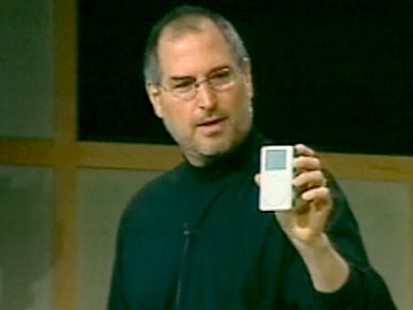 And write in you did. You submitted burning questions, technical questions, personal questions and inane questions for the
Apple CEO
. And as we sorted through the scores of e-mails you sent us, a few themes began to emerge. Below you'll find a few of the more representative submissions.
Heir Apparent?
If Steve Jobs could pick anyone to replace him at Apple, whom would it be? -- Calvin Hobbes, San Jose, Calif.
Can You Spare a Dime ...
Short, sweet, simple: If you are as unpretentious as [the] media [says], then could you please send me (1) one million dollars? -- P. Fox, Pittsburgh
... Or an Invitation?
Hi Steve, Been a Apple fan since System 6 on a Mac Classic, and would love to have a tour of 1 Infinite Loop, Cupertino, CA. -- Dave Grass, Macoun, Saskatchewan, Canada
Microchips for the Masses
I'd ask him how he could make his great products so more people can afford them. I'd also want to say "I hope you are doing well" but that might be too personal. -- Robert Smith, no home town given.
iPass on the iPad
Why, with all of the disappointment expressed by apple loyalists about the ipads lack of webcam and phone calling abilities, would you still move foward and release a product with the mindset that people would still be willing to buy it? You already know that the general public is disappointed with the product offering.
My opinion is that his thinking is that we don't know what we want and what is important and it is up to him to teach us the value of products as he sees it. -- Joseph Swipes, Wilmington, Del.
Now Hear This?
What is your best guess as to the timeline for voice recognition to replace typing/touch screen as the primary computer interface? -- Don Whitson, Dallas
A Better World Through Gadgets
All of your products work together seamlessly in some fashion or another. You are definitely building a digital lifestyle better than any other company. While not talking about future products being developed by Apple, what would be your own ideal, in terms of making life better, through gadgets, or otherwise? -- Daniel Rappaport, Beverly Hills, Calif.
Oh, What a Feeling
I would ask Mr. Jobs if Apple technology will ever coincide with the Auto Industry. With all the issues with Toyota lately, the auto industry could benefit from it. -- Jody Sanders, Los Angeles
Cover Me
I would ask him when the iPhone will be available on the Verizon network. I will buy one and switch to Verizon as soon as that happens. -- Mike from Washington
Ante Up
As a technology integration specialist and former health and physical education teacher, why is it we read about Bill Gates donating millions upon millions to create schools, establish foundations, and donate products to prepare today's students for tomorrow's world; yet we rarely hear about Apple or Jobs' donations to schools or students? Aside from the slim Educational Discounts students and faculty receive when purchasing an Apple product, why aren't Apple and Jobs donating more "recycled" products to less fortunate schools, both rural and urban? Why isn't he helping to build hi-tech schools for today's students, or at the very least, providing substantial monetary support for gifted and talented programs in public schools? -- Kristen Barth, Windsor, Vt.
No Regrets?
Steve if you could do it all over again, would you? -- JP
Closed Garden
Apple has always been a closed ecosystem of technology. You have always ideally wanted users to buy into a all Apple technology. Do you feel this is better than a PC (Microsoft) world that offers so much more in options for hardware like computer makers and software. Could you not expand your market by allowing more third party manufactures. -- Name Withheld, Mt Morris, Ill.
The Vision Thing
Steve Jobs, you are considered to be one of the most innovative visionaries of the 21st century. In your opinion who do you consider to be some of the other visionary leaders capable of taking our society into new frontiers of technology and industry? -- William Macklin, Indianapolis, Ind