Like it or not, it's a sport as old as school itself.
Whether scribbling with No. 2 pencils, whispering outside classrooms or yammering at home, disgruntled grade-school students have always found a way to criticize their teachers. And if they go too far, school administrators have always found a way to punish them.
But now, thanks to the Internet and online social networks, the line between protected and punishable student speech is blurrier than ever, leaving school administrators and students without a clear roadmap to follow.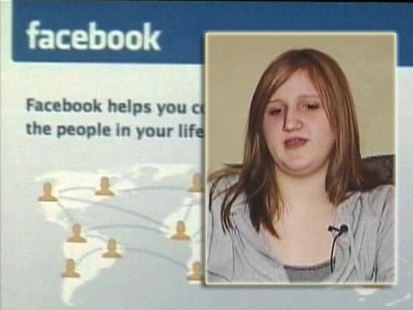 And even though three federal rulings on
online, off-campus speech
have been issued this month alone, legal experts and school administrators say it's still too early to tell where the hand of the law will ultimately land.
Free speech advocates celebrated this month when a Florida judge ruled that a high school student's Facebook page denouncing a teacher is protected by the First Amendment.
In 2007, Katherine Evans, then a senior at Pembroke Pines Charter High School, was suspended for three days and removed from advanced placement classes for creating a Facebook page declaring that her teacher was "the worst teacher I've ever met."
When Evans sued Pembroke Pines principal Peter Bayer for violating her First and 14th Amendment rights, Bayer filed a motion dismiss the suit.
Florida Judge Ruled in Favor of Student
In a decision dated Feb. 12, U.S. Magistrate Judge Barry Garber ruled in Evans' favor.
"Evan's speech falls under the wide umbrella of protected speech," he wrote. "It was an opinion of a student about a teacher, that was published off-campus, did not cause any disruption on-campus, and was not lewd, vulgar, threatening, or advocating illegal dangerous behavior."
In a statement, the Florida chapter of the ACLU, which represented Evans along with Florida attorney Matthew D. Bavaro, called it a "ground-breaking" case.
"This is an important victory both for Ms. Evans and Internet free speech because it upholds the principle that the right to freedom of speech and expression in America does not depend on the technology used to convey opinions and ideas," said Maria Kayanan, the organization's associate legal director.
Bavaro told ABCNews.com that he hopes other schools use this case as a lesson to help guide them in similar situations.
"We hope that this case settles a lot of ambiguity that may exist in the minds of school administrators in terms of their rights and their obligations under federal law," he said.
Third Circuit Issues Conflicting Rulings on Student Speech
Through Bavaro, Evans, now a 20-year-old student at the University of Florida, declined interview requests. Bayer also did not respond to requests for comment from ABCNews.com.
But others argue that though Garber found in favor of the student in this particular suit, the case law on this topic has hardly been consistent.
In a move that left many legal experts scratching their heads, on Feb. 4, two panels of judges with the U.S. Court of Appeals for the Third Circuit released conflicting decisions on lawsuits with extremely similar facts.
Both cases involved Pennsylvania students who were suspended from school for creating MySpace pages parodying their principals.
In Layshock v. Hermitage School District, a case over a fake page created by Justin Layshock when he was a high school senior, the panel ruled in favor of the student.
But in J.S. v. Blue Mountain School District, which involved a bogus profile created by a 14-year-old middle school student, the court found in favor of the school.
Attorney Anthony G. Sanchez of the Pittsburgh-based firm Andrews and Price represented the Hermitage School District in the Layshock case and said part of the problem is the quick march of technology.
Attorney: Law Has Not Kept Up With Technology
"The popularity of the Internet and the use of it to communicate with specific communities -- that didn't exist at the time of the most important decisions relating to the First Amendment in schools," he said.
One of those key cases was Tinker v. Des Moines Independent Community School District, a 1969 suit involving students who were suspended for wearing black armbands to school to protest the Vietnam War.
The ruling in that case said that student speech was protected unless it would "substantially disrupt the work and discipline of the school."
According to legal experts, by that ruling, student speech needs to advocate illegal activity or threaten physical harm to justify suppression. Speech that causes discomfort to teachers or administrators isn't disruptive enough, they say.
But that case only dealt with on-campus speech.
Sanchez said the rise of the Internet and online social networks have muddied the waters because now student speech created off-campus and spread online can still have on-campus consequences.
He said if Layshock had created a hard copy of the profile he created online and posted it on a bulletin board at school, the ruling might have been different, even though the content was the same.
Is Supreme Court Decision Needed to Resolve Online Speech Issue?
"It can't all be made on a geographic or territorial basis, but I think that is what's happening," he said.
In 1969, Sanchez continued, using a location analysis for student speech made sense because technology hadn't yet given students the tools to spread school-related messages off-campus.
But now that students spend so much of their personal and academic time online, he said, that analysis no longer fits.
School districts need to balance students' First Amendment rights with disruption or harm to schools and teachers, but given the current legal landscape, he said, "it's a landmine for school districts."
Though he said it's very difficult to predict which cases will attract the attention of the Supreme Court, he said "this is an issue that someday will probably reach the Supreme Court."
"There needs to be specific guidance as to what a school district can and cannot do when off-campus a student directs lewd, vulgar language to school communities about a school individual," he said.
Parent: 'Facebook Has Nothing to Do With School'
Dr. Jerome Melvin, superintendent of the North Syracuse School District in New York, agreed.
In January, when a student at a local middle school created a Facebook group critical of a teacher, the student behind the page as well as all of the students who joined the group were punished by the school, prompting a backlash among some parents.
In defense of the school's decision, at the time, Melvin told the local ABC affiliate, WSYR, "It's really undermining the effectiveness of the teacher as an instructor. ... What people don't understand is what happens away from the school like that can come into the school and disrupt the school environment."
When asked by ABCNews.com about the issue in light of the more recent rulings, he said, "It's pretty obvious that this issue is going to have to be resolved at the Supreme Court level. ... I think the Pennsylvania situation speaks for itself. There are a lot of conflicting opinions."
Some parents, however, think it's already clear that schools go too far when they punish speech originating off-campus.
"Facebook has nothing to do with the school. Kids have the right to hate a teacher," said Lee Anderson, a North Syracuse parent whose 12-year-old daughter was among those punished for joining the critical Facebook group.
He refused to let his daughter attend the detention she was assigned and said he wasn't alone.
ACLU: Schools Should Satisfy Same Standard as Police
"The school over-stepped its bounds in saying that my daughter didn't have a right to express her opinion," he said. "The school is not supposed to be raising my kid, they're supposed to be teaching my kid."
Witold "Vic" Walczak, legal director for the ACLU in Pennsylvania who represents both J.S. and Layshock, said that when the student speech occurs off school grounds, there is a higher bar for administrators.
"Our position is if schools want to regulate student speech outside of the school, they have to satisfy whatever standard the police would have to satisfy," Walczak said. "It's a very heavy burden."
Even so, he said, a school still has recourse -- it can call in parents and students and talk about how the speech may be offensive and disrespectful. If the students don't respond appropriately, he said, nine times out of 10, the parents will discipline the student appropriately.
Given the incongruity in the Third Circuit's decisions and the difficulty in discerning any guiding principle from them, he said the ACLU plans to ask that the court re-consider.
"We need clarity. We need to reconcile these two cases," he said.
Still, even given the conflicting decisions in Pennsylvania and Florida, Ryan Calo, a residential fellow at Stanford University's Center for Internet and Society, said the decisions are steps in the right direction and show that the courts are getting a better handle on speech rights on social networks.
Even though the rulings aren't consistent, he said they help clarify the factors judges use to arrive at their conclusions.
"The question becomes whether the speech is on or off campus, whether it's related to the school and whether it's substantially disruptive. In the absence of those three factors, it sets a dangerous precedent," he said. "These are difficult issues and I'm encouraged by the meaningful way in which the courts are engaging with the facts and the precedents."