A pair of boats stolen and then abandoned and a burglary may be the latest escapades in the on-going crime spree of a teenager who has alternately terrorized a group of small islands in the Pacific Northwest and won an international fanbase as an anti-hero.
Colton Harris-Moore, 18, is suspected in dozens of burglaries of homes and businesses and the thefts of four planes, each of which he crashed. Police, aided by federal agents, closed in on him in March in San Juan County, but he evaded capture yet again, sneaking off into the woods he has become so adept at disappearing into.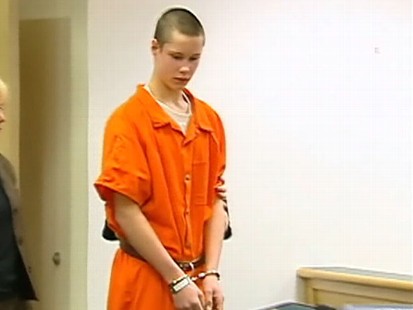 After the San Juan County Sheriff's Office received a report early today of a sport fishing boat stolen from a private marina on Lopez Island, and at the same time learned from the Coast Guard that the same boat had been found abandoned and floating off Camano Island in neighboring Island County, they put two and two together.
"This incident is being investigated as another possible criminal event involving Colton Harris-Moore," Sheriff William Cumming said in a statement released today.
The sheriff said the theft today may be linked a recent boat theft and burglary that occurred on San Juan Island.
Investigators from the two counties are working together on the cases, Cumming said.
Harris-Moore has been a thorn in the side of police in Washington's San Juan Islands for years, and officials have told ABC's Seattle affiliate KOMO-TV that his haul may total $1.5 million.
He's done most of his damage in Orcas and Camano islands, frustrating and exhausting the bare bones police force that have also had to contend with persistent questions about why they can't keep up with an 18-year-old kid.
"It's changed, and not in a good way, our life style," Orcas Island resident Bob Friel said of Harris-Moore's capers. "The crime level is extremely low and then suddenly you've got kind of this boogeyman who moves around in the woods at night and breaks into people's houses."
Friel is a writer whose article on Harris-Moore was featured in Outside Magazine. He told ABCNews.com in April that he was close to inking a book deal with Hyperion Books and was in talks with 20th Century Fox and Hollywood director David Gordon Green about a movie based on his book proposal.
Harris-Moore is suspected in the Feb. 11 break-in at Kyle Ater's Homegrown Market & Gourmet Delicatessen on Orcas Island where he allegedly left a drawing of bare feet in an apparent homage to his nickname the "Barefoot Bandit."
Ater said Harris-Moore caused a $6,500 loss at his store, including the destruction of his security system. Ater said that when the intruder was unable to remove the hard drive from the security system, he simply put the monitor in the sink and drowned it.
Colton Harris-Moore: the Next John Dillinger?
Friel compared Harris-Moore's escapades to those of famed bank robber John Dillinger. who earned the ire of police but a cult-like following from everyday Americans during the Depression.
But the difference, Friel said, is that Harris-Moore isn't robbing banks, he's robbing hard-working Americans.
He hopes his book will clear up a lot of the fantasy brewing about the young man who grew up with his single mother in a beat-up single-wide trailer on Camano Island.
"One of the worst misconceptions is he's only hurting rich people," he said. "These are small business owners."
Die-hard fans are hoping the teen never gets caught. There are online fan clubs and tributes posted on YouTube. A Seattle printing company last year began printing T-shirts with his name and likeness.
A Facebook page in his honor boasts more than 27,000 fans. There are some comments denouncing his alleged crimes and pleading with him to turn himself in, but most encourage Harris-Moore.
"Keep going, Colton. The world is your oyster," one poster wrote.
"So long as you don't hurt anybody kiddo you're OK in my book," another wrote. "Property's just property and it's all insured. We're all rooting for you and stay free!"
Bold Burglar Makes Off With Cash, Croissants
Ater said he believes Harris-Moore has broken into his store twice, though he has no evidence of the first hit two years ago.
When police were investigating a string of burglaries that could possibly be tied to the teen over the summer, Ater said he slept in his store with his gun and 70-pound dogs. He didn't expect to be burglarized in February, the off-season in the mostly tourist town.
The attack on his store in February came the same night a stolen plane came down on Orcas Island. Ater said he's heard Harris-Moore allegedly kills the engine and glides in as to not alert anyone to his presence.
Officials have said the planes were all damaged from hard landings and that it appears Harris-Moore's only training comes from a flight instruction manual that he allegedly bought with a stolen credit card.
In addition to $1,200 from the cash register, Ater's burglar also made off with a blueberry cheesecake, water, organic produce, meat and a baker's tray of uncooked croissants filled with meat and cheese.
"How do you carry that?" Ater wondered.
Ater said he has since installed an upgraded security system to replace the one that Harris-Moore allegedly drowned. The store owner said that put a serious crimp in his budget.
"But that doesn't mean anything," Ater said, "when dealing with him."