The FBI is on the hunt for a thin, grey-haired, elderly man in California known as the "Geezer Bandit." The man is thought to be responsible for eight bank robberies in San Diego County in the last year.
The robber struck for the eighth time on Friday, making off with an unknown amount of cash after he handed a note to a teller at U.S. Bank branch inside a supermarket in Vista, California.
He carried a small revolver in his left hand.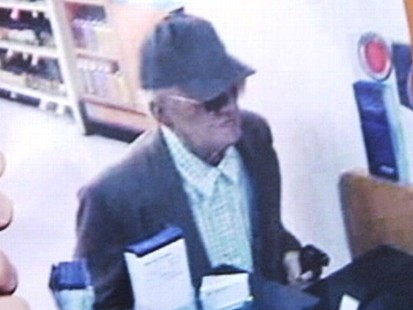 The geezer bandit first struck on Aug. 28 of last year, hitting a bank in Santee, California. Over the next six months, he robbed six more banks in Santee, La Jolla and San Diego.
After a two-month break, he robbed another in January 2010 and two more in April 2010.
The FBI describes the Geezer Bandit as a white man between 60 and 70 years old, about 6 feet tall and 190 pounds. He has been seen wearing a baseball cap, blazer, button-down shirt, and sunglasses in surveillance video.
"The Geezer Bandit is unassuming. He doesn't draw attention to himself and this is why he has been successful in the robberies. He doesn't fit the normal profile of a bank robber," San Diego's FBI spokesman, Darrell Foxworth, told ABC News.
The FBI is also looking at the possibility that the bandit is a younger man with a sophisticated disguise.
"Until he is apprehended, we won't know if that theory is true, but we aren't ruling out that speculation," Foxworth said.
Three different rewards, totaling $16,000, are being offered for information leading to the arrest and conviction of the Geezer Bandit.