Alaska Sen. Ted Stevens took the stand at his federal corruption trial Thursday, telling jurors that he never deceived anyone and did not lie in his financial paperwork.
Stevens, an 84-year-old Republican, is on trial for allegedly concealing $250,000 in gifts, including a major construction project, by not reporting them on the forms required by the U.S. Senate. Prosecutors say a shuttered oil company and its ex-CEO provided the gifts and paid for the renovations, but the defense has denied the accusations.
Stevens' attorney, Brendan Sullivan Jr., asked the lawmaker if he had always filed accurate and truthful disclosure forms.
"Yes, sir," Stevens replied.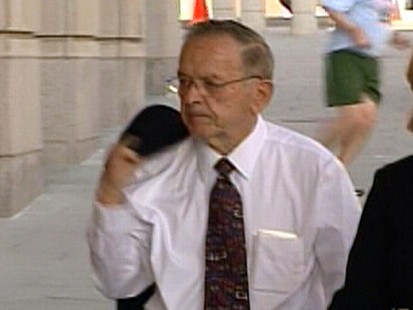 Sullivan also asked if Stevens had ever intended to file false statements, or engaged in a scheme to deceive anyone. The senator answered "no" to both questions.
At times speaking directly to the jury of 11 women and five men, Stevens also recounted his childhood in Indianapolis, noting that he sold newspapers as a 6-year-old boy during the Great Depression.
Stevens, who once served as the U.S. attorney from Alaska, will face cross examination from federal prosecutors Friday. As he left the federal courthouse in Washington, D.C., he pumped his fist in the air and boarded a van with his defense team as reporters asked how it felt to take the stand.
Earlier Thursday, Catherine Stevens testified at her husband's trial, telling jurors she paid more than $140,000 to cover the massive home renovation project at the heart of the case. Defense attorneys have said in court that the Stevens family paid out more than $160,000 to contractors and suppliers.
She also testified that she changed her husband's original plans for renovations to their home in Girdwood, Alaska. She said that her husband originally wanted to raise their small A-frame "chalet" and have a large room built underneath the existing structure with bunk beds for their children and grandchildren, but she changed the plans, saying they needed more privacy and a more livable home.
Asked by defense attorney Robert Cary what Bill Allen, the former CEO of Veco, the company the prosecution says paid for the project, did on the house, Catherine Stevens replied, "He was a friend that volunteered to find some people to work on the chalet."
Cary methodically questioned Catherine Stevens' wife about a series of invoices and checks for more than $140,000 that were signed by her to Christensen Builders, the general contractor on the house.
After the majority of the work had been done on the house, the senator's wife testified that she was very upset to find that a metal staircase had been installed on the house and that Allen had stayed at the home on several occasions and moved his own furniture into the Stevens' residence. Describing the steel staircase, which looks more fitting on an oil platform than a residential house in the ski town of Girdwood, Catherine Stevens said, "I was extremely angry."
"They were very dangerous… inappropriate for the chalet," Catherine Stevens testified.
The defense has been trying to show that Allen made his own decisions to add things to the Stevens' home without their knowledge, including the stairs, placing a large Viking gas grill on the deck and moving his own furniture into the home.
Asked by defense attorney Cary about her reaction to finding the steel Viking grill, she responded, "I was very angry… I didn't know how it got there… I didn't want gas anything." She told the jury that she never used the grill and didn't want it around children.
Testifying about inquiries from a local reporter asking about additional work that had been done on the home by Veco, Stevens' wife said she was "surprised" when her husband's press secretary notified her about the matter and tried to find additional bills in his Senate office. "I believed that any work done on the chalet we were billed for…I tried to find any additional bills."
Stevens' wife also said that after the Sept. 11, 2001 terrorist attacks, "We had a problem with the mail."
Catherine Stevens also testified that she became even more upset and unhappy when she discovered Allen's furniture in their home, including a sofa, large chair and ottoman more fitting of a college frat house than a ski chalet. "I asked Bill Allen where my furniture was… I was very upset my furniture was missing."
"It was not to my taste," she testified. "There was a large black couch with cigarette holes in it."
Under cross-examination by lead prosecutor Brenda Morris, Catherine Stevens was asked about Senate staffers doing chores for the senator and about aide Barbara Flanders, who often paid many bills for the senators, using the Stevens' joint checking account.
Catherine Stevens testified that she and her husband used a joint checking account and that they kept all of their financial forms in his office for disclosure purposes, and she testified that they paid staffers for chores, such as mowing the lawn.
While the defense highlighted the many checks that Catherine Stevens had sent to Christensen Builders, the general contractor on the project, Morris honed in on work done to the house after the major renovations and asked why there was never any contract for the work done.
"I did not have a contract with Christensen Builders, I had an arrangement," Catherine Stevens said.
Morris later asked her, "You come home and the deck was built. ... Did you say, 'where did this deck come from?'"
Catherine Stevens said she kept looking for a bill for the final work that was done on the home but eventually forgot about it.
Morris also questioned why Catherine Stevens sent a FedEx package to Veco Corporation in Alaska with knobs and items the Stevens' had purchased at Restoration Hardware in Washington, D.C. The items were sent to Rocky Williams, who did odd jobs and work for Allen, but Catherine Stevens testified that he took some time off from the firm.
"It's not easy to find people to work in Girdwood," she said.
The prosecution also closely questioned Catherine Stevens about a massage chair that Bob Persons gave to Sen. Stevens; the chair is currently in the Stevens' Washington, D.C., home. The defense and Persons have said it was a loan to the senator, not a gift.
Morris noted the chair, purchased years ago, was still in the Stevens' home and asked, "What kind of loan is that?"
Catherine Stevens said she did not like the chair and called it "stupid," adding that it was heavy to lift and expensive to ship back to Persons in Alaska.
Morris shot back that Persons was in Washington, D.C., testifying at the trial and could have taken the chair.