Two South Carolina defense attorneys are questioning the motives of Richland County Sheriff Leon Lott, who is pursuing criminal charges against eight people who allegedly smoked marijuana with Olympian Michael Phelps.
"It is a fascination if not an effort to destroy a public hero," said Joe McCulloch, an attorney for one of the suspects, today on "Good Morning America." "He's the sheriff, not the Terminator!"
Authorities recently executed search warrants at two private homes in Columbia, S.C., and arrested eight people for marijuana possession in connection with an investigation into the photo of Olympic swimmer Phelps holding a bong. Less than an ounce of marijuana was confiscated by sheriff's deputies, sources told ABC News.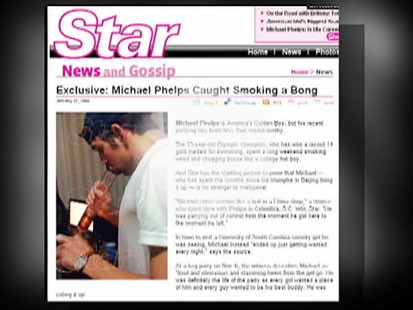 "This is ridiculous. This is about college kids smoking pot and in no way justifies 12 officers entering a house with guns drawn to terrorize college kids," said attorney Dick Harpootlian, who is representing another suspect.
The lawyers would not name their clients, who each face up to 30 days in jail and a $200 fine if convicted on the pending charges, according to The Associated Press.
Lott would not comment today to "GMA," but said earlier in the week that Phelps should not get a free pass because he is a celebrity.
"The sheriff has a responsibility to not turn a blind eye because someone is a celebrity," Lott told ABC affiliate WIS-TV. "I just don't think you can have something like this done and publicized and say, 'I'm sorry and we're supposed to forgive you.'"
But even South Carolina Gov. Mark Sanford questioned Lott's judgment. "I don't see what it gets at this point," Sanford said on Fox News's "Geraldo at Large."
McCulloch and Harpootlian believe Lott may want to bring charges against Phelps himself. Harpootlian said that his client and others were "extensively interrogated" about Phelps.
"What they are trying to do is get somebody to say, 'I was there, that was Michael Phelps, he was smoking marijuana,' so maybe they can charge him," McCulloch said.
Bong, Partially Smoked Joint Confiscated
One of the properties was identified by the sheriff's department as a location where marijuana was "frequently stored and consumed," according to the search warrant affidavit, which also said police searched trash from the property that had been left by the road for collection.
Sgt. M.A. Poole of the Richland County Sheriff's Department appeared before a judge Feb. 6 to request the search warrants.
Sheriff's spokesman Lt. Chris Cowan would not confirm the arrests, but said there is an ongoing investigation into whether Phelps or others broke the law during a party -- allegedly held in November 2008 -- where Phelps was photographed with a bong in his hands.
Property taken during one of the raids included computers, marijuana -- including a partially smoked joint -- a bong, a cell phone, a portable drive and a camera, according to the sheriff's inventory from the search.
Phelps' Bong On eBay?
Legal sources close to the men arrested denied reports that the bong allegedly used by Phelps was put up for sale on eBay. The exact whereabouts of that bong, or whether it was the one seized in the raid, could not be confirmed.
The legal sources also questioned why the sheriff has focused resources on a raid to arrest marijuana users when the city has experienced a spate of violent crime, including several armed robberies at ATM machines in recent weeks. According to The State newspaper, there was a fatal shooting at a Bank of America ATM on Jan. 21.