11 Hotels That Are Destinations Unto Themselves
Rich design and rare amenities make these lodgings ultra desirable.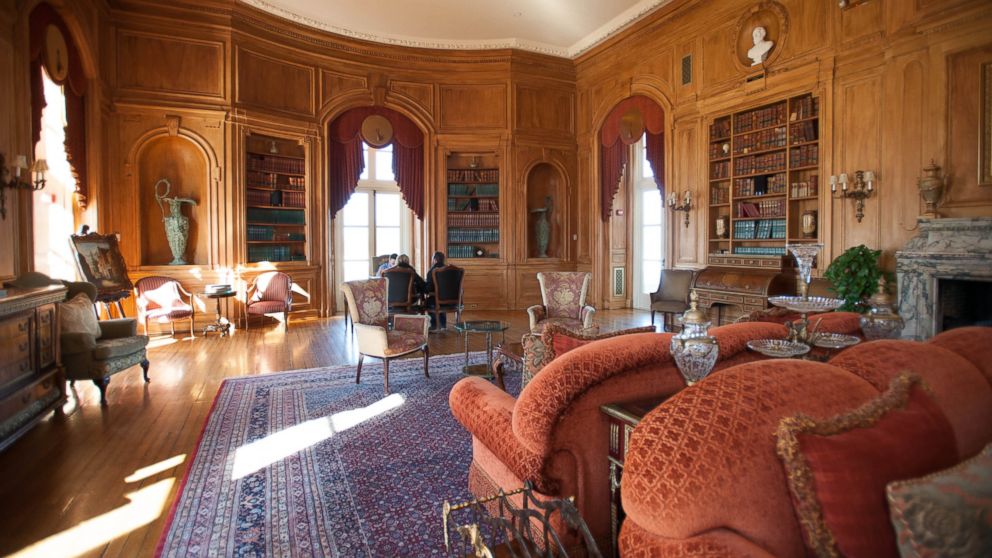 July 29, 2014— -- intro: Sometimes, the journey is about the destination, because the destination is so special that your whole travel experience is wrapped up inside it. We've traveled the world and have been to some pretty special spots. From a western dude ranch to a Florentine palazzo or an African canoe excursion, these 11 trips offer a far richer experience than your typical overnight stay.
quicklist: 1title: Western Dude Ranch: Tanque Verde Ranch in Tucson, Arizonatext: First up, the Tanque Verde Ranch in the foothills of Arizona's Rincon Mountains. This rustic, all-inclusive resort is a quintessential Western dude ranch surrounded by miles of gorgeous mountains and desert. The property borders Saguaro National Park East, where guests can enjoy guided horseback rides, hiking and mountain biking. There's also swimming, communal ranch meals, and kids' activities. Despite the resort's remote location, guests can stay plugged in with free Wi-Fi access. Guest rooms, however, lack TVs -- though for some, that only adds to the authenticity of the experience.media: 24648186
quicklist: 2title: Gatsby-Style Gold Coast Mansion: Oheka Castle Hotel & Estate in Long Island, New Yorktext: Oheka Castle, built in the 1920s as the second-largest private residence in the U.S., is a magnificent chateau-style property about an hour from New York City. It's the country's top wedding venue, and one of the most striking properties on the East Coast. It features 32 individually decorated rooms and stately common spaces, and is surrounded by 23 acres of gorgeous, manicured gardens. Guests have access to the exclusive Cold Spring Country Club, a well-equipped fitness center, and a fine dining restaurant.media: 24648264
quicklist: 3title: African Canoe Trail: Selinda Canoe Trail in Botswana text: The Selinda Canoe Trail is a four-day, three-night trip that takes place along the Selinda Spillway, offered from May to October. Camp is set up each night in secluded spots along the water -- far from modern conveniences such as electricity and flushing toilets, but as luxe as camping can get, with great meals and an attentive staff that does all of the setting up and packing up for you. A safari-on-water, the trip's highlight comes during the day, when wildlife such as elephants, hippos and giraffes can be spotted. But winding down under the stars, cocktail in hand, with the sound of Africa all around you, is pretty hard to beat. as well.media: 24648078
quicklist: 4title: 17th Century Roman Monastery: Donna Camilla Savelli Hotel in Rome, Italytext: This elegant, 78-room boutique hotel is located in the Trastevere neighborhood on the right bank of the Tiber River, a bit far from most tourist sights. Lovers of history will likely appreciate the 17th century monastery setting, designed by a well-known baroque architect and featuring wood-beamed ceilings, arched hallways and marble floors. Rooms have antique-style furniture, flat-screen TVs, minibars, spacious bathrooms, and bathrobes. Breakfast and evening cocktails can be enjoyed in the pretty courtyard garden in the summer months.media: 24647975
quicklist: 5title: Working Caribbean Cocoa Plantation: Fond Doux Holiday Plantation in St. Lucia text: With just 11 freestanding cottages on 130 acres, this eco-minded resort is intensely lush, with coconut groves, fruit-bearing trees, and a working cocoa plantation. Amenities are surprisingly plenty for a property with so few beds, including a small spa, a small three-tier pool, and two organic restaurants. The rustic experience won't appeal to everyone, as TV, Wi-Fi, and A/C are all absent in the rooms, but adventurous travelers on a budget will surely appreciate the gorgeous authentic surroundings and affordable rates.media: 24647749
quicklist: 6title: Rock Star Hideaway: Geejam in Port Antonio, Jamaica text: The Geejam is made up of only five private, high-tech cottages on the lush (rainy) foothills of Port Antonio. The setting is gorgeous, the service is extraordinary and one of the Caribbean's most beautiful beaches is only 10 minutes away. Before it opened as a hotel in 2008, it was a private hideaway for recording artists, and it continues to draw performers such as Gwen Stefani and Bjork. The on-site recording studio has been used by No Doubt and Gorillaz, among others.media: 24647699
quicklist: 7title: Volcano Adventure: Arenal Kioro Suites and Spa in La Fortuna/Arenal, Costa Rica text: Arenal Kioro is located at the base of an active volcano, and it takes full advantage of its natural setting: The rooms, restaurants and pool all offer stunning volcano views. Each big suite comes with a large whirlpool and two terraces, and there are natural thermal springs on the property.media: 24647603
quicklist: 8title: Medieval Village Hotel: Solar Do Castelo Hotel in Lisbon, Portugal text: The historic Solar Do Castelo is different than any other hotel in Lisbon. The rooms are quaint (if not luxurious), but the real reason tourists stay at this hotel is the location; not only is it convenient to numerous sights, but it is the only hotel within the walls of the medieval village surrounding St. George's Castle. It's quiet and rich in history. The hotel has preserved a large part of the architecture, and has added a small museum of artifacts off of the lobby. A real highlight is the outdoor terrace, where peacocks congregate. None of the 14 rooms are decorated the same, and some feel more upscale than others. But all offer free Wi-Fi and plenty of charm.media: 24647515
quicklist: 9title: James Bond Retreat: GoldenEye Hotel & Resort in Ocho Rios, Jamaicatext: The 21-room GoldenEye is hands down Jamaica's hippest and most luxurious resort. It's also one of the island's most historic, as the former home of Ian Fleming, and the hideaway at which the author scribed all 14 of his James Bond novels. Today, the massive Fleming Villa remains intact, featuring its own private pool and even the writer's original desk. The resort's list of past guests is littered with notable names, including Bill and Hillary Clinton, Jay-Z and Beyonce and, fittingly, Mr. Bond #5 himself, Pierce Brosnan.media: 24647466
quicklist: 10title: Florentine Palazzo: Grand Hotel Baglioni in Tuscany, Italytext: Housed in the former residences of the Bertolini princes, the Grand Hotel Baglioni lives up to the grand image painted by Florence's past. The hotel is filled with heavy-handed regal touches and ornate decor from top to bottom. The 193 rooms are very spacious (not often the case in a historic building), and feel luxurious, decked out with classic Italian furnishings, large leaded windows, gorgeous dark wood (the ceilings, floors, and furniture), and equally spacious, dazzling white bathrooms (though there are some awkward shower/tub combos). Both the rooftop garden and Terrazza Brunelleschi restaurant offer stunning views of Florence. All of this comes with a hefty price tag, of course, but the convenient location and rich design make the splurge worth it for some.media: 24647395
quicklist: 11title: 19th Century Jail: Liberty Hotel in Boston, Massachusettstext: The cheekily named Liberty Hotel occupies a 19th century jail where some of Boston's most heinous criminals were once housed. The design incorporates the incarceration theme in fun ways. Alibi bar, for example, is located in the jail's "drunk tank," where those arrested for public intoxication were kept overnight. Thick brick walls with cell doors and windows, original stone floors from the jail, mug shots of celebrities like Sinatra, Morrison and Nolte hanging on the walls, and jail-themed cocktails like "the doing thyme," "the walk of shame" and "Gordon Gekko," are unsubtle reminders of the bar's theme. In the rooms, guests can hang a "solitary" key ring on the door in lieu of a "Do Not Disturb" sign.media: 24647339