Don't you hate this? I ran into a fellow who couldn't stop bragging about all the business class travel he's been doing lately, droning on and on about how the luxury of those big wide seats, the superb meals, and, well, it got tiresome real fast.
But I admit I was curious and wondered why his business was doing so well when so many of us are at the mercy of our bean counters -- the "fly economy only" guys?
His response was: Who said anything about business? "I'm talking about my vacation flights. I upgrade with my miles." When it comes to business travel -- and he works for a big multi-national corporation -- "I sit in steerage like everyone else."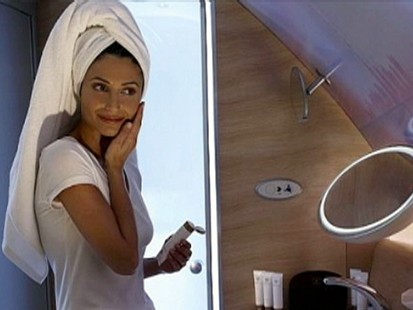 I should have guessed.
For more air travel news and insights visit Rick's blog at: http://farecompare.com
During the past year, true business class travel had a stake called "the recession" jammed through its heart. Never mind that business class prices have dropped 25 percent to 50 percent in the past year. The financial meltdown pretty much killed the concept. Or did it?
At least one airline is betting a bundle that it can resuscitate business class. Oh, to sit on those lustrous leather seats again with the company paying. But will that really happen? The odds seem to be against it.
Stay Up to Date on the Latest Travel Trends from ABC News on Twitter
It wasn't always like that, of course. Just three or four years ago, business class travel had totally gotten its groove on. And why not? Luxury was in and if you had the money you could fly the way royalty only dreamed about.
Remember the Airbus A380 configuration with separate cabins and your own shower? Other airlines offered flat-bed seats, celebrity chefs and your very own butler. Okay, I made that last part up, but you see what I mean.
And here's a blast from the past: Eos, Maxjet, and Silverjet. Don't remember them? Well, just a couple of years ago, they were the "future is now flights" for corporate types; all business class airlines, all the time. And believe me, U.S. airlines were right in there, scrambling to get their piece of the luxury-loving pie, even offering discounts to compete with all the others.
It made sense: first and business class travelers pay huge premiums, anywhere from four to eight times as much for their tickets as coach passengers pay. These "high yielding" seats have been the airlines' angels. For example, British Airways has long received 45 percent of its revenue from premium cabins.
And then it began to fall apart.
The price of oil went crazy, financial institutions crashed, and high fliers came down to earth with a bang called bankruptcy, and it was goodbye Eos, Maxjet, and Silverjet -- while British Airways "Open Skies" all business class carrier is hanging on by a thread.
Suddenly, only "jerks" flew first or business class -- or, heaven forbid, on a private jet, as the Big Three Automaker execs found out the hard way (you have to admit, they did look insensitive, what with so many of their employees being laid off).
Nobody wants to be seen as the free-spending corporate scoundrel, but it's not just about perceptions -- it's about the math, too. I mean, when times are bad, the first thing that's going to be struck from the corporate balance sheet is that $5,000 roundtrip business class flight. The thinking is, stay home, get on the computer and let's get some video-conferencing going.
And yet …
There are times, as every road warrior knows full well when you simply have to be there face to face. And something else: business folks are now being asked to do more than ever before. For example, a cross country or transoceanic trip used to be considered a "travel day," for many pure downtime. Now, forget napping on a plane. WiFi-equipped planes mean every flight is business-as-usual, no matter how cramped and inconvenient.
If you're a working stiff, a plane is simply an extension of your office.
So maybe British Airways is on to something with Club World London City. That's their new, business class only flights between the convenient London City Airport and New York on planes with only 32 seats.
And yes, the seats are those wonderful flat beds. (One catch: outbound London flights must stop in Ireland, however passengers clear U.S. Immigration there instead of New York's busy airports.)
It's a comfortable, working environment but will it fly?
Clearly, the brain trust at BA are hoping the financial doldrums have touched bottom or are they completely delusional? I guess we'll find out: although these new flights only began late last month, BA executives say they expect to make money by the first of the year.
It could happen. Maybe it's because we all crave a little luxury -- even those of us in steerage. I mean, why do you think JetBlue and Virgin America do so well in airline popularity contests, year after year? The TV screens, those comfy seats, that extra sparkle from the cabin crew. It all adds up to a taste of business class at a fraction of the price.
This work is the opinion of the columnist and in no way reflects the opinion of ABC News.
Rick Seaney is one of the country's leading experts on airfare, giving interviews and analysis to news organizations, including ABC News, The New York Times, The Wall Street Journal, Reuters, The Associated Press and Bloomberg. His Web site FareCompare.com offers consumers free, new-generation software, combined with expert insider tips to find the best airline ticket deal.