There's never been a shortage of bars and lounges on any cruise ship -- but aside from the familiar high-gloss venues, a handful are cruising down an entirely new path when it comes to both highfalutin and plebeian potables. From ESPN sports bars to martini-makers that pour red caramel-apple and chocolate-chestnut libations, and from any-time-of-day champagne chic to slow-burning hand-rolled cigars in comfy wingback chairs, we've put together a primer of Cruise Critic's best bets for Happy Hour.
Shaken, Not Stirred: The Martini Bar
Signature Elements: The "it" drink these days is the martini, and for a perfect pick-me-up after a day of sightseeing, you can sip a James Bond traditional -- or maybe something more exotic -- back onboard.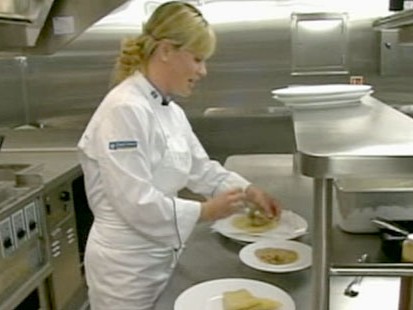 Our Favorites:
Celebrity
's Martini Bars, which double as ice bars aboard new ships Celebrity Solstice, Celebrity Equinox, Celebrity Eclipse and Celebrity Silhouette, offer an unusual way to order and enjoy mixed drinks. Kept at consistently low temperatures, these venues -- along with an even colder ice bar on
Norwegian Cruise Line
's new Norwegian Epic -- are some of the "coolest" at sea. Featured are ice-topped bars, ice sculptures and ice blocks that function as stools. Norwegian Epic, Gem, Pearl, Jewel and Jade are also home to the aptly named Shaker's (or Mixer's) Martini Bar, which offers an updated take on the classic martini bar concept.
Start Wining: Wine Bars
Signature Elements: Cruise lines target wine enthusiasts on a number of fronts. Just about every ship offers a sea-day "wine tasting" in the dining room. (Usually there's a cost of about $10, unless you are offered some form of frequent passenger pass.) The quality of presentations varies wildly. Some lines even offer special wine-tasting enrichment programming. For instance, Celebrity Life's Savor offers things like wine appreciation classes and wine tour excursions, while Holland AmericaLine's Explorations offerings boast onboard culinary arts centers, where wine tastings take place. NCL, meanwhile, has teamed up with Beringer Winery to offer a unique wine and food-pairing seminar once per cruise. Other wine-oriented onboard features include the ability to pre-order bottles via interactive television, and the availability of package discounts -- say, six bottles from a pre-designed list for $100.
But, for actual wine bar ambience, we have a handful of favorites, and our criteria range from great atmosphere and excellent quality glassware to a wide by-the-glass variety and, of course, interesting wine lists.
Our Favorites: Our favorite haunt is Royal Caribbean's Vintages, found on Voyager-class, Freedom-class and, most recently, Oasis-class ships (pictured). It offers flight tastings (in an intriguing range of categories, based on everything from color to geographic origin) and intimate-sized wine tastings. For a unique British twist, check out the Glass House wine bar -- created by TV wine expert Olly Smith -- on P&O Cruises' Azura. This place is a wino's dream, offering a selection of 32 wines, personally chosen by Smith; tastings are available.
MSC Cruises' wine bar, a staple on MSC Musica and Orchestra, is back on Poesia and Fantasia -- two of the line's newest ships. On MSC Poesia, the space is called Grappolo d'Oro, and on Fantasia, the venue goes by La Cantina Toscana; there's a hefty list of wines from provinces across Italy, along with Italian cheeses and meats. The light leather upholstery seems, at first, counterintuitive. (Wine bars are generally very dark and rich in tone.) But, ultimately, it creates an atmosphere that's very open and chic.
French Kiss: The Champagne Bar
Signature Elements: Not the newest kids on the block, but eternally popular, champagne bars are nearly always the most elegant lounges on any ship.
Our Favorites: For posh, flute-in-hand reveling with de rigueur beluga caviar and foie gras (extra charge), Cunard and Veuve Clicquot's elegant champagne bar goes all-out on Queen Mary 2 (pictured) and Queen Victoria.
Burning Issues:
Cigar Bars
Signature Elements: In the late 90's, cigar bars were some of the hottest concepts onboard, designated as havens for cigar smokers. These days, the fervor has since died down a bit. The reason? Most passengers wanted to avoid the smoke, so such rooms stayed empty, night after night.
Our Favorites: Cigar aficionados need not fear -- cigar bars can still be found on a few ships. In fact, Carnival has embraced stogie-smoking in a big way. Although the line's newest ship, Carnival Dream doesn't include a cigar bar, all ships in the Splendor and Conquest classes boast such haunts.
By and large, ships built after the cigar-boom era tend to offer quiet, cozy rooms that are tucked away from the general onboard mayhem. We particularly love the Connoisseur Club on Royal Caribbean's Freedom-class and Voyager-class ships; they are hidden away at the entrances to the secondary show lounges. Not only are Connoisseur Club locations peaceful spots, but they're also some of the few cruise ship cigar nooks to actually boast onsite bars. (Many require you to pick up your drinks at the nearest lounge.) Although Royal Caribbean's latest ships, Oasis of the Seas and Allure of the Seas don't include actual cigar lounges, there will be designated areas onboard each sailing where cigar smoking is allowed.
Daily Grind: Coffee Bars
Signature Elements: Cafe latte culture continues to spread into the onboard milieu, with cruise ships fully embracing the great gourmet-coffee movement. While cruise ships have always offered complimentary coffee on a round-the-clock basis, these new-fangled coffee bars feature fancier brews. This has created untold revenue opportunities; expect to pay a land-based price for that cappuccino.
Our Favorites: Our nomination for best-at-sea has to go to Celebrity for two different coffee venues. One is Cafe al Bacio, found onboard the line's new Solstice-class ships: Solstice, Eclipse, Equinox and Silhouette. They serve coffee drinks and tea, as well as pastries. Although this modern-but-classy venue includes flashing lights, its warm yellow and brown hues and comfy chairs offer a relaxing space for a caffeine fix. Live music can also be found there. Additionally, this venue is strategically positioned near The Gelateria -- a great place to grab gelato or Italian ice to chase down that latte.
The other is the elegant and whimsical Cova Cafe, inspired and designed by the famous Milanese coffee bar of the same name. Beyond coffee drinks, it also has an Italian-influenced wine list, serves after-dinner liqueurs and features its own bakery, which offers best-at-sea pastries. (The chocolate croissants are marvelous.) The cafe appears only on Celebrity Millennium, Celebrity Infinity, Celebrity Summit and Celebrity Constellation.
As part of a $525 million Signature of Excellence initiative, Holland America upgraded its vessels to include the Explorations Cafe, which combines a coffee shop, Internet cafe and a library -- making these spaces ideal for those who want to check e-mail or curl up with a good book while sipping some Joe. Beverages offered at Explorations cost extra, but complimentary cookies, pastries, fruit and sandwiches are available.
Got Game: Sports Bars
Signature Elements: You may be thousands of miles from land, but it's still possible to root for the home team, via onboard sports bars. Many lines have negotiated with ESPN and other sports channels to show telecasts.
Our Favorites: Disney Wonder and Disney Magic fill the sports gap with the adults-only Diversions, which features special game tables for backgammon, checkers and chess. Norwegian Epic features O'Sheehan's (pictured), where passengers can bowl, throw darts and play pool or foosball before enjoying dinner and drinks. Most Carnival ships, with the exception of Fantasy and Dream classes, have sports bars on the promenade deck. They're decorated with life-size figures of athletes and tables and chairs made to look like sports equipment.
Pub Reporter: The English Saloon
Signature Elements: Pubs evoke images of cozy, dark wood places that hint of cold and damp, pints of lager, and chalkboard menus offering fish-n-chips and mushy peas -- not to mention cheery fellowship. Cruise ships tend to offer more upmarket recreations. (And, way too often for purist tastes, you'll find Budweiser, rather than Bass, on draught.)
Our Favorites: Our special favorites include The Pearly Kings Pub on Norwegian Dawn; on sea days, it serves up traditional pub grub, along with some English pool. (Catch British television comedies on the in-bar televisions.) Carnival Victory has the Irish Sea Bar -- an apparent nod to the land of Ire -- which has a classic pub feel, thanks to its dark woods and rounded bar, which somewhat resembles an old-fashioned wooden keg.
A fleetwide staple on all Princess cruise ships is the Wheelhouse Bar. Decor varies from ship to ship, but the pub lunch offered daily features standard English fare like bangers and mash, fish-n-chips, a ploughman's lunch and traditional cottage pie.
Tickle the Ivories: Piano Bars
Signature Elements: This trendy type of bar is relatively new and appears on vessels in several mass-market lines' fleets. In addition to the usual mixed drinks served in other happy hour venues, piano bars also include live piano music, with plenty of opportunities to sing along.
Our Favorites: Carnival earns top honors in this category, with piano bars on all its ships. Though no two look the same (pictured is Carnival Splendor), you can expect the same rollicking atmosphere with plenty of singalongs, group toasts and some adult-themed tunes after midnight.
The most coveted spots are the stools surrounding the pianos, which revolve slowly so everyone gets a good view of the ivories. But arrive early to snag a choice spot -- some of Carnival's pianists have nearly cult-like followings!
Considering taking your own drinks onboard a cruise? Check out Cruise Critic's guide to Cruise Line Alcohol Policies.
Cruise Critic is an online cruise guide, featuring cruise reviews, news, deals and advice on all aspects of cruising.