If your idea of a great vacation involves daily runs in the open air, a leisurely workout in a hi-tech gym, or a smorgasbord of fitness classes like yoga and Pilates, you should know that a cruise may just be the perfect getaway for you.
These days, cruise ships are about more than just eating and lying in the sun, and they're attracting fitness buffs, yogis and health-conscious travelers in droves with active options both onboard and off. Here at Cruise Critic we've picked our favorite cruise lines for keeping fit while at sea.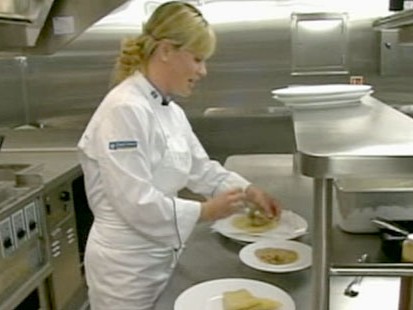 Best Onboard Gym
The Line: Royal Caribbean's Freedom and Oasis Class
Why: Because size does matter. Royal Caribbean's three Freedom-class ships -- Freedom, Liberty and Independence of the Seas -- each have 9,700-square-foot fitness centers. In addition to state-of-the-art cardio, weight-training and circuit-training machines, the ShipShape Center features spinning cycles; a Pilates studio with six reformer machines; and a full-size boxing ring, complete with speed bags, jump ropes, heavy bags and padded punching mitts.
All cardio machines have personal LED screens for entertainment options while working out. Group classes on offer include step aerobics, yoga, Pilates, stretching, Tai Chi, boot camp and indoor cycling. Additional cutting-edge workout equipment onboard includes the Cable Motion series of strength training machines and Power-Plate, a device utilizing advanced reflex technology.
The Oasis of the Seas -- the largest cruise ship ever -- is in its own league. In addition to the usual fitness equipment, it has 12 Gravity machines (providing body conditioning through Pilates and resistance training), a Kinesis Wall (circuit exercises utilizes a system of pulleys), Expresso Bikes (with 30 interactive, virtual rides) and Activio Cycling (providing heart rate feedback). Classes unique to Oasis include Kinesis group training, a combo cycling-and-jogging class called The Brick and a jogging club.
Best Luxury Workout
The Line: Seabourn Odyssey
Why: Seabourn Odyssey is the first new luxury ship design since staying fit became a mantra for successful living. Its designers have incorporated a more contemporary sensibility into the creation of its two-deck high spa and fitness center. Its most distinctive feature is the Kinesis wall, which is able to accommodate four passengers simultaneously. Kinesis technology uses a series of pulleys and cables to increase flexibility, provide rehabilitation, if necessary, and create better muscle definition, all the while being gentler on the body than traditional machines. Private Kinesis is available in higher-level suites.
Other features of Odyssey's fitness facility include a range of classes (from stretching to Yoga, all complimentary) and state-of-the-art cardio, strength and weight training equipment. And if you need to rejuvenate tired limbs after a tough workout, make a beeline for the gorgeous hydro pool/thermal suite area with heated loungers, aromatherapy sauna, rain mist showers and waterbed.
Most Innovative Cruise Fitness Options
The Line: P&O Cruises' Ventura
Why: On this ship, marketed primarily to U.K.-oriented cruisers, the fitness facility and spa are more than adequate -- but it's the fun stuff that takes Ventura over the top. Within its gym, Ventura sports Tixter bikes, the latest in indoor cycling. The bikes have movable handlebars to mimic real-world biking and cycling routines (complete with video) from scenic roadways in the Scottish highlands to deserts, highways and city centers. It's like a PlayStation or Wii Cycling.
But the best fitness feature is Cirque Ventura, where passengers can try bouncing and flipping on a bungee trampoline or attend circus-school workshops led by skilled performers. Have a go at walking the tight wire, flying trapeze, clowning, juggling and stilt walking -- all at sea. It's a great workout and fun besides.
Best Land-Based Workouts
The Line: Norwegian Cruise Line's Pride of America
Why: Hawaii is one of the best destinations for active pursuits, and NCL's Pride of America is the only ship to sail year-round seven-night cruises to the islands, visiting gorgeous places like Maui, Kauai, Kona and Honolulu. You can go for a rainforest and waterfall hike, learn to surf or windsurf, golf at beautiful seaside courses, bike down the slopes of a dormant volcano, kayak through a wildlife refuge, scuba or snorkel, and take a horseback ride by the beach.
Best for Cyclists
The Line: Ocean Village
Why: Ocean Village -- a casual, sporty British cruise line -- actually carries its own mountain bikes onboard, earning it our vote for best cruise line for cyclists. The line offers guided bike rides in most destinations, and the four-hour rides include road cycling and some off-roading. Whether you're a novice but enthusiastic cycler or an experienced racer, there will be a biking excursion for you. The only requirement -- you have to be at least five feet tall.
Best Cruises for Walkers
The Line: Crystal Cruises
Why: Crystal makes more use of its ships' wrap-around promenades than most cruise lines with two innovative programs for walkers. The first, called Walking on Water (WOW) is a fitness program designed exclusively for Crystal. The program utilizes cotton vests that have pockets for weights, so walkers can increase their resistance training when striding around the promenade deck. Passengers can also make use of motivational music, day-by-day walking programs and instructions on how to use the vests safely and effectively.
Crystal also offers Nordic Walking through a partnership with LEKI USA. Guests will have complimentary use of walking poles for a low-impact, full-body workout. Grab some polls and don a vest, and those other shipboard walkers are sure to be intimidated by your power and energy!
Best Top-Deck Activities
The Line: Royal Caribbean
Why: On Royal Caribbean's newest ships, sundecks are incredible destinations for recreational pursuits. On Voyager, Freedom and Oasis-class ships, head up and aft to find the FlowRider wave pool for surfing and body boarding (on Oasis, there are two!). Rock climbing walls tower above basketball courts, miniature golf courses, golf simulators and rollerblading tracks. A jogging track overlooks the pool deck below. Just keep your fingers crossed that it doesn't rain! Freedom-class vessels have boxing rings (where the workouts are incredibly challenging aerobically). On Oasis of the Seas, there's also zip-lining. And though not located on the sundeck, all ships' ice skating rinks feature open-skate sessions on sea days.
Best Water Sports
The Line: Windstar
Why: Windstar combines the best of small-ship cruising with the romance of a masted sailing vessel. Its three ships offer complimentary water sports straight from the ship in destinations like the Caribbean, Costa Rica and the Greek Isles, with more limited offerings in the Mediterranean. Experienced sports enthusiasts can borrow kayaks, windsurf boards, Topper or Rumba Escape Sailboats, and inflatable boats. Snorkel equipment is provided free of charge though organized snorkeling expeditions cost extra. Waterskiing is also offered by the ship's staff; two people at a time can water-ski in half-hour increments.
Best Cruises for Active Seniors
The Line: Holland America Line
Why: We love Holland America's program of mind-body-spirit classes. Guests can now participate in yoga, tai chi and aqua aerobics free of charge, in addition to the for-fee classes like Pilates and spinning that are offered in the Greenhouse Spa's fitness center. Plus, many active seniors take advantage of the ships' wraparound teak promenade decks for leisurely strolls or brisk walks.
Best Spa Dining
The Line: Celebrity Cruises
Why: Dining is usually not an athletic event, but healthy eating often goes hand in hand with an active, healthy lifestyle. Celebrity Cruises was the first line to embrace this connection with spa cafes on its Millennium- and Solstice-class ships. Located by the spa pool, the cafes serve up healthy breakfasts and lunches, including smoothies, salads, fish dishes and low-fat desserts. In addition, the Solstice-class ships have Blu, a private dining room reserved for passengers booked in Celebrity's AquaSpa cabins. Its menu focuses on natural ingredients and healthy fare.
For more information on keeping fit at sea, see Cruise Critic's tips here.
Cruise Critic is an online cruise guide, featuring cruise reviews, news, deals and advice on all aspects of cruising.