These days, no carrier seems to last too long as "The World's Biggest Airline."
A couple of years ago, American Airlines claimed the honor, until Delta wrested away the crown after its merger with Northwest. Ultimately, though, Delta had to defer to United.
The new mega-United that is, now that it's hooked up with Continental.
So is it goodbye forever to Continental? Well…kind of, although the brand will not completely disappear, unlike say, those ghostly smiles from PSA planes past (yes, Pacific Southwest used to paint "smiles" on its aircraft, just under the nose).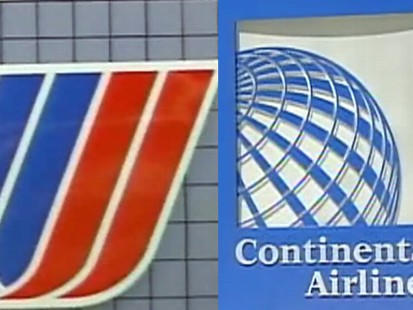 No, Continental will live on in its colors, livery and logo (that stylized globe) which will adorn the new airline's planes even though the name will be "United." I'm sure we'll get used to it.
And now that I've dispatched with the "style" portion of this column -- what about airfare prices?
Well, it's not looking too good for air-travel cheapskates -- and in the short term, this has nothing to do with the mega-merger, which won't be complete for at least a year (if at all, depending on looming anti-trust scrutiny).
For more air travel news and insights visit Rick's blog at: http://farecompare.com
In a celebratory conference call with media and financial analysts earlier this week, United CEO Glenn Tilton and Continental CEO Jeff Smisek (the latter will run the new United) said merging their companies was "profoundly pro-competitive." They said airfare increases were not built into their estimates of the "benefits of synergies."
Yes, but -- are airfares going up or not? The executives simply said the newly-merged United Airlines will, "as always," be responsive to market demand, and that they will price their product (meaning your tickets) "appropriately". As Smisek told his audience, airlines don't set airfares -- the marketplace does -- but that marketplace is about to lose another competitor.
Actually, the marketplace is changing even as we speak. Which is good news and bad news for the flying public.
The good news is that the economy is in recovery mode, which means more of us can actually afford to fly in the first place. But back when the economy was tanking -- especially late last spring -- airfares were at ten-year lows, which is why you could find astonishing deals like roundtrip flights to Europe, including all taxes and fees, for under $400.
International prices had nowhere to go but up, and I'm afraid they've done just that: flights to some worldwide destinations are now 30, 40, and even 50 percent higher than last year. In fact, if you can find a summer fare to Europe for under $1,000 roundtrip this year, you, my friend, have got yourself a deal.
As for domestic airfares, they too are inching upward -- not nearly at the pace of international fares, but they're making headway, and here we may well see some of the effects of the United-Continental merger, in the long run, anyway.
First, you have to understand that only about 100 cities in the U.S. are served by low cost carriers (airlines like Southwest, JetBlue, AirTran and the others); those cheap flights help keep prices in check for the short-term, despite the mega-merger.
But there are still another 500 or so cities with scheduled air service that do not have any low-cost-carrier competition, and these are the cities that will likely see significantly higher airfare prices in the long term. The reason: as mega-airlines attempt to hike prices systemwide (which they have already done several times this year), there will continue to be little or no competition to drive prices down, the kind of thing that occurs in the bigger, more competitive cities. This is already an issue today, but is likely to get worse as we have seen in the wake of other major airline mergers.
And that doesn't even take into account the different add-on fee structures used by United and Continental, but I can give you a hint on that: in situations where the two carriers have different prices for things like extra legroom, priority seating or pet transport fees, the one that will be adopted by the new mega-airline will be the higher one. Trust me.
The last area where we are likely to see significant price increases in the long run is on those coveted nonstop flights that make air travel so much easier, especially for business travelers. Mega-airlines, especially at their hubs, will be even more emboldened to charge hefty premiums on those prime flights because one less "connecting" carrier is in the mix.
As for frequent flier programs, at this point we just don't know what will happen when United and Continental are combined, but I suspect there will be some gnashing of teeth; the members of one program or the other are bound to be made unhappy (though a few will be happy if they are members of both programs and get their miles combined into one fat account).
What's next? United's previous "love interest" -- US Airways -- insists it can stand alone and keep flying, even as investors are pointing out to American Airlines that it might be time to double up with another carrier. But so far, it's just been talk and unsolicited advice.
But it will be kind of interesting to see how long this latest combo of United-Continental actually holds the title of "World's Biggest Airline."
This work is the opinion of the columnist and does not reflect the opinion of ABC News.
Rick Seaney is one of the country's leading experts on airfare, giving interviews and analysis to news organizations including ABC News, the New York Times, the Wall Street Journal, Reuters, the Associated Press and Bloomberg. His Web site, FareCompare.com, offers consumers free, new-generation software, combined with expert insider tips to find the best airline ticket deals.