Thousands of beer-loving partiers are expected to descend on a quiet San Diego bay this weekend for a massive gathering that takes advantage of -- even celebrates -- a loophole the city's liquor laws.
Concerned about public drunkenness a few years back, San Diego banned drinking by anybody whose feet were touching the sand at a public beach. So a group of revelers found a way around that: they keep their feet off the sand.
Welcome to Floatopia.
The event is pretty simple. Bring a float, inner tube, raft -- you know, something that will keep you up on the water. Next, invite everybody you know and then bring a lot of booze. Finally, have fun.
Stay Up to Date on the Latest Travel Trends from ABC News on Twitter
The Floatpia organizers know the law and detail how to get around it on their Facebook event page.
Among the tips:
Carrying your unopened beer across the sand is legal but please throw it away in a bag or can.
Do not open your beer until you are on your float.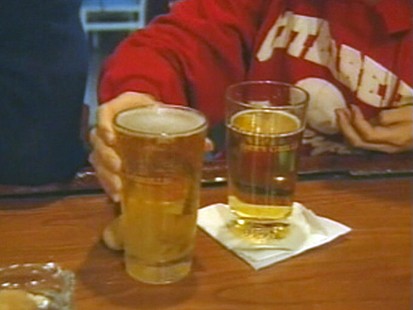 Finish your beer or leave it on your float.
Throwing your empties in the water or on the sand will result in a littering fine, so use the trash cans or garbage bag.
It is not illegal to drink or have fun, but if you get stupid, then the cops will notice you and you will get a ticket for being drunk in public. So be responsible.
Capt. Chris Ball of the San Diego Police Department is overseeing the police response to the event. He said that, for the most part, the people who come down to the party want to know what the law is and they want to comply with it.
"They recognize that there's this unique loophole," he said. "The loophole is this: if you get out on a float … you can sit out on that float in the 80-degree water with sunscreen on and have a beer. And there is not a darn thing we can do about it."
For those sticklers, here is the actual loophole in the law. See, the code defines a beach as "the sand or land area bordering the water of an ocean or bay." It prohibits drinking on the beach, sidewalks, piers and other surrounding structures. Nobody thought to include the water directly off the coast.
For the police, this event creates a unique challenge. Ball said that if somebody is drunk on the beach and passes out, they just fall on the sand, maybe twisting an ankle. On the water, it's a completely different story.
"The challenge for us is overconsumption," Ball said. "If you are in 15 feet of water and you fall over unconscious, it creates a real problem for us."
Police and life guards aren't typically out at the site of the event, the north side of Mission Bay near Fanuel Street Park, especially this time of year. Ball said there will be at least six boats patrolling the bay, including life guards, police and the Coast Guard. Life guards will also be on boards in the water and at least a dozen police officers, depending on the crowd size, will be on the beach.
In past years, Ball said, there have been a few arrests -- mostly citations for public drunkenness, littering and public urination.
The path to Floatopia, like many drinking events, was an odd one. Back in November 2007, the San Diego City Council crated an ordinance banning alcohol on all of the city's beaches. The following year, in a widely-debated referendum, voters made the ban permanent.
But drinkers, crafty as they are, realized that the wording had a nice little loophole and took advantage of it with the first ever Floatopia. About 300 people showed up, Ball said.
Since then, the event has grown in frequency and numbers. Last year there were two Floatopias, with about 2,500 to 3,000 people showing up for the second, larger one, Ball said.
More than 9,000 people have so far RSVP'd to the event on Facebook. It starts at 10:30 a.m. and is supposed to go until just before midnight.
"By no stretch does that mean we will see that many people there," Ball said. The water temperature is around 60 degrees right now and the air temperature is expected to peak around 75 degrees.
Jodie Lehrer, a 25-year-old sales coordinator who also works as a promoter, said she wouldn't miss it for the world.
She was at both events last year and is "definitely looking forward to it" this year.
"I plan to make a wonderful mix of rum and whatever juice I pick out first," she said.
Lehrer heard about this year's event on a local radio station and then went to Facebook for the details.
While she might have a drink picked out, Lehrer is not yet sure what will be keeping her dry. She plans a Costco trip before hitting the beach. She warns, though, that a good float -- one that will actually keep you and your booze above water -- costs about $50 to $150.
Ouch.
"I am interested to see how it goes this year, being in March with a ton of underage spring-breakers here," she said. "Could be the straw that broke the camel's back -- would not miss it for anything."