A great white shark, the fearsome predator typically found in warm waters, was spotted off the coast of Massachusetts this weekend for the second time in two years, raising questions for scientists and concerns for swimmers.
On Saturday a fishing boat crew spotted the shark and after an hour-long fight captured it. The charter boat's captain tagged the 7-foot fish, before releasing it back into the ocean.
"We had a pretty big disturbance and we quickly came to realize that it was a shark and not a tuna," the boat's skipper Capt. Bruce Sweet told ABC News affiliate WCBV-TV.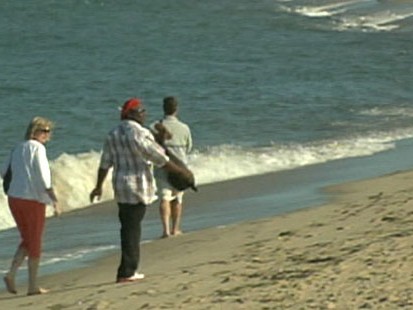 Fishing for tuna, Sweet and the three-man crew of the Sweet Dream III baited a line using mackerel, and were shocked to see the ocean's top predator on the other end of the line.
Stay Up to Date on the Latest Travel Trends from ABC News on Twitter
"We were all just absolutely amazed and excited to get a chance to see a great white from a few feet away," said Eric Sweet, the boat's first mate. "I mean there's not that many people that get to do that."
The shark was caught along the Stellwagen Bank, some 25 miles off the Massachusetts coast, near Gloucester.
Great white sharks are some of the most effective killing machines in nature. Equipped with some 3,000 serrated teeth, the fish can grow up to 30 feet in length. But despite their reputation for killing, the sharks are an elusive and endangered species whose total population is unknown to science.
"We anticipated that there would be sightings this summer, said Gregory Skomal, a senior biologist with Massachusetts' Division of Marine Fisheries.
Scientists have known that great white sharks migrate north along the East Coast as waters warm during the summer, but Skomal believes a growing seal population off Massachusetts has increased the allure for sharks.
Last summer, as if out of a scene from the movie "Jaws," four great white sharks were spotted near Chatham, Mass., leading authorities to ban swimming on several Cape Cod beaches during the busy Labor Day weekend.
The shark spotted on Saturday, Skomal said was small for a great white and was likely a youngster, still too little to feed on seals.
"We don't have a good handle on the population size. The number of sightings has increased in recent years. We don't know if it's increased because there are more white sharks or more people on the water. Given the expanding seal population it likely has to do with being attracted to seals, but there are also more people paying attention," Skomal said.
When the Cape Cod beaches were closed at the end of last summer, authorities there said "swimmers should exercise caution while swimming in Chatham's ocean waters… In particular, people should avoid swimming in waters in the direct proximity of seals where sharks may be in search of prey."
Skomal said it was up to local officials to determine when beaches should be closed, but there was no immediate threat to people from the fish spotted Saturday.
This weekend too, a 13-year-old girl was attacked by an unknown species of shark off North Carolina.
Carley Schlentz of Greensboro, N.C., was bit twice in the left foot while swimming with friends near Topsail Island. She was taken to the hospital where she received 60 stitches.
There have been 11 fatal shark attacks since 2000. The latest fatality occurred in February, when a bull shark killed kite surfer Stephen Schafer, 38, off a beach in Martin County, Fla.