Lorilei Valeri's father died in December 1993 when a commuter plane crashed in Hibbing, Minn. Sixteen years later, as a federal hearing examining February's plane crash near Buffalo, N.Y., wraps up, Valeri says nothing has changed when it comes to keeping commuters safe.
"I definitely had hoped that no other family would ever have to experience that," Valeri told ABC News on Thursday.
"Nothing has changed," she added. "Ultimately, the safety of airlines has to do with money."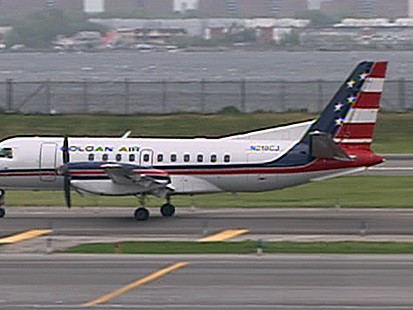 Others have also said a bad economy means pilots may not be getting all the training they need -- especially at regional airlines.
Watch "World News with Charles Gibson" TONIGHT at 6:30 p.m. ET for the full report.
"Because of the cost constraints on these carriers and the need to feed the larger network carriers, we're seeing training being pushed down," Capt. Paul Rice, first vice president of the Airline Pilot's Association, told members of the National Transportation Safety Board this week. "More and more training is being cut because of the cost."
"They may not have budgeted a lot of money for additional training, which might be necessary for pilots with lower experience," aviation consultant Kit Darby said today.
Regional and commuter planes are often perceived as the farm teams where pilots and crew members gain experience before working on larger commercial jets. The regional airline industry has doubled in size in the last 14 years. Now, nearly a quarter of all passengers flying on any given day in the United States are flying a regional carrier.
But today some say training requirements for those planes need a boost to ensure passengers stay safe. In the past seven years, more than 150 people have lost their lives in regional airline accidents in the United States compared to just one in a major carrier.
Were you trained at a pilot academy? If so, ABC News would like to hear from you.
Sen. Charles Schumer, D-N.Y., who met with the families of those who died in Buffalo earlier this week, sent a letter to Transportation Secretary Ray LaHood this morning calling on the Federal Aviation Administration to immediately rethink what is required of new pilots before they take to the skies.
"I believe that FAA must start by reevaluating what it requires of airline training curricula," Schumer wrote. "NTSB's hearings have indicated that lack of hands-on training of a stick-pusher may have played a role in the crash of Flight 3407, and I wonder what other important training exercises may be left of out of curricula."
"In the interest of cost cutting, the commuter airlines seem to be overworking and underpaying their pilots," Schumer later told ABC News. "The training doesn't seem to be full and adequate."
Training Requirements for Regional and Commuter Airlines
After several commuter plane crashes in the early 1990s, rules took effect in 1997 that created more stringent requirements for commuter planes. They now have to follow the same rules as the major carriers.
"This is all one industry," Roger Cohen, president of the Regional Airline Association said today. "One level of safety. And that's something the industry is committed to 24-7."
Pilots can be on duty 16 hours per day, which includes time not spent flying, such as preparing the plane and monitoring weather reports. They can fly only eight hours in a 24-hour period.
The FAA also requires 250 hours of flying time for pilot hires, though it says industry practice is usually higher, with many logging at least 500 hours.
But this week, NTSB member Kitty Higgins called some of the conditions at Colgan Airlines -- and possibly other carriers -- "a recipe for an accident."
"Have we gotten to the place where people shouldn't fly them? No," Schumer said. "But have we gotten to the place where you can build a greater margin of safety into things? You bet."
The NTSB hearing this week has increasingly focused on pilot training. It has also examined how lack of sleep, low pay and chatter may have played a part in the crash that killed all 49 on board, and one person on the ground. The crew preparing for landing allowed the plane to fly dangerously slow just before the accident.
Capt. Marvin Renslow, the pilot in the Buffalo crash, had also failed three flight checks when getting his pilot's license. He failed to disclose that detail to Colgan Air on his application and listed only one failure.
The airline could have obtained Renslow's history from the FAA, with his permission. It did not do so.
On Wednesday, Colgan Air's vice president of administration, Mary Finnigan, said the company followed standard industry practice in vetting new hires. She faced criticism from NTSB board member Robert Sumwalt who asked whether there was a desire to go above and beyond the minimum.
Finnigan said the airline will now broaden its background checks on new hires, but insisted that its intent all along has been to hire the very best people. Colgan Air has also made a number of changes since the accident. It is instituting a fatigue awareness program for its pilots. It will put every pilot through a new program to better understand and handle emergencies in the cockpit.
"I would not sign off on any pilot that I personally would not put my own family in the back of the aircraft, and I felt that we were doing the very best job that we could do," she said.
"I am concerned about the winking and nodding that I have seen in some of the policies of the company, your company and crew members, and I don't believe it is only within your company or those crew members," acting NTSB chairman Mark Rosenker told airline officials.
"Every pilot out there would have some sort of disapproval, maybe not have a stellar track record," pilot and former NTSB investigator Greg Feith said Tuesday. "That doesn't mean they're a bad pilot."
NTSB Discusses Fatigue Factor, Cockpit Chatter and Low Pay
On Tuesday, the NTSB also focused on the fact that first officer Rebecca Shaw had commuted overnight to her flights in Newark from her home in Seattle. Neither Shaw nor Renslow had living accommodations in Newark, and both were spotted trying to nap on Colgan Air crew room couches the morning of the accident flight.
NTSB board members questioned how the airline would expect first officers such as Shaw -- whose salary was just under $24,000 per year, according to Colgan Air -- to afford a place in Newark to rest. Despite low salaries, those who work for regional airlines have some of the most demanding jobs, sometimes with numerous takeoffs and landings a day.
"I would expect them the way other pilots do, and other pilots have done for many years who commuted in and out of different bases," said Daniel Morgan, Colgan Air's vice president of flight safety. "People do find ways to share rooms, to share apartments."
"When you put together the commuting patterns ... the pay levels ... I think it's a recipe for an accident, and that is what we have here," Higgins said.
Colgan Air said in a statement that Renslow had nearly 22 consecutive hours of time off before reporting for duty, and Shaw had had three days off since her previous flight.
It will be some months yet before the board issues a final determination about the causes of the accident. The Senate Commerce, Science and Transportation committee this afternoon also announced its plans to hold hearings on airline safety early next month.
"Let's be honest," Cohen said today. "We can train people for hours and hours on end. We can tell them, we can write instructions, we can write rules. But I think the most important thing is, particularly in this kind of industry, that everybody needs to keep their head in the game 100 percent of the time."