Thanksgiving is almost here and with that turkey dinner comes a side of travel headaches. The powerful winter-like storm that is being blamed for at least eight deaths is marching eastward and threatening the plans of millions of holiday travelers in its path.
Interested in
?
Add as an interest to stay up to date on the latest news, video, and analysis from ABC News.
The Northeast is particularly vulnerable, with bad weather expected Tuesday into Wednesday, two of the most heavily traveled days of the year.
As Americans take to the skies, rails and roads the next two days, we'll keep you updated with news from your region on weather, flight delays and cancellations and other travel snarls.
Related: Flight Cancelled? 5 Steps to Getting Home for the Holiday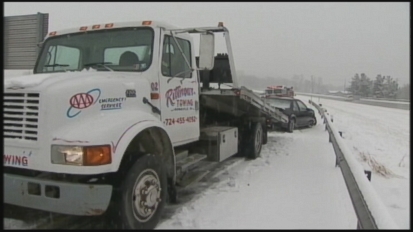 Northeast:
The snow has started in some cities including Cincinnati, Ohio; Pittsburgh, Pa., and Albany N.Y. Wind warnings and advisories have been issued from New York City to Boston and most of coastal New England with winds as high as 50 mph. Coastal erosion and flooding is possible. Between 2 and 5 inches of rain is expected from Washington, D.C. to Boston Tuesday night into Wednesday. The storm departs the Northeast Wednesday night leaving gusty, cold winds up to 35 mph behind for the Thanksgiving Day Parade in New York City.
Flights: Operating normally. However, several major airlines including Delta, JetBlue, US Airways and United have issued flexible travel policies ahead of the expected storm which allows travelers to change plans without penalty.
Trains: Amtrak is operating normally.
South:
A flood watch has been issued from Mississippi to Virginia. Jackson, Miss., has had 6 inches of rain so far this morning and some flooding has been reported. A storm is developing in the Gulf and spreading rain into Atlanta, Raleigh, N.C., and Washington, D.C.
In Florida, there's a tornado watch in affect for the Panhandle until 5 p.m. Tuesday. There's been a confirmed tornado south of Tallahassee with some damage reported.
More than a foot of snowfall is possible from Asheville, N.C. , to Charleston, S.C., to east of Cleveland, Ohio; Pittsburgh and Erie, Pa.; Buffalo and Syracuse, N.Y. and Burlington, Vt.
The southern region is expected to be clear of inclement weather come Wednesday.
Flights: Houston, Texas and Atlanta are delayed an average of 30 minutes on departures.
Midwest:
Lake effect snow is expected in Marquette Mich., Traverse City, Grand Rapids and in northern Wisconsin near Ashland and the snow belt areas. Expect dry weather from Denver to Dallas to Chicago on Wednesday. However, temperatures 10 degrees below normal in Chicago, Detroit and Minneapolis will make for a cold journey.
Flights: all operating normally.
West:
Dry weather is the forecast for the country's Western region. Travel should be weather problem free with the exception of Seattle and Spokane, Wash., where an air quality alert and stagnation may cause fog Wednesday morning.
Flights: all operating normally.