Kids from Rio de Janeiro's notoriously dangerous, firefight-plagued slums have a tradition after the bullets stop flying. They huddle around, holding up their sweaty palms for their comrades to see. The hands still shaking in fear belong to the loser -- until the next firefight, another chance to prove their mettle.
Dutch artist Dre Urhahn has been the loser of that game many times.
He and his artistic partner, Jeroen Koolhaas, have embarked on an ambitious creative project, arming Rio's young with paintbrushes and buckets with the goal of transforming the city's 750 gritty, violent favelas -- largely ramshackle encampments -- into large-scale murals.
"I told the kids I would always lose their game," Urhahn, 36, said during a recent visit to New York, his hands now steady on the stem of a chardonnay glass at a sidewalk cafe. "The kids were like, 'Don't you worry, that's OK, you're not from here.' They were looking out for me and that's a really heartwarming experience.'"
Across the cafe table, the 33-year-old Koolhaas absentmindedly sketched the favelas the artists consider their lives' work in ballpoint pen on a paper napkin with his painted-strained fingers.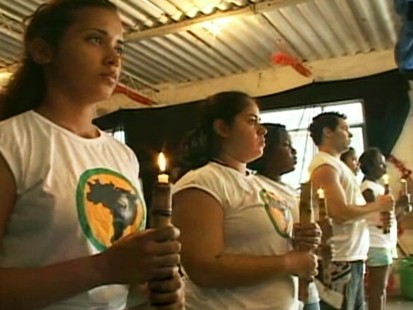 "Our goal is to paint a whole slum and have it be seen as a postcard image like the other places tourists come to see in Rio," Koolhaas said.
Stay Up to Date on the Latest Travel Trends from ABC News on Twitter
The artists are well on their way toward that goal, having just completed their third project in Rio's favelas -- a 74,000-square-foot mural achieved by painting 34 houses in vivid shades of blues, greens and reds to appear as though rays of color are shooting across the hillside Santa Marta slum.
By employing 29 neighbors to paint each other's homes, Koolhaas and Urhahn were able to realize their vision in just under a month.
"Now we know our dream of painting a complete slum is actually a valid idea," Urhahn said of their latest effort. "It is possible and we can do it."
Dutch Artists Paint Rio Slums
Childhood family friends, Koolhaas, a graphic artist whose illustrations are often featured in The New Yorker, and Urhahn, a filmmaker, first traveled to Rio in 2005 to shoot a documentary film about hip-hop culture in the favelas for MTV.
While filming, they noted the unique hillside perch of the favelas -- high above the city, visible for miles -- a sharp juxtaposition of the city's extremes.
They wondered if they could exploit the city's peculiar urban geography for social benefit by creating something beautiful, turning an eyesore into a destination.
"The idea to paint an entire favela started as a joke, but it stuck," Koolhaas said. "It is still our goal that we are working toward."
They returned in 2007 and set to work on "Boy with Kite," a 1,600-square-foot mural depicting a favorite pastime in Rio's notorious Vila Cruzeiro slum. Partnering with two local youths, they finished the painting in two months to widespread community pride.
Spurred on by the success of that first project, Urhahn and Koolhaas jumped into their sophomore effort in 2008 -- a 21,400 square foot Japanese-style mural of a river cascading down a hillside, completed in eight months with the help of three local kids.
Urhahn and Koolhaas are at best uninterested in the financial aspect of their projects, saying only that sponsorships from individuals and companies, like Dutch paint maker AkzoNobel, allow them to operate on a shoestring budget and still pay the youths they employ.
They declined to say how much they pay the locals who help, citing anecdotal evidence instead. One of their painters bought a motorcycle with his wages, in a neighborhood where most people make $78 a month.
They say they have made no money themselves from the projects, adding that they're much more interested in changing perspectives than the bottom line.
"We want to bring an optimistic image, something which has the feeling that there is a bright future and that if you improve your environment, you improve your life," Koolhaas said.
Barbara Schaffer Bacon, co-director of Animating Democracy, a Massachusetts-based art advocacy group that leverages art to engage and improve communities, believes Koolhaas and Urhahn have succeeded.
"Within the favelas, it has allowed people there to imagine and be differently within their own communities," she said of the three bold murals now dotting Rio's slums. "From the outside, it compels people to pay attention to a place that had been ignored and not understood."
But Schaffer Bacon cautions that measuring actual change created by Urhahn and Koolhaas' project is nearly impossible.
"The power of a project like this is evident, but it has a subtle and intermediary effect, not a direct and statistical one," she said.
Animating Democracy has spent two years pioneering metrics to measure the success of art in creating substantive community change, but has found the answers elusive.
Whatever the impact, Urhahn and Koolhaas remain focused on their dream of painting an entire favela and are exploring locations in Africa and Asia to do similar work.
"We want to do as much as possible in our lifetimes," Urhahn said. "We are having the time of our lives."