— -- Eleven commercial flights and a military plane reported lasers illuminated their aircraft Wednesday night as they flew over New Jersey between the hours of 9 p.m. and 10:30 p.m., and the pilot of one plane reported having blurred vision, according to federal officials.
"This is an assault on a pilot as far as I'm concerned," said Rich Frankel, special agent in charge of the Newark, New Jersey, office of the FBI. "It is a criminal matter. You're putting the lives of not just the pilot but everyone on the plane at risk."
Several of the incidents were reported approximately 15 to 20 miles southwest of Newark Liberty International Airport, and the planes were bound for that airport, as well as LaGuardia Airport in New York City, and Pittsburgh, according to the Federal Aviation Administration.
Elsewhere around the country, pilots reported 23 additional laser incidents around the country Wednesday night, according to the FAA.
In New Jersey, some of the incidents were captured in communications with the Newark airport tower.
"Just for your information, there's someone shooting a laser about four or five miles back off our back wing," one pilot told the tower.
"That just happened again?" the tower responded.
"Yes, about four to five miles back," the pilot answered. "They lit us up pretty well."
It happened later to another flight from Charlotte, North Carolina.
"American 1976 checking in with you, and we just got the laser also, here at 3,000 [feet]," the pilot said.
Investigators do not yet know where the laser or lasers originated, the FBI's Frankel told ABC News.
"Its difficult, again, just because of where the plane is, that the plane is moving at a certain speed, that it's a fixed location on the ground," Frankel said. "The pilot may not know that area of New Jersey and, therefore, it's even harder to identify."
The New Jersey State Police said in a statement that the agency was notified of the incidents by the FAA and would be assisting the investigation.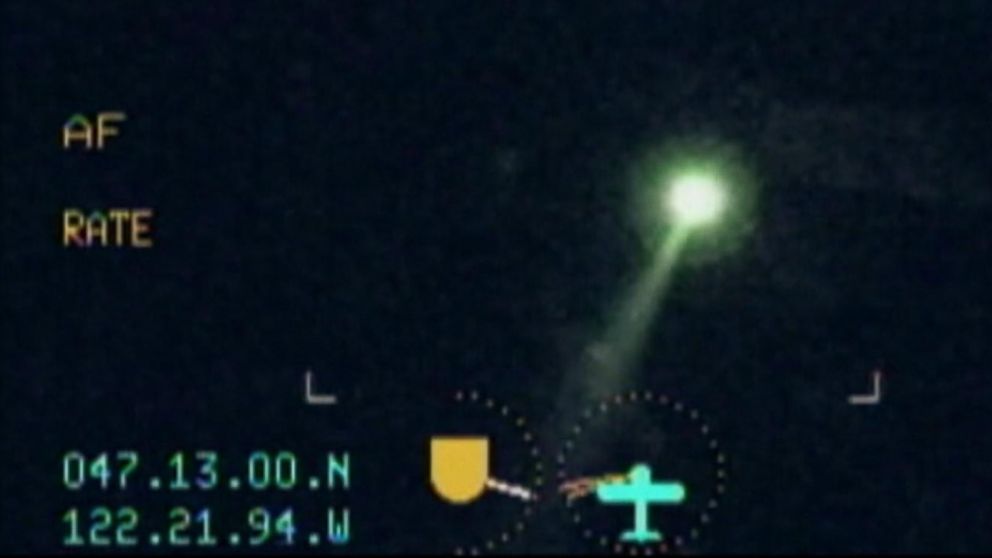 Pointing a laser into a cockpit is a federal crime that carries a maximum of five years in prison and a $250,000 fine. The FBI launched a campaign in January aimed at people who focus potentially blinding lasers at airplanes, and is offering as much as $10,000 for any information leading to the arrest of an individual who intentionally aims a laser at an aircraft.
The number of nationwide laser hits is climbing each year, the Federal Aviation Administration said, from 2,200 incidents in 2010 to 3,400 in 2012 and more than 3,900 in 2013, an all-time high. That's more than 10 incidents every day across the country.
Newark Airport had 28 reported laser-pointing incidents last year, according to the office of Sen. Chuck Schumer, D-N.Y. The most recent were two incidents were this March.
Nearby New York City airports have reported similar incidents, particularly with green lasers, which are considered more dangerous than red lasers because they are more visible to the human eye. In 2014, Schumer's office reported, there were 17 green laser incidents out of a total 19 laser incidents at John F. Kennedy International Airport and 37 green laser incidents out of a total 41 laser incidents at LaGuardia Airport.