1st responders rescue mother, 4-month-old baby from Irma-flooded Miami home
Police officers used a specialized military vehicle for the rescue.
September 11, 2017, 11:03 AM
— -- A mother and her 4-month-old baby were rescued Sunday as floodwaters from Hurricane Irma filled their North Miami Beach, Florida, home.
A man called 911 around 4:30 p.m. to report he was concerned about his neighbor and her child who were in their home as water was rising, according to North Miami Beach Police Department Major Richard Rand.
Wind gusts from Irma were still approaching 60 mph at the time of the 911 call so the police department deployed a specialized military vehicle to rescue the woman and child.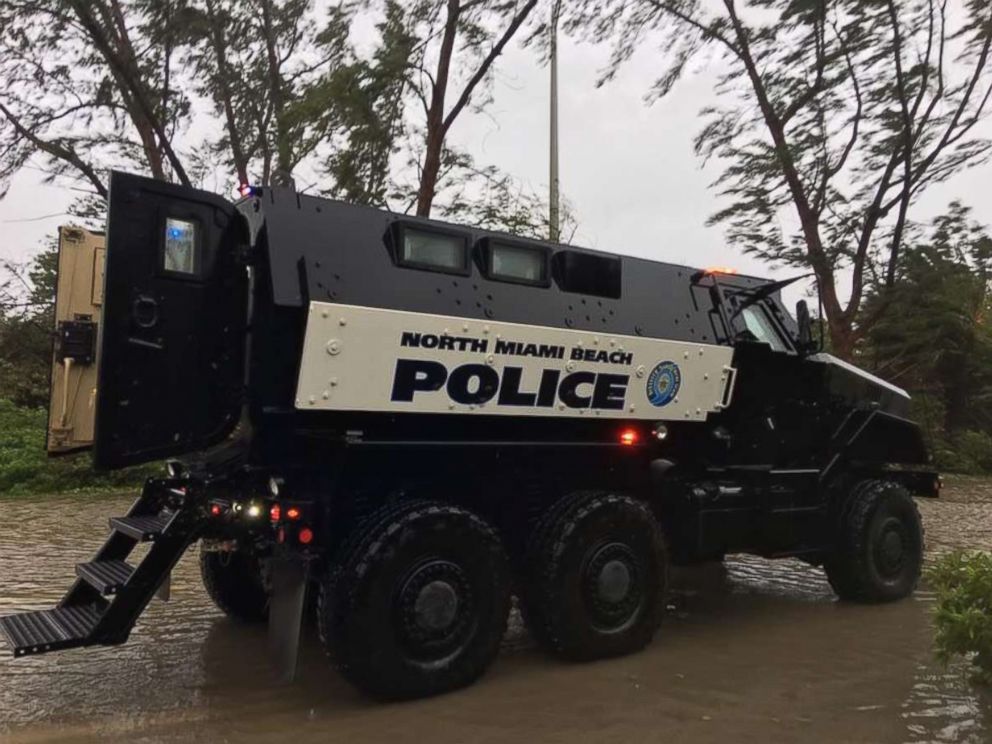 The Mine-Resistant Ambush Protected (MRAP) vehicle had five first-responders on board and reached the home within 10 minutes of the 911 call, Rand told ABC News.
"They found them in waist high water, standing there in a panic," said Rand, incident commander of the North Dade Emergency Operations Center. "The mom handed the child to the officer, an officer grabbed the mother and got them both to safety."
The police officer who rescued the child, Nicholes Lentz, is a father of two and a former U.S. Marine, according to Rand.
The mother and baby, who were not identified, did not suffer any injuries. They were taken to an evacuation shelter to ride out the storm, Rand said.
The family lived in a flood-prone neighborhood in North Miami Beach that was under an evacuation order, according to Rand. He said the home appeared to suffer only water damage.
About 6.5 million Floridians were ordered to evacuate as Irma neared. The storm first made landfall in the Florida Keys Sunday morning as a Category 4 hurricane, bringing 130 mph winds and a storm surge of 10 feet. It was the first Category 4 storm to make landfall in Florida since 2004.
"In my 21 years [in North Miami Beach] I've never seen a storm like this," Rand said of Irma, adding that the police department received approximately 300 calls for service in an eight-hour period Sunday. "These officers, once they rescued this lady and this child, they were right back out there doing their job without blinking an eye."
ABC News' Emily Shapiro and Karma Allen contributed to this report.