20 Injured After American Airlines Plane Catches Fire at Chicago's O'Hare Airport
The passengers deplaned via chutes on the runway.
October 28, 2016, 7:00 PM
— -- Twenty people were hospitalized with minor injuries after an American Airlines plane caught fire at Chicago's O'Hare International Airport this afternoon.
Timothy Sampey of the Chicago Fire Department said the injuries were from the rapid evacuation down slides. The injuries consisted of minor bruising and ankle injuries, said Juan Hernandez, district chief of EMS.
The fire stemmed from an engine failure that was not contained, according to two federal sources. Pieces of the engine were found on the ground at the airport.
Dramatic video from inside the plane shows frantic passengers screaming in the plane's aisle as they line up to depart via chutes.
The 161 passengers and nine crew deplaned on the runway, American Airlines said.
Firefighters were on the scene in less than 90 seconds, officials said.
American Airlines said its flight 383, a Boeing 767 bound for Miami, aborted takeoff because of an engine-related mechanical issue.
The Federal Aviation Administration said "preliminary reports indicate a blown tire," adding, it "is investigating to determine the cause."
Sampey told reporters this afternoon that the plane aborted its takeoff in ample time to bring the plane to a stop on the runway.
Sampey said the fire was in the No. 2 engine and was put out almost immediately.
He said the plane had a substantial amount of fuel and added that fuel was leaking.
This could have been "devastating," he added.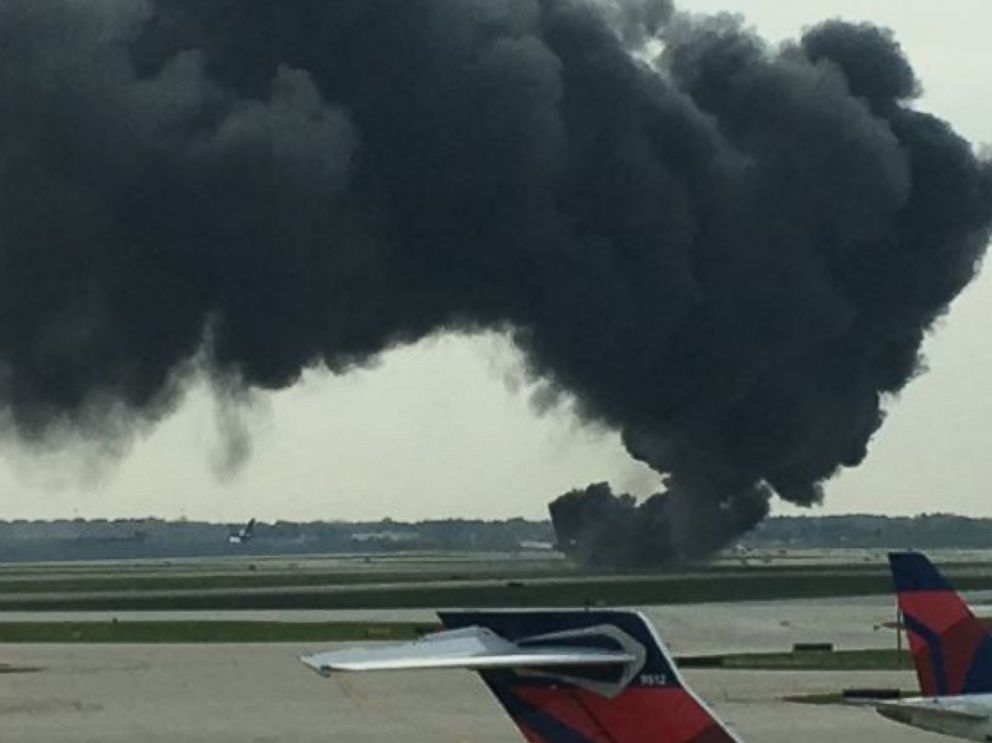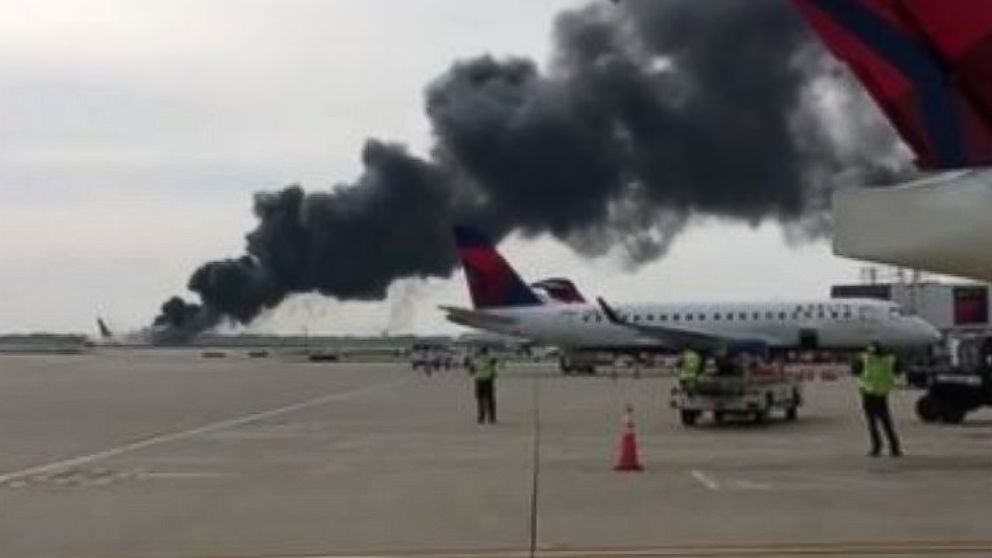 Passenger Gary Schiavone told reporters he saw a "big red ball of flame."
He described passengers' exiting the plane as "organized chaos."
Schiavone said he was afraid for his life and thought the plane was going to blow up.
"Twenty seconds later we would've been up in the air," Schiavone said. "We would've been done."
The passengers were bused back to the terminal, the airline said. "We are taking care of our customers and crew and are re-accommodating our passengers on another flight to Miami this evening," the airline said.
Investigators from the National Transportation Safety Board are responding to the scene.
ABC News' Erin Dooley contributed to this report.