40-year-old father falls to his death in front of wife and 5 children on Oregon hiking trail
The incident happened at Multnomah Falls near Portland.
A 40-year-old hiker was killed over the weekend when he slipped and plummeted down the side of a mountain in front of his wife and five children near Oregon's Multnomah Falls, officials said.
The hiking trail tragedy unfolded about 2 p.m. Saturday about a half-mile from the iconic Benson Bridge, a footbridge near Oregon's tallest waterfall, the 620-foot Mulnomah Falls, authorities said.
"Mom, Dad, five kids were all here enjoying a beautiful day. And unfortunately, a tragic accident happened," said John Plock, a spokesman for the Multnomah County Sheriff's Office. "At one point on the trail, the father slipped and fell and fell down the side of an embankment."
Plock said the man, whose name has not been released, fell 100 to 150 feet down the embankment alongside the Columbia River Highway.
A 62-year-old woman hiking with a group of friends in the same area in August 2022 died when she fell and suffered a fatal head injury, officials said.
The man's family, according to Plock, called 911 for help. He said the man's wife and children could not see where he landed.
The Corbett Fire Department responded to the scene and found the man in 45 minutes but he was already dead, officials said. With the help of volunteers and other search-and-rescue agencies, firefighters managed to find the man and retrieve his body, Plock said.
Corbett County Fire Chief Rick Wunsch noted that the fatal incident occurred on the first big holiday week of the summer.
"That's not the way we want to start our season," Wunsch said.
The incident left other hikers in the area shaken.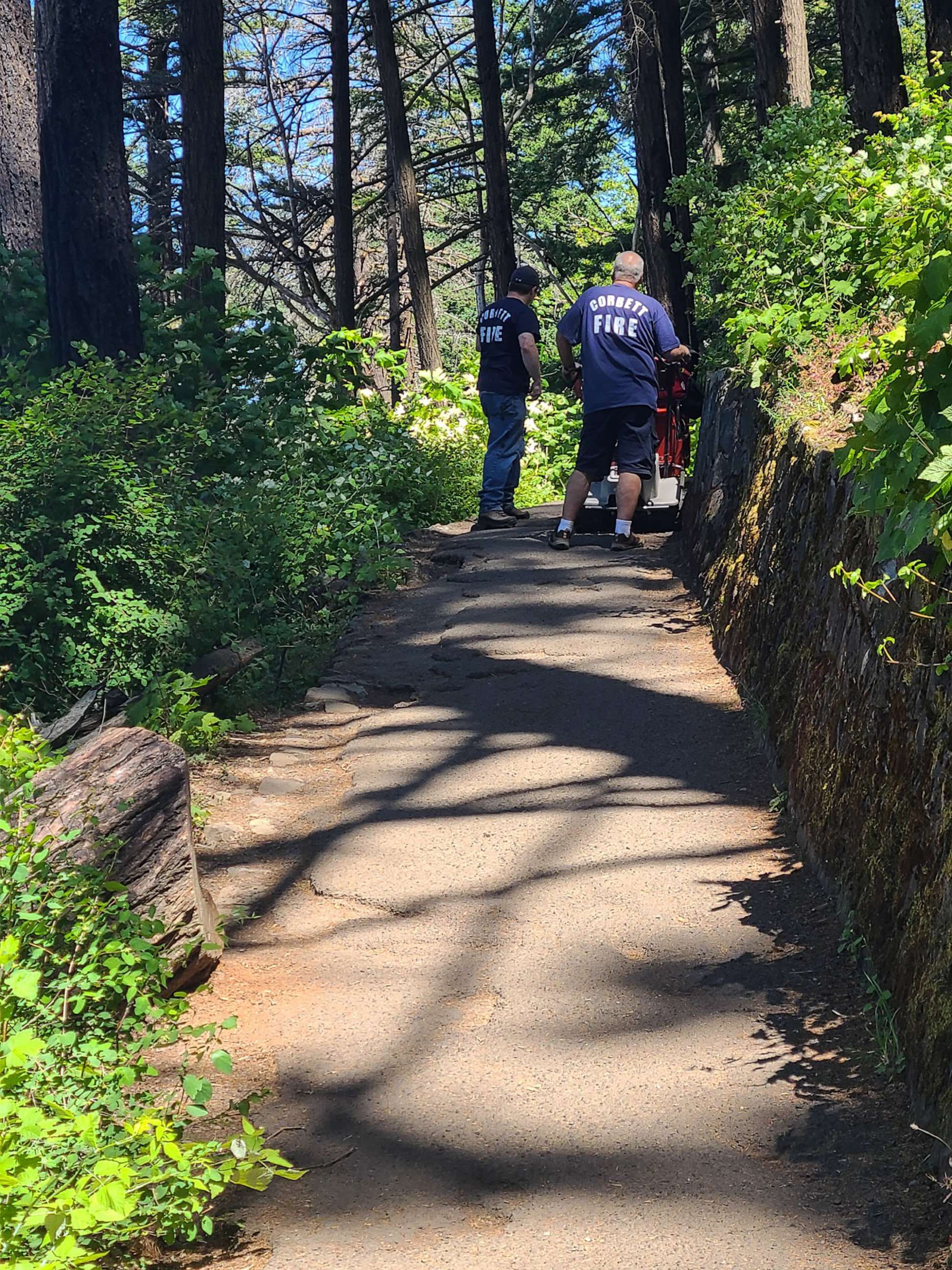 "My gosh, it's horrible," hiker Sarina Khosravani told ABC affiliate station KATU in Portland. "They told us that they were going to shut down the [Benson] bridge. We couldn't go up there."
Plock said the fatal incident occurred in a popular area for hikers in the Columbia River Gorge.
"Nearly 2 million people visit Multnomah Falls every year but it's not just a leisurely walk where you show up with your flip-flops and you take a walk on a paved path," Plock said. "This is a hiking trail. You should be prepared for an actual hike with the proper footwear."