5 dead, including patient and medical personnel, in Care Flight plane crash
The plane broke up in midair, the NTSB said Sunday.
Five people are dead, including a patient and medical personnel, after a Care Flight plane crashed late Friday in Nevada.
The incident occurred at approximately 9:15 p.m. when the Lyon County Dispatch Center began receiving multiple calls regarding a possible plane crash near Stagecoach, Nevada -- about 45 miles east of Reno, according to a statement from the Lyon County Sheriff's Office.
Care Flight, a service of REMSA Health, headquartered in Reno, Nevada, and Guardian Flight, headquartered in Utah, confirmed in a statement following the crash that a PC 12 fixed-wing aircraft, tail number N273SM, went off radar near Stagecoach, Nevada.
"We are heartbroken to report that we have now received confirmation from Central Lyon County Fire Department that none of the five people on board survived," read the statement from Care Flight. "The five people on board were a pilot, a flight nurse, a flight paramedic, a patient and a patient's family member. We are in the process of notifying their family members."
The plane was in the air for approximately 14 minutes before it broke up during the flight, the National Transportation Safety Board said at a news conference on Sunday.
At 19,000 feet, flight radar noticed the aircraft was experiencing a high rate of descent, but no distress calls were made, the NTSB said.
The plane did not have a flight data recorder, nor was it required to, according to the NTSB.
Lyon County deputies, Central Lyon County fire officials, Lyon County Search and Rescue and Douglas County Search and Rescue all responded to the scene of the accident to search the area following the crash.
"The Central Lyon Fire Department and Lyon County Sheriff's Department are coordinating with the National Transportation Safety Board to determine the cause of the crash which is under investigation," Care Flight said in a statement.
Sgt. Nathan Cooper with the Lyon County Sheriff's Office told reporters the crash was in a "pretty mountainous region."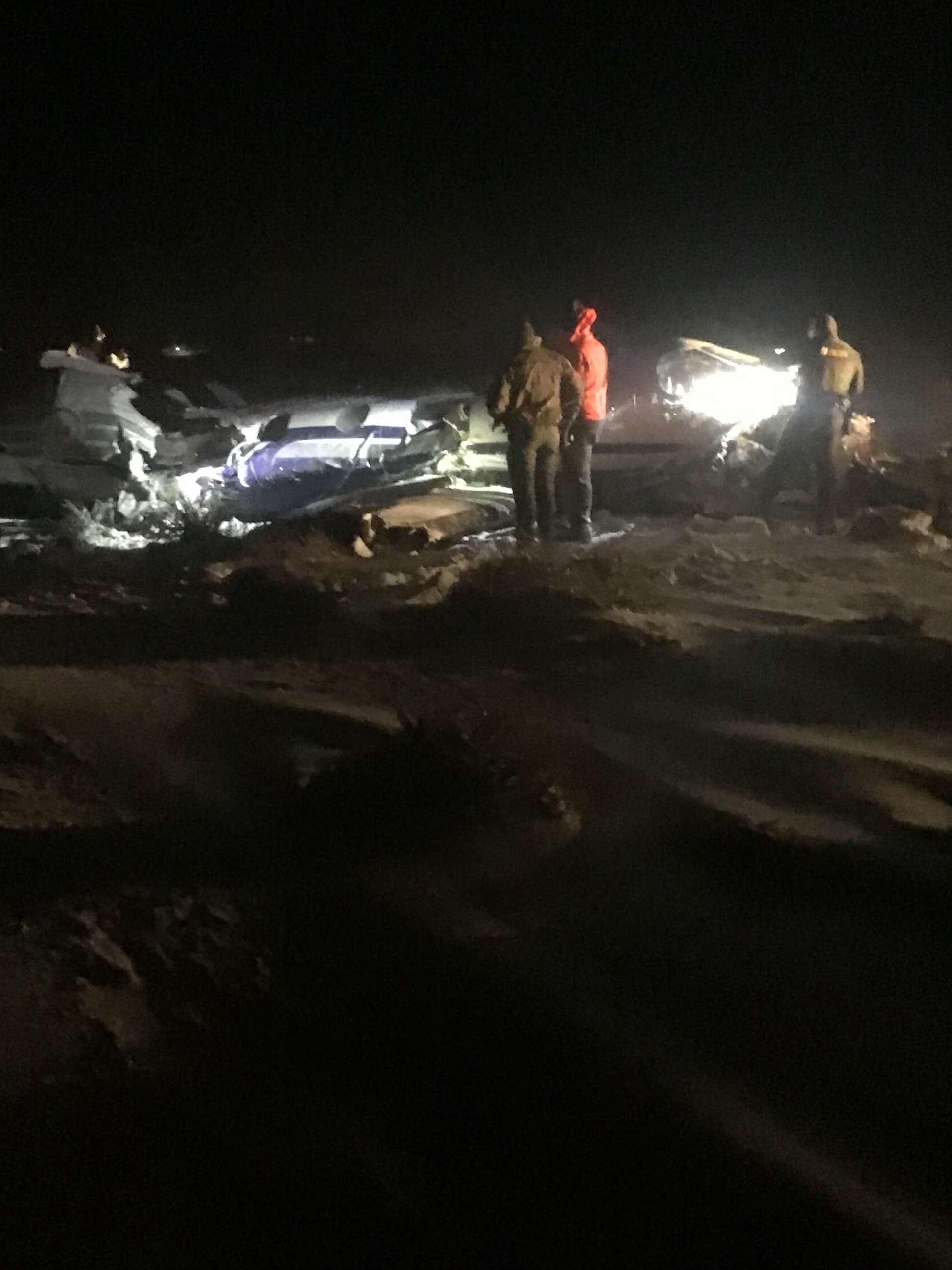 The aircraft was located at approximately 11:15 p.m. but no survivors were found, Lyon County Sheriff's Office said.
"As is Guardian and Care Flight's safety process in these situations, we are in a passive stand down for all Guardian and Care Flight flights across the company," said Care Flight. "We will work with each of our operations to ascertain when they are able to return to service. … Our immediate focus is helping our team members and families, as well as the responding agencies."
This is the fourth event NTSB has investigated involving Guardian Flight within the last several years, the agency said on Sunday.
This is still an ongoing incident and investigation and authorities said that more information about the crash will be released as it becomes available.
ABC News' Marilyn Heck and Teddy Grant contributed to this report.