A tip from a neighbor about a man in possession of "a large number of guns" turned out to be an understatement. When Los Angeles County sheriffs showed up at the home with a warrant they found 432 guns at his house -- and that was just the beginning of his arsenal.
The Los Angeles County Sheriff's Department and Department of Justice announced the unbelievable cache of weapons on Monday after seizing the weapons last week.
Manuel Fernandez, 60, of Agua Dulce, California, was already a convicted felon and was taken into custody for being a felon in possession of firearms, possession of an assault rifle, a felon in possession of ammunition and possession of large capacity magazines.
The arsenal, when laid out by sheriffs, shows at least 57 handguns and row after row of rifles.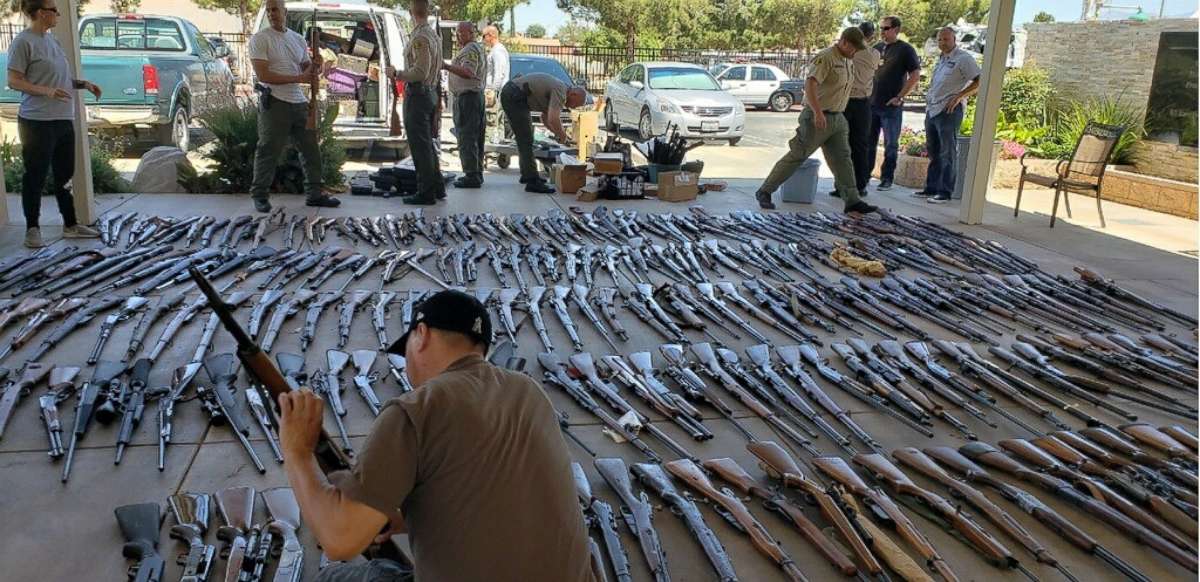 After seizing the 432 weapons at the suspect's house, a second warrant was served at the home of a woman connected to Fernandez, where 30 illegal firearms were seized, according to the sheriff's department. Officials said the woman was not home when the warrant was served and is still unaccounted for, though she could face charges in the future as well.
A day later, law enforcement officials further searched Fernandez's home and found 91 more weapons hidden at the residence.
"Detectives also seized computers, cellphones, and hard drives from the residence believed to be involved in the illicit purchase of firearms by the suspect," the sheriff's department said in its release.
All told, authorities seized 553 weapons alleged to belong to Fernandez. The Bureau of Alcohol, Tobacco, Firearms and Explosives (ATF) has been brought in to trace the origin of many of the weapons.
Fernandez was sentenced to 486 days in jail for an unspecified felony conviction in February 2017, but was released in August 2017, according to jail records.
He has been released on bail this time and is due in court on July 9.
Agua Dulce is locted in a rocky, mountainous region about 45 minutes north of Los Angeles.