Baseball icon and Hall of Famer Henry "Hank" Louis Aaron died Friday. He was 86.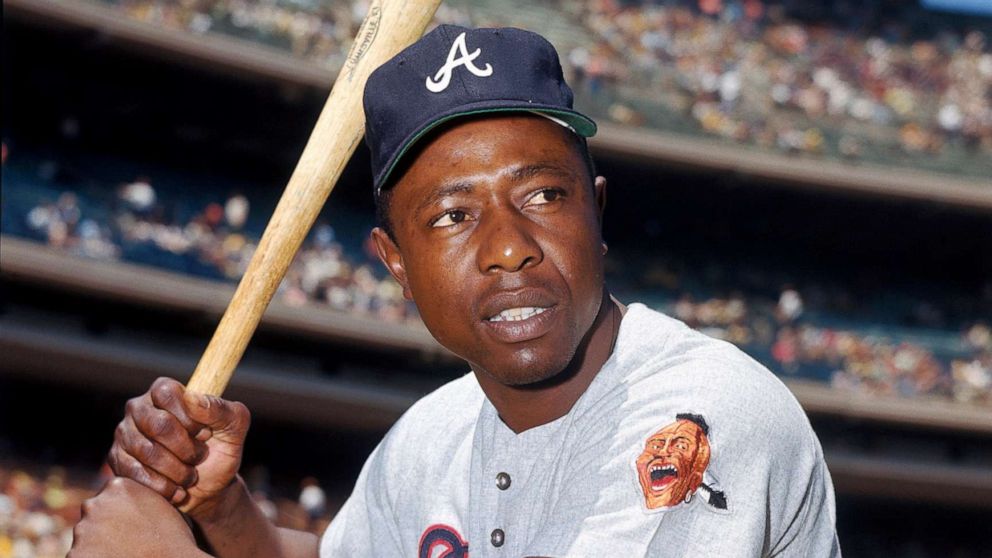 The outfielder from Mobile, Alabama, was one of the greatest power hitters in Major League Baseball history.
"Mr. Aaron passed away peacefully in his sleep. The family asks for privacy at this time," Aaron's assistant said in a statement to ABC News.
Aaron held the all-time record for home runs, at 755, for 33 seasons after surpassing Babe Ruth's total of 714 in 1974. Barry Bonds beat Aaron's mark in 2007, finishing his career with 762.
Aaron also holds the career records for most runs batted in, 2,297, most total bases, 6,856, and most extra-base hits, 1,477, finishing with an OPS+ of 155 and having compiled 143.1 wins above replacement, the fifth-highest WAR total ever, according to Baseball Reference. (An average OPS+, which is an adjusted measure of on-base plus slugging percentage and used to highlight a hitter's overall value, is 100.)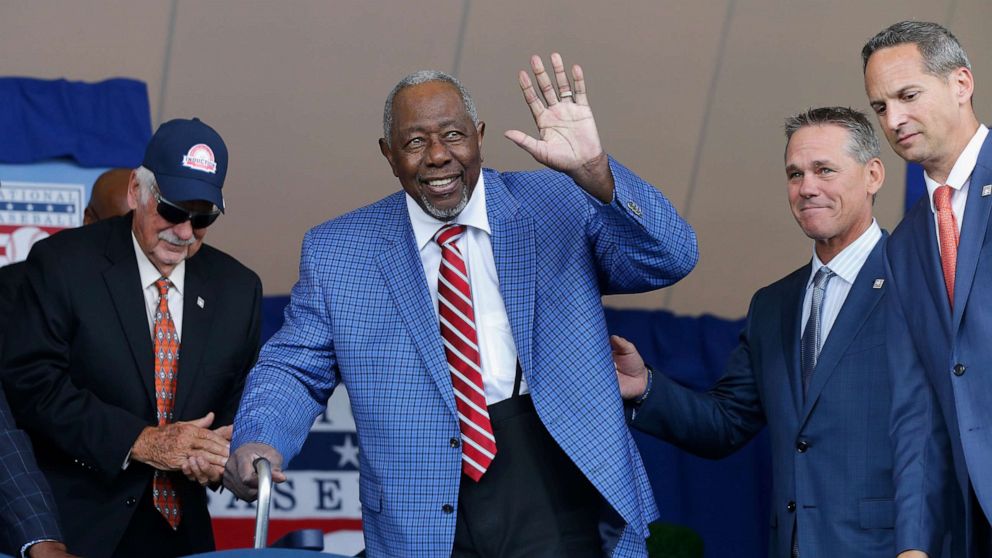 Aaron's legacy stretched far beyond the diamond, as he helped pave the way for other Black players to succeed in a sport still struggling to overcome a history of racism. Aaron's career began just seven years after Jackie Robinson broke the color barrier.
As a child, Aaron grew up in the Deep South, which was still segregated, and in the years leading up to his record-breaking home run against the Los Angeles Dodgers he was the target of death threats, receiving thousands of letters with racist messages.
During his iconic moment, after smacking the record-breaking home run, as Aaron rounded second base, two white fans who'd jumped onto the field ran toward him, and, according to ESPN, Aaron's bodyguard, Calvin Wardlaw, watched from the stands with his hand secretly on his revolver, trying to determine if the two men were hostile or friendly. Much to Aaron's relief, they were there to celebrate his historic blast.
"It was supposed to be the greatest triumph of my life, but I was never allowed to enjoy it. I couldn't wait for it to be over," he once said. "The only reason that some people didn't want me to succeed was because I was a Black man."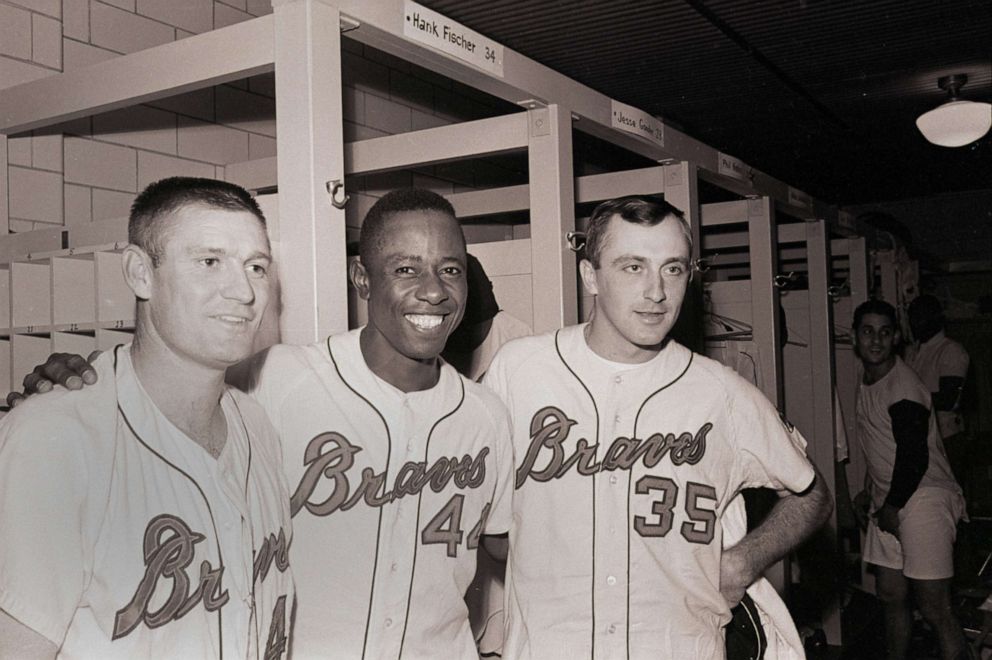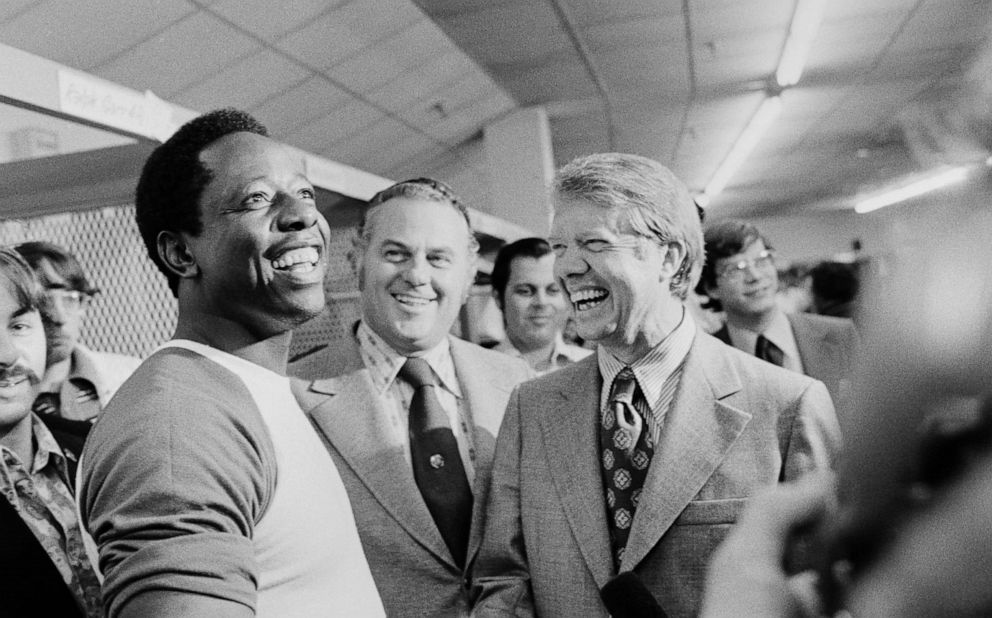 Earlier this month, Aaron got vaccinated against COVID-19 in Georgia, in hopes that doing so would send a message to other Black Americans that the shots are safe, ESPN reported.
Aaron spent 21 seasons in the National League, with Milwaukee from 1954 to 1965 and then in Atlanta from 1966 to 1974, before finishing his 23-year career in the American League with the Brewers until 1976.
Aaron, who was selected to a record 25 All-Star Games and won three Gold Gloves, won the NL MVP in 1957 when he hit .322 with 44 home runs and 132 RBI. When elected to the Hall of Fame in 1982 he was "nine votes shy of becoming the first unanimous inductee," the Atlanta Braves noted in a team statement. No player was elected unanimously until Yankees pitcher Mariano Rivera received 100% of the vote as part of the 2019 class.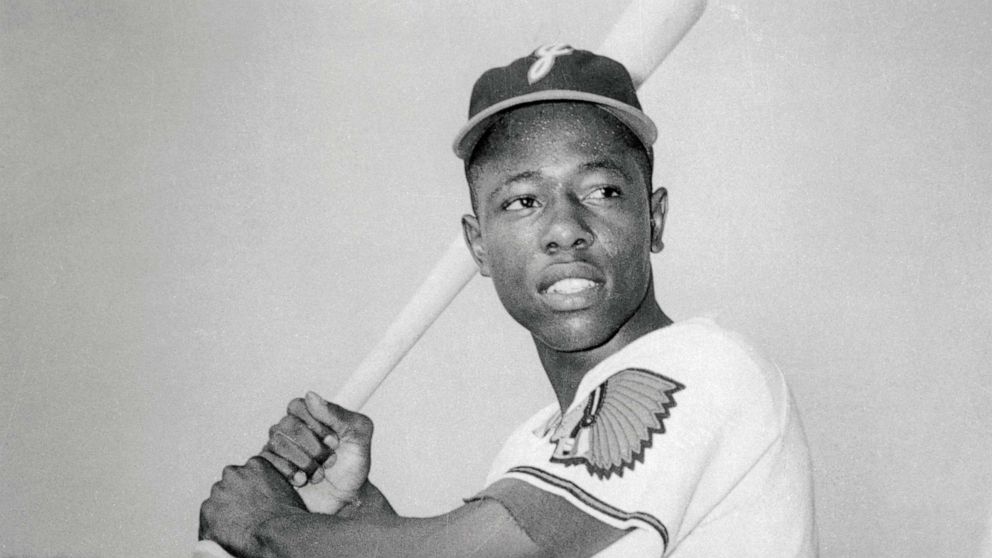 After retiring, "The Home Run King" became a senior vice president with the Atlanta Braves in 1976.
Honoring Hank Aaron's Legacy
Reactions to the news on Friday included messages from teams, fans and civil rights organizations.
"Hank Aaron represented an era in this nation of Black individuals who broke barriers. He did not only break barriers on the baseball field, but also in the civil rights movement," Derrick Johnson, national president of the NAACP, said in a statement. "I hope that athletes from all sports will follow in his footsteps to use their platforms for social good and to advance the cause of civil rights. ... Hank Aaron was a close member of our family here at NAACP. We know his legacy will continue to inspire many generations to come. He will be greatly missed."
President Jimmy Carter hailed the baseball star as a "personal hero."
"Rosalynn and I are saddened by the passing of our dear friend, Henry Aaron. One of the greatest baseball players of all time, he has been a personal hero to us," the 39th president said in a statement. "A breaker of records and racial barriers, his remarkable legacy will continue to inspire countless athletes and admirers for generations to come."
Georgia Gov. Brian Kemp released a statement on behalf of his entire family: "Hank Aaron was an American icon and one of Georgia's greatest legends. His life and career made history, and his influence was felt not only in the world of sports, but far beyond -- through his important work to advance civil rights and create a more equal, just society. We ask all Georgians to join us in praying for his fans, family, and loved ones as we remember Hammerin' Hank's incredible legacy."
Tributes also poured in on social media.
ABC News' Courtney Condon contributed to this report.