Nun who threw perfect pitch before White Sox game says she was picked for 'youth' and agility
Sister Mary Jo Sobieck bounced the ball off her arm before throwing a strike.
Sister Mary Jo Sobieck isn't on the Chicago White Sox roster, but it sure looks like they could use her.
The nun at Marian Catholic High School took the mound for the ceremonial first pitch ahead of the team's game Saturday against the Kansas City Royals.
Sobieck, who was celebrating her school's "Night with the White Sox" at Chicago's Guaranteed Rate Field, confidently strolled to the mound wearing a traditional habit and donning a white Marian Catholic High School jersey.
Sobieck, wearing No. 60, was so confident in her skills that she gave the fans and players a treat -- by doing an arm-bounce trick before the pitch.
"I had to do something to take my mind off it," the nun told "Good Morning America" about the move. "I mean, it's too awkward to just stand and throw from the jump. So I had to do a little something to put me in motion."
The righty hurler fired off a perfect strike to the plate.
"That was awesome," White Sox pitcher Lucas Giolito, who was on the receiving end of the strike, told MLB.com after the game. "She had a whole routine. She had it planned out. I was just lucky to be back there. She threw a perfect pitch."
The White Sox tweeted: "One of the most impressive first pitches of all time."
After leaving the mound and shaking Giolito's hand, Sobieck took in the cheers and pointed to the stands.
In addition to being selected by the Marian Catholic administration because she is one of the sisters who is still there 60 years after its founding, Sobieck said they asked her to throw the first pitch thanks to her youth and athletic ability.
"Well, George I think it's I think it's probably because I have a little bit of athletic ability," she said laughing with ABC News Chief Anchor George Stephanopoulos. "I was probably the most likely candidate because of my youth and my agility."
Her performance left people wondering whether she had previous experience with the sport.
"She was pretty good, actually," White Sox manager Rick Renteria told MLB.com. "I'm like, 'Wait a minute.' He (Giolito) threw it back to her and she fielded it barehanded.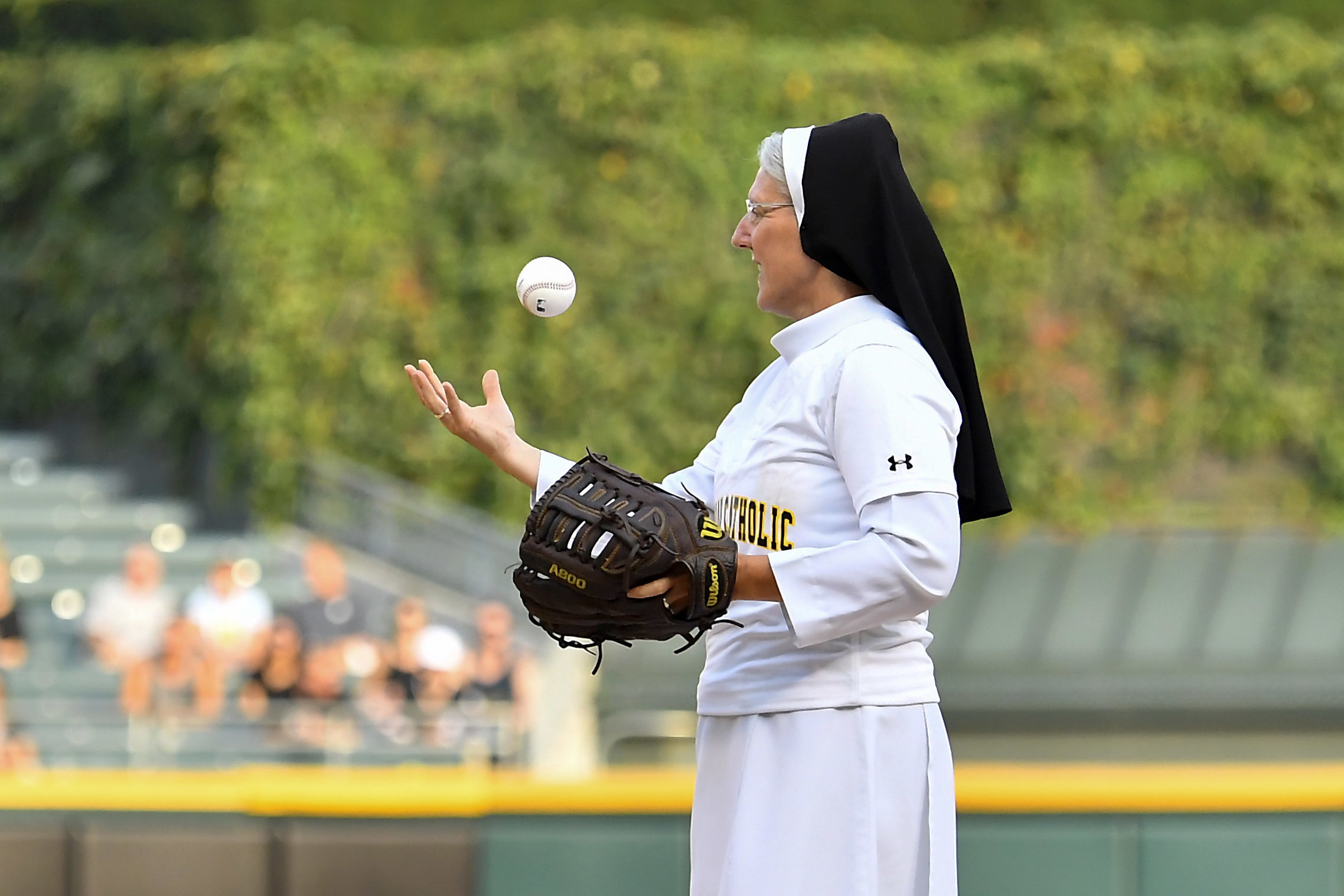 Sobie comes from a large athletic family, according to an article published in 2008 by The Times of Northwest Indiana. She played both volleyball and softball while attending The College of St. Scholastica in Minnesota after her graduation from Cathedral High School in 1987.
The White Sox -- who played the rest of the game without Sobieck -- lost to the Royals, 3-1.
After the game, Renteria joked about adding the nun to the team.
"I was like, 'OK, she looks like she can play a little bit,' so we started talking to her," he said. ""I think she said, 'I played center and short.'
"I said to her, 'Can you play for us?'" he continued. "She said, 'Sure.'"