Evan Gershkovich's parents say Biden promised 'to do whatever it takes' to bring their son home
Ella Milman and Mikhail Gershkovich spoke with George Stephanopoulos.
Journalist Evan Gershkovich has spent more than three months in Russian detention, but his parents say they remain confident the U.S. government will do all it can to bring their son home.
"President [Joe] Biden spoke to us and gave us a promise to do whatever it takes," Ella Milman, Gershkovich's mother, told "Good Morning America" co-anchor George Stephanopoulos as she sat alongside her husband, Mikhail Gershkovich, in their first broadcast interview since their son's imprisonment.
Milman said Biden spoke to them "as a parent" about their son, a Wall Street Journal reporter based in Moscow, who's being held on espionage charges -- charges he, his outlet and the U.S. government vehemently deny.
"[H]e told us he understands our pain," she said.
"Good Morning America" airs at 7 a.m. ET on ABC.
Just days after Evan Gershkovich's arrest on March 29, Secretary of State Antony Blinken formally declared the reporter "wrongfully detained" by Russia.
When Evan's parents met with Blinken, they said he showed them a card bearing the names of all the wrongfully detained Americans worldwide. Gershkovich's name was on the list, too.
"And he promised to us he's not going to rest until all the names are crossed out from his card," Milman continued.
"Mr. Blinken [is] working very hard to cross Evan's name out on that card," she added.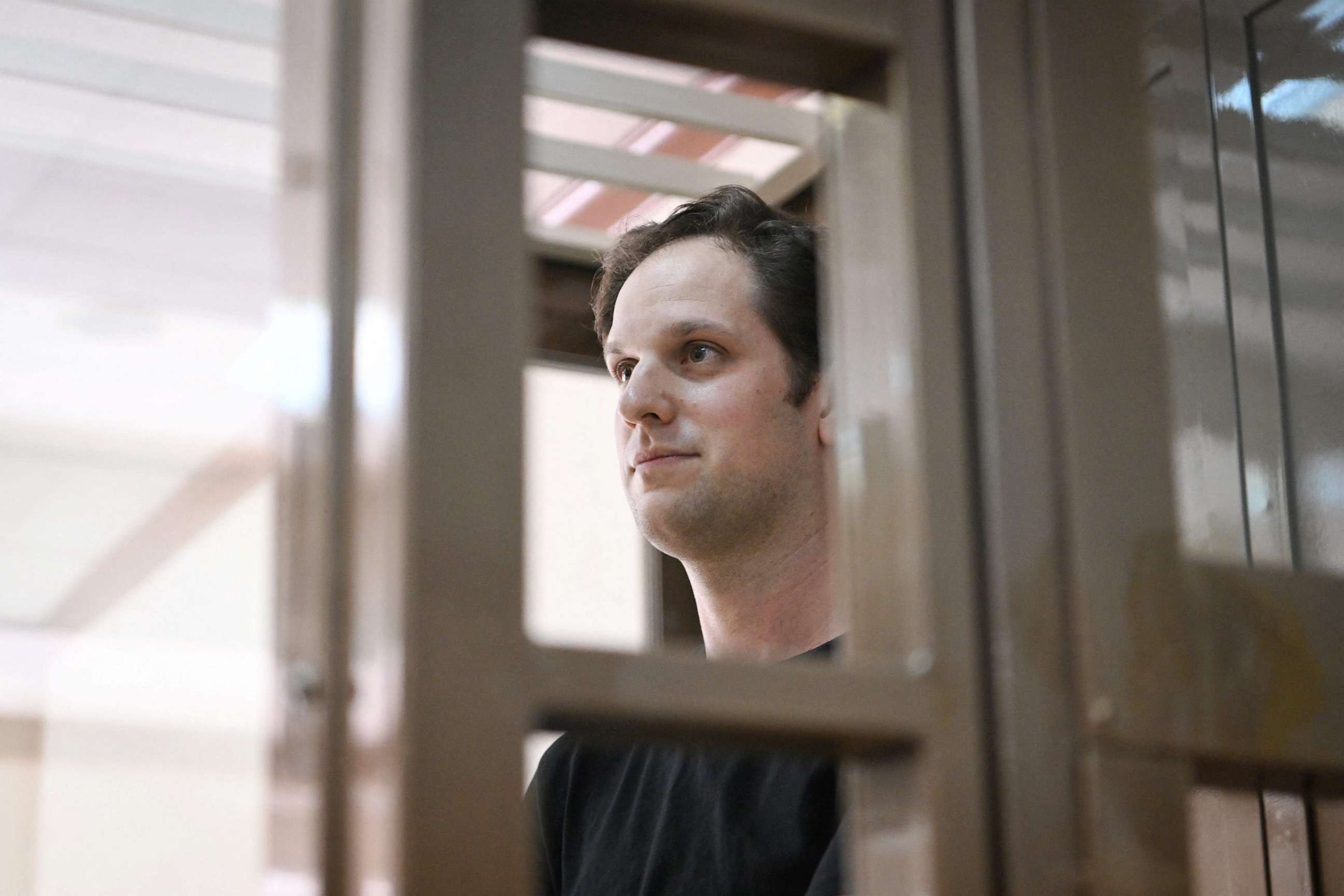 On Friday -- Evan Gershkovich's 100th day in a Russian prison -- Jake Sullivan, White House national security adviser, confirmed U.S. officials have been in contact with their Russian counterparts to discuss Evan's release.
"What the Kremlin said earlier this week is correct," Sullivan said during a White House press briefing on Friday during which he addressed a report about talks of a potential prisoner swap. "There have been discussions. But those discussions have not produced a clear pathway to a resolution, and so I cannot stand here today and tell you that we have a clear answer to how we are going to get Evan home."
Evan Gershkovich was in a restaurant in Yekaterinburg, about 1,000 miles from Moscow, when Russia's Federal Security Service arrested him earlier this year.
Gershkovich has pleaded not guilty to espionage charges. He faces up to 20 years in prison if convicted in a case that is marked "top secret."
Editor's note: The Wall Street Journal has never publicly confirmed what story Evan Gershkovich was working on before he was detained.