It had been five days since Amber Pennell was last seen, captured on a Wal-Mart surveillance camera, hurrying to get home in time to kiss her two young children good night.
The search for the 21-year-old mother became increasingly desperate in the rural areas of North Carolina, where roads are carved through rugged country lined with thick brush.
The mystery of Pennell's disappearance was finally solved Monday evening when Caldwell County Emergency Services Director Tommy Courtner spotted the odd pattern of tire track marks heading off the road Pennell was last seen traveling on. After getting out of his car to investigate, he spotted her Toyota buried down an 80-foot ravine.
Courtner called out Pennell's name -- and her arm raised up through the window. Another call to her and she managed to peek her head out as well.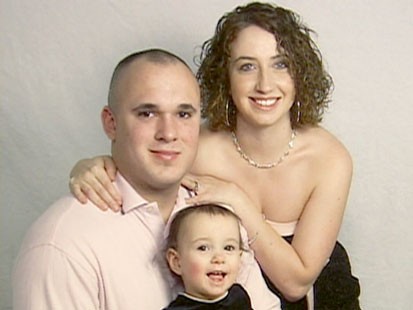 And with that, the rural community gave a sigh of relief.
"It's been a long and trying week with a good ending result," said Keith Davenport, the county's emergency services manager who arrived on scene shortly after Courtner.
Because the community is so close-knit, Pennell knew Courtner and was able to greet him by name, bringing smiles to the emergency workers' faces.
Davenport said onlookers, many of whom had been searching for Pennell, lined the road while rescuers lowered themselves by ropes and cut Pennell out of her car where her legs were pinned under the vehicle's dashboard. The crowd burst into applause as the ambulance drove her away.
Pennell is now recovering at the Carolinas Medical Center in Charlotte, some 50 miles northwest of her home. She suffered multiple fractures and a possible head injury along with dehydration and mild hypothermia. A hospital spokeswoman said Tuesday that Pennell was in critical condition.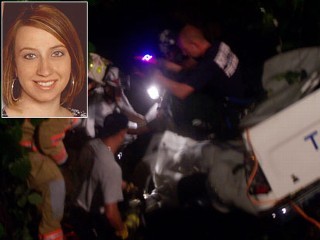 "Just the fact she was alive is a great blessing," Davenport said.
Pennell left her waitressing job at Hannah's Bar-B-Que in Lenoir shortly before 10 p.m. Wednesday night. She lives about 20 miles away in rural Buffalo Cove and the road connecting the towns, Davenport said, is "really rough steep terrain."
Pennell stopped at Wal-Mart to pick up a birthday card and some household items. She called her husband to ask if he needed anything and left, according to the store's surveillance camera, at 10:14 p.m.
It was that stop, and a later one for gas, that led police to believe something had happened to her and that she hadn't simply run off.
Pennell's husband reported her missing shortly after midnight and by the next day the search was launched. By Friday, volunteers and emergency officials had tramped through area ravines, woods and trails, looking for mashed foliage. A K-9 team was later brought into search around her house.
From the beginning, Davenport said, officials were nearly certain Pennell's car had gone off the road. The thick brush "is so dense you'd never see the vehicle," he said.
At Hannah's Bar-B-Que, employees have been taking phone calls and welcoming visitors who want to know how Pennell is doing.
Employee Janet King said staffers and customers joined in the search and fliers were hung in the windows of area businesses.
"We're like a family here," she said.
King said Pennell's co-workers were trying to stay positive after her disappearance but were imagining all the scenarios of what could have happened to their friend. And they thought about her children, one of whom is preparing to celebrate a birthday.
"I know every mother loves her children, but Amber is the best mother that a child could be blessed with," King said. "She was wanting to get home [Wednesday] to kiss her babies good night."