In a jam-packed hearing that had all the trappings of the murder trial to come, Casey Anthony burst into tears during emotional testimony by her mother, who recounted the night exactly two years ago she learned her granddaughter, Caylee Anthony, had disappeared.
"I overheard [Casey] say she hadn't seen Caylee for 31 days and that's when I ran in her room," Casey's mother, Cindy Anthony, said on the stand. "I was in shock. I couldn't believe what I was hearing. ... I was hysterical, at that point. I don't know if I went over and shook her or not, but I wanted to."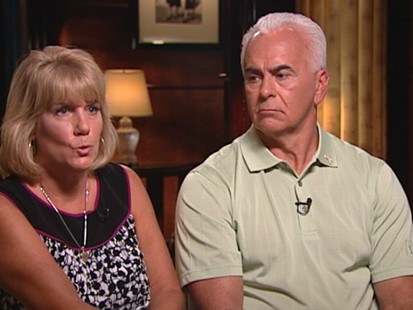 Hardly a minute later, Cindy Anthony made a
911 call
-- her third of the night -- and told dispatchers that her 2-year-old granddaughter was missing and that "it smells like there's been a dead body in the damn car."
Several of the key players in the Casey Anthony murder case appeared in court today for an evidentiary hearing, including Casey's brother, Lee Anthony, who has managed to stay out of the spotlight of the high-profile case. The hearing settled a dispute over the admissibility of the 911 calls and ruled that they would be allowed in court when Anthony goes on trial for the toddler's murder next spring.
After Caylee Anthony finally was reported missing on that fateful July night in 2008, the toddler never was heard from again. Casey Anthony was charged with murder in October of that year. The little girl's remains weren't discovered until December, less than a mile from the Anthony home.
CLICK HERE to see ABC News' Casey Anthony Case TIMELINE.
'Dead Body' Smell 911 Call Debated, Cop 'Role-Playing'
Though Cindy Anthony made three 911 calls that day in 2008, it was the last, the one in which she discussed the "dead body" smell in the car, that was the main focus of the hearing today.
In an exclusive interview with "Good Morning America" last month, Cindy Anthony said she was just trying to get the police to respond to her 911 call as soon as possible.
"You can't take back anything that you say or feel at the time and I don't take [it] back," Cindy Anthony told "Good Morning America." "All I know is I was desperate to get someone out to my house, desperate. ... When you're desperately needing something, especially when it comes to your children, you pretty much do or say whatever it takes to get help."
The defense argued that based on Cindy Anthony's assertion it was a ploy to get a rapid response, the statement was a well-thought-out fabrication and, therefore, should be considered hearsay.
But the judge sided with prosecutors, who said the call fit the bill for "excited utterance" -- basically a panicked, natural reaction that can be allowed in court -- based on the fact that both Cindy and Lee Anthony testified that she made the call within seconds of learning that Casey had no idea where Caylee was and hadn't known for a month.
In another revelation, Lee Anthony testified that when he was attempting to persuade Casey to give up information about Caylee, he "role-played" the part of a policeman to question her.
"What I did was what I would describe as a role play," Lee Anthony said. "I said, 'When the officer gets here, he's going to ask you, "How are you doing? Great. Where's your daughter? Lets go get her." ... If you're not going to take mom to her without the police here, you're going to have to take mom to her with the police here.'"
Anthonys on Pain of Being Away From Not One, But Two Loved Ones
The Anthony family a month ago marked the anniversary of the last time Caylee's grandparents saw the girl alive. The intervening years were a time of intense and painful scrutiny that has seared the entire Anthony family, the girl's grandparents told "Good Morning America" in an exclusive interview last month.
"The last two years have been just unbearable," an emotional George Anthony said as he sat alongside his wife, Cindy Anthony. "To think about the last time we saw Caylee and Casey together, hear her voice, to see her little eyes and get a hug and kiss from her -- it's not easy."
The months since their granddaughter disappeared have been full of court hearings and controversies, public protests and personal struggles.
"We've been dealing with this almost as long as Caylee was alive, because Caylee wasn't quite 3 when this started," Caylee's grandmother Cindy Anthony said last month. "So it seems like this nightmare has lasted longer than the moments that we had with her. That makes it very, very difficult.
While Caylee Anthony may be gone forever, the Anthonys described how difficult it has been for them to be away from Casey while she spends a reported 23 hours of every day in her cell.
"I miss her," Cindy Anthony said. "I miss her too much. And I think about where she's at. She shouldn't be there."
Though Caylee will not be coming home, George Anthony said last month he found a way to carry the toddler with him -- in a tattoo of the girl printed above his heart.
"Caylee's always in my mind," George Anthony said. "She's always in my heart. When I put her on my skin, she's really inside of me."
Casey Anthony has pleaded not guilty to Caylee Anthony's murder and is expected to go to trial in May 2011.
ABC News Orlando affiliate WFTV contributed to this report.