A man who allegedly killed his roommate and drank his blood in front of his niece and her young children has been captured after a three day manhunt, Florida police said today.
The Bartow Police Department arrested Mauricio Lopezon Wednesday after he asked a woman for a ride, according to police. The woman recognized Lopez from a wanted poster and called the authorities while keeping an eye on the man.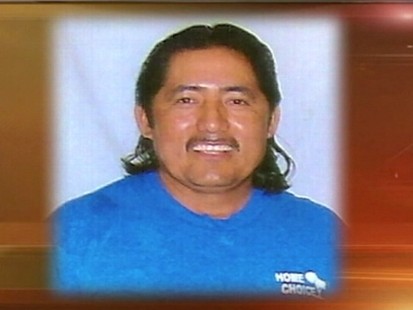 According to police, Lopez admitted to killing Macario Cruz because he was angry that Cruz was having an affair with his niece, Mirella Mendez. Cruz is married to Mendez's sister, who is in Mexico.
After the stabbing, Mendez told ABC News' Tampa affiliate WFTS, "He had a cup of blood in his hand and said, 'The devil tells me his life is now mine and I'm going to drink it.' Then he drank what was in the cup."
Lopez then went outside carrying a knife and the bloody glass and put the knife against her throat, Mendez said.
Before fleeing, Lopez raised the bloody glass in the air and said, "This is my secret," Mendez told police.
After his capture, Detective Sgt. David Wyant of the Bartow Police Department told ABCNews.com that he asked Lopez if he drank the blood.
"I've been a cop for over 16 years….for the better part of my career I've been interviewing people," Wyant said. "I've never asked that question before."
"He said that he was really intoxicated and he doesn't remember drinking the blood," the officer said.
Mendez told police that a Mexican custom says that if a murderer keeps the murder weapon and drinks the blood of the victim, he will be safe from the authorities, Wyant said. The officer added, "It doesn't work, because we arrested him last night."
Lopez is scheduled to appear in court for the first time today. He is being held in the Polk County Jail without bond. He faces charges of second degree murder, aggravated battery with a deadly weapon, felony battery, and two counts of aggravated assault. Police said that Lopez is an illegal immigrant, which has made it difficult to find out if he has any past history of mental illness or violence.
Man Drinks His Victim's Blood
Lopez was unhappy with Mendez's relationship with Cruz, and had repeatedly threatened Cruz on prior occasions, Mendez said according to an affidavit filed by police.
Mendez also told police that Lopez had previously assaulted Cruz with a 15 pound hand weight and had threatened to kill both Cruz and his brother Juan Cruz if the affair did not end.
According to the affidavit, Mendez told police that Lopez showed up to the house where all three of them lived on Sunday evening, and said that he appeared to be intoxicated. While talking on the phone outside the house, Mendez said she saw Lopez punch the screen out of his bedroom window and come onto the lawn with a large knife, at which point she said he tried to stab Juan Cruz, Marcario Cruz's brother. Juan Cruz escaped with a small cut on his back.
At that point, Mendez told police, Lopez returned inside and a few moments later she heard her children screaming.
Mendez's 8-year-old son told police that he saw Lopez come into the house and try to attack Marcario Cruz, who threw things at him to try to get him to stop, according to the affidavit. Lopez allegedly stabbed Marcario Cruz at least twice in the chest. One of the knife wounds pierced his heart, and he died at the scene.
Lopez hid in the woods for three days before the police caught him, Wyant said. During that time, the police department housed the rest of the family in a secure location because they were concerned that Lopez might return.