A powerful winter storm cut through the Southern Plains Tuesday, leaving a dangerous mix of ice and snow on roads across Texas and the Midwest.
At least 19 people have died as a result of the treacherous weather, according to the Associated Press.
The National Weather Center posted winter storm and ice warnings from the Southern Plains through the mid-Atlantic coast, with severe ice extending into the Mississippi and Ohio valleys.
Highway crews struggled to keep pace with the layers of sleet, snow and solid ice covering the roads. And Oklahoma officials declared a state of emergency, warning drivers to stay off the roads due to the slick, dangerous conditions.
"The snow plows are out and I'm not sure if they are making it better or worse," said one Oklahoma driver, Angela Hendrix.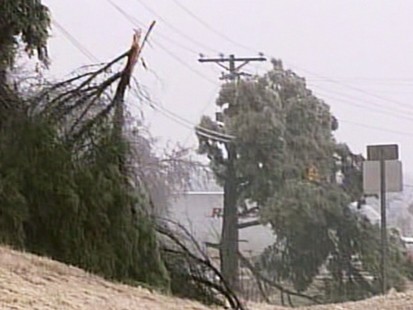 Tulsa police reported more than 12 auto rollovers in a two-hour span. "I just hit my knee on the dashboard. I wasn't going more than 40," said Tulsa driver Suzie Moore.
Freezing rain snapped icy power lines in northern Arkansas, leaving 165,000 customers in the dark. In Jonesboro and Fort Smith, Ark., electricity in homes and businesses could remain out for the rest of the week.
Outages stretched into Kentucky, where more than 60,000 people are without power. Kentucky Gov. Steve Beshear declared a state of emergency today after heavy ice weighed down tree limbs, causing branches to snap and scatter across the roads.
A "tree split and all we just heard was the crack and then everything coming down," said Kentucky resident Greg Kubiak. "Ever since, it's just listening to branches come down and trying to keep out of the way."
Homeowners' nerves raced as tree limbs ominously hung above rooftops.
"You can see the limbs over the house bending over there," said Ken Berry, homeowner from Richmond, Ky. "More weight is going to take that down."
Parts of Texas are completely frozen. In Lubbock, a FedEx cargo plane crashed as it tried to land on the runway of Lubbock Preston Smith International Airport in the icy mist. Two crew members were injured.
Ice mounted on highways in the Dallas-Fort Worth area, causing drivers to dangerously slip and slide down the road.
Ice Storm's Dangerous Conditions Head East
Thousands of schools, government offices and colleges were closed Tuesday in Arkansas, Oklahoma, Ohio, Indiana, Kentucky, Illinois, Missouri and Maryland. Commuters couldn't get too far this morning -- many spinning out into ditches in Indiana.
"I was going like 40 to 45 miles an hour. It got slick and I slid off the road," said Rob Ballew on the roads of Johnson County, Ind. "I got lucky. I was able to pull out of it."
The deadly winter storm is on the move, heading eastward from Texas toward even more populated areas.
"If it gets toward the East Coast and holds up, it's going to be tapping into a lot more moisture than what we have here," said Frank Mitchell, meteorologist at ABC affiliate KTUL in Tulsa. "That means the freezing rain will be even heavier."
Washington, D.C., received its first major snow of the season today, causing 30-minute delays at airports. More snow accumulation is predicted overnight.
"I plan on staying home tomorrow where it's a little warm and a little safer," said one Washington resident.
Forecasters predict 3 to 8 inches of snow will hit the East Coast along Interstate 95 Wednesday.
The Associated Press contributed to this report.