Authorities dropped the charges against adult film star Stormy Daniels Thursday after she was taken into custody during a performance at a strip club in Ohio, which her lawyer called a "politically motivated" setup.
Daniels, who made headlines earlier this year over her claims of an alleged affair with President Donald Trump, was arrested Wednesday night while performing at the Sirens Gentlemen's Club in Columbus after she allegedly allowed "a customer to touch her while on stage," her attorney, Michael Avenatti, said via Twitter early Thursday morning.
"Just [received] word that my client @StormyDaniels was arrested in Columbus, Ohio [while] performing the same act she has performed across the nation at nearly a hundred strip clubs," Avenatti tweeted. "This was a setup [and] politically motivated. It reeks of desperation. We will fight all bogus charges."
ABC News reached out to Avenatti, who declined to elaborate beyond his tweets.
Daniels was charged with three violations of illegal sexual orientation activity in a sexually oriented business. Those charges were dropped Thursday afternoon, according to court documents.
Daniels, whose legal name is Stephanie Clifford, had allegedly touched some of the patrons' breasts and allowed them to touch her, according to court documents obtained by ABC Columbus affiliate WSYX-TV. She had allegedly performed the same act with several officers who approached the stage and forced one officer's head into her bare chest.
Columbus police arrested Daniels, 39, along with two other dancers at the club.
Daniels, who was semi-nude during the performance, was initially charged with three misdemeanor counts of knowingly touching a patron at a "sexually oriented business," according to the court documents. Ohio law prohibits anyone who "regularly appears nude or semi-nude on the premises of a sexually oriented business" to "knowingly touch" a patron or another employee who is not a member of their immediate family, nor the clothing of that individual, while on the premises of that establishment -- and vice versa.
Columbus Police Chief Kimberley Jacobs said in a statement that the vice personnel working when Daniels was arrested "believed they had probable cause that state law regulating sexually-oriented business was violated."
The Columbus Division of Police vice personnel are responsible for enforcing laws regulating alcohol sales, after-hours clubs, massage parlors, human trafficking, nuisance properties and other "serious violations of law," according to the police department.
"However, one element of the law was missed in error and charges were subsequently dismissed," Jacobs said. "...a mistake was made, and I accept full responsibility."
Jacobs said the presence of the Vice officers at the club was reasonable, but the motivations behind their actions will be reviewed internally.
The Franklin County Sheriff's Office released a booking photo of Daniels on Thursday morning.
Court records show Daniels was released on bail after an individual named Denver Nicks posted $6,054 bond. She was seen leaving jail Thursday morning.
By Thursday afternoon, a judge in Franklin County Municipal Court had granted a motion to dismiss the charges against her.
"My office has reviewed the charges filed by the Columbus Division of Police, and I've determined that these crimes were not committed, based on the fact that Ms. Clifford has not made regular appearances at this establishment as required under the law," Columbus city attorney Zach Klein said in a statement Thursday afternoon. "We'll do the same inquiry for the other defendants involved, as well. My office was not involved in this sting operation, so any additional questions about it must be directed to the Columbus Division of Police. The charges have been dismissed."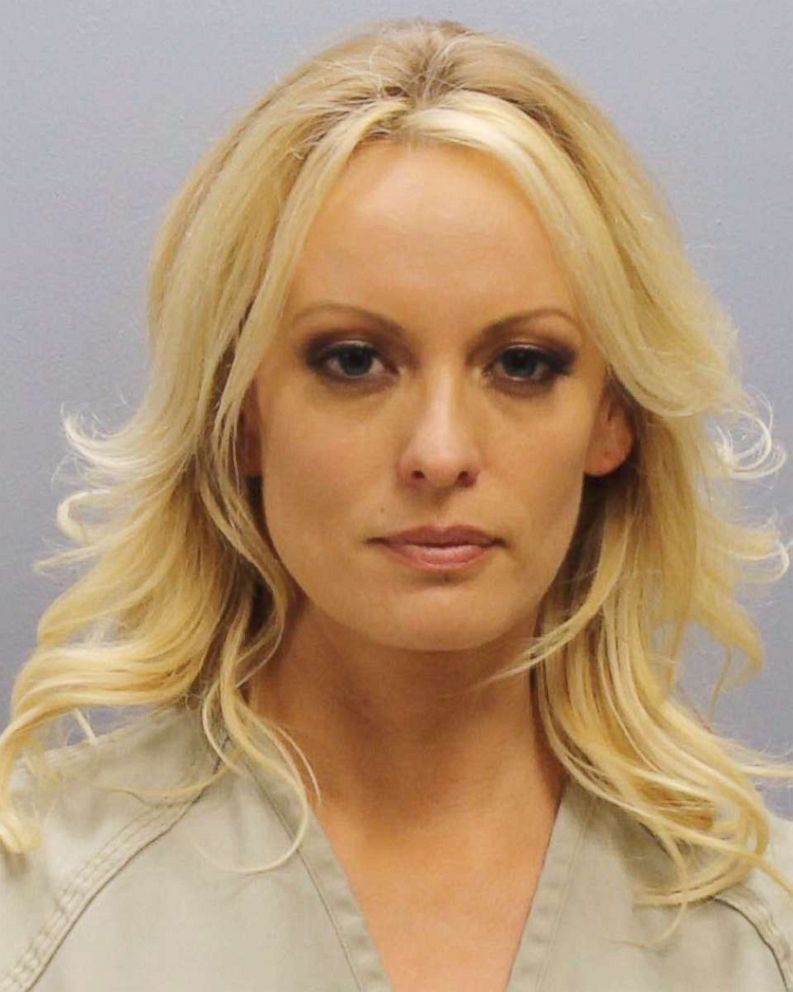 Avenatti did not provide details on the "act" in question but he said Daniels was "arrested for allegedly allowing a customer to touch her while on stage in a non-sexual manner."
"Are you kidding me? They are devoting law enforcement resources to sting operations for this? There has to be higher priorities!!!" Avenatti tweeted. "We expect her to be released on bail shortly. We also expect that she will be charged with a misdemeanor for allowing 'touching.' We will vehemently contest all charges."
Avenatti said his client would plead "not guilty" to the three misdemeanor charges. He also released the following statement via Twitter on her behalf: "As a result of what happened last night, I will, unfortunately, be unable to go forward with tonight's scheduled performance. I deeply apologize to my fans in Columbus."
Avenatti later announced via Twitter that the charges had been dropped.
"I am pleased to report that the charges against my client @stormydaniels have been dismissed in their entirety," he tweeted.
Daniels wrote on Twitter that all of the money she makes at another performance tonight will go toward the legal fees for the two other dancers who were arrested.
"Come support the working women of this city," she wrote.
Daniels has said she had sex with Trump once in 2006 and was later paid off to keep quiet about it. Trump, who was married to his current wife, Melania, at the time, has repeatedly denied the affair occurred.
Trump's then-personal attorney, Michael Cohen, had Daniels sign a non-disclosure agreement about the alleged affair just weeks before the 2016 election. Daniels filed a lawsuit against Trump and Cohen late last year, seeking to be released from the hush agreement.
Cohen has admitted paying Daniels $130,000 shortly before the election. In a statement emailed to ABC News in February, Cohen said it was a "private transaction" using his "own personal funds" that were paid to Daniels in 2016.
Daniels filed a new lawsuit in June against Cohen and her former lawyer, Keith Davidson, who represented her when she signed the non-disclosure agreement. The suit alleges that Davidson betrayed Daniels while still representing her by communicating and coordinating with Cohen for Trump's benefit.
ABC News' Jack Date, Matt Foster and James Hill contributed to this report.