Ahmed Mohamed's High School Says He's Welcome Back, But Supports Teacher Who Reported Clock
The school also said it supports the teacher who reported the clock as a bomb.
September 17, 2015, 12:42 PM
— -- The Texas high school where student Ahmed Mohamed was arrested for a clock invention that a teacher mistook for a bomb said they will welcome him back as a student, should he change his mind about changing schools.
"Only thing we did hear from the press conference was that he intended to transfer," MacArthur High School's director of communications Lesley Weaver told ABC News today. "He's certainly welcome [back]."
"We're confident that we can continue to provide him with an excellent education, but we want him to feel safe along with the other 2,800-plus students on campus," Weaver added.
Ahmed, a freshman at MacArthur High School in Irving, Texas, was taken into police custody Monday when his homemade digital clock was mistaken for a bomb by school officials.
Since the incident, the 14-year-old has become a media sensation, capturing the attention of news organizations worldwide, as well as President Barack Obama and Facebook CEO Mark Zuckerberg.
"I think there's frustration from the students," Weaver said. "They love their school, they love their community and not really appreciating the national spotlight that's been cast upon them."
Despite the negative attention on the school, Weaver said both the city of Irving and parents of students are standing behind the school and the actions of its officials.
"Our community seems to be standing behind us supporting us," she said. "We are not hearing the complaints or crazy messages here in Irving."
Ahmed spoke about his arrest today on ABC News' "Good Morning America," describing how his English teacher and police reacted to his clock, which is still in police custody.
"She saw a clock that, in her opinion, looked like a threat to her," Ahmed said of the unnamed teacher. "It felt really weird getting arrested because I never thought I'd ever get arrested."
"I repeatedly told them, 'It's a clock,' but no matter how much I told them, I guess that's not a bold enough answer to them," he said of police. "I want it [the clock] back, with my humility."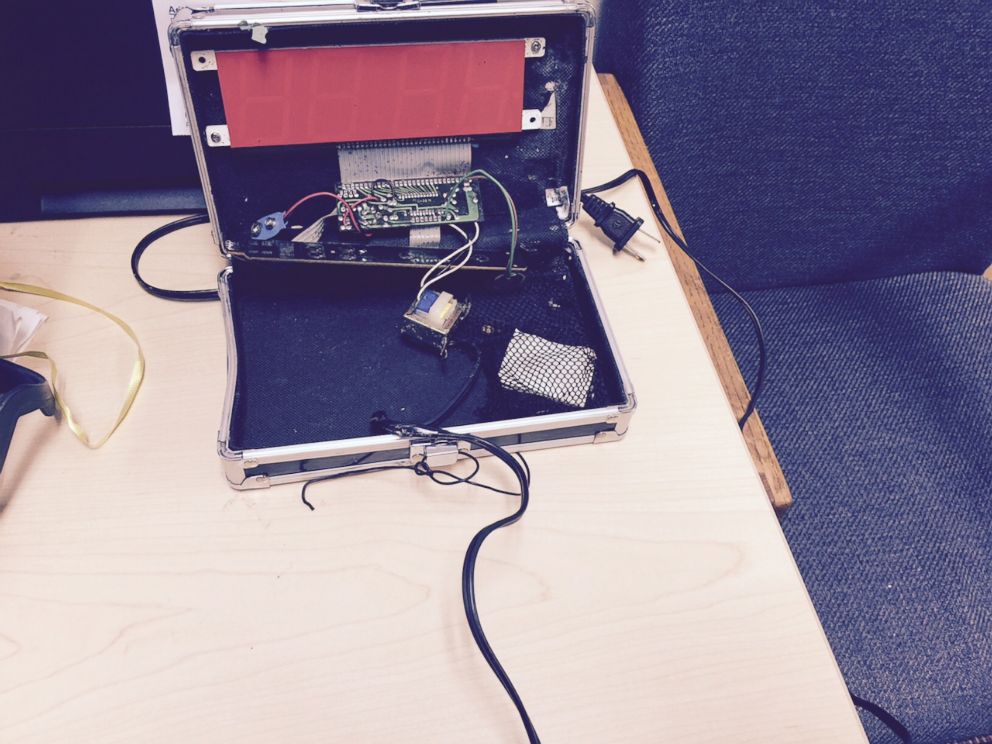 As for the teacher's actions, Weaver said the school is supporting her decision to report the clock as a suspicious object.
"We do stand behind what the teacher did," she said. "We believe she was acting in the best interest for the safety of all 2,800 students at MacArthur High School. She followed the correct procedures."
"What the teacher was faced with was a beeping device, in a suitcase, in her class with wires and a timer," Weaver added. "We are proud that that teacher reported something that she thought was suspicious and that was the device, not the student."
During Wednesday's news conference with Ahmed and his family, the teen told reporters that he has no desire to meet with MacArthur High School to further discuss the ordeal and has already made his decision to transfer to another school.
He added that he was suspended for the clock for three days -- a punishment that Weaver said had not been lifted, even though police concluded that Ahmed's invention was not a bomb.
"Even though that particular item did not pose an immediately dangerous situation to the school, we cannot allow items on campus that can be perceived to pose a threat," Weaver added. "It's devastating that schools and public places like movie theaters across our country have experienced terrible tragedies and because of that we have to learn from that."
"We have to speak up and that's what that teacher did," Weaver said, noting that multiple meetings have been scheduled with Ahmed's parents since his arrest, but the family has yet to attend.