The parents of a high school freshman are demanding their son's football coach be fired, saying their son was brutally beaten by members of his own football team in an alleged hazing attack caught on cell phone video.
Fourteen-year-old Rodney Kim Jr. suffered a broken arm, busted lip and bruises on his back in the incident that occurred Friday afternoon at Davidson High School, in Mobile, Alabama, his parents told ABC News. The freshman quarterback required surgery on his broken arm.
"He broke his radial bone in his forearm. His physician was able to realign his radial bone," his mother Mary Kim told ABC News in an interview. "He's been complaining of headaches so we took him to the hospital today, because we think he may have a concussion."
In video obtained by ABC News, a group of students can be seen apparently pummeling, kicking, and jumping on Kim Jr. in an alleged hazing ritual after they learned the freshman had made the Davidson High varsity football team. After practice on Friday, a teammate pushed him into the locker room and onto the ground, where the attack began, according to Kim Jr.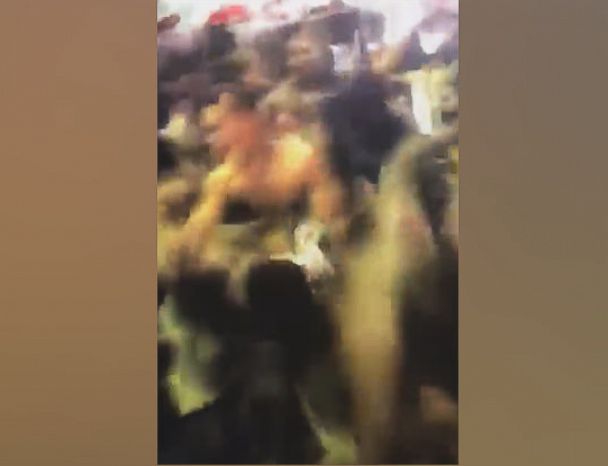 Kim Jr.'s parents say they first learned of the video after it was forwarded to his sister, a senior at the high school. After seeing the video, the victim's father, Rodney Kim Sr. was enraged.
He told ABC that he first received a phone call from the school's athletic trainer, informing him that his son had been injured at practice. He said that after further probing, the athletic director told him she believed the teen "may have been hazed" and that "a couple of guys jumped on him."
Upon arriving at the school, Kim Sr. said, he found his son alone, with his arm wrapped in ice.
Kim Sr. said he brought his injured son to a local hospital, where he said a doctor later called the police to report the assault. Mobile Police arrived at the hospital later that evening, he said.
In a written statement dated May 3, 2018, Mobile Chief of Police Lawrence Battiste wrote, "The Mobile Police Department is aware of the incident that occurred at Davidson High School on April 27, 2018 where a 14-year-old male student was assaulted by several teammates in the locker room after practice. We are actively investigating to determine all individuals responsible for causing the student to sustain a broken arm injury. Today, we received the social media video post of the incident and it is being reviewed. Once the investigation has concluded, we will provide an update on those arrested and the charges."
The Mobile County School District is cooperating with police and conducting its own investigation, Mobile County School District Superintendent Martha Peek told ABC News in a phone interview.
Peek says all parties are cooperating with the investigation, including the school's football coach Fred Riley. Mobile County School district has suspended four students.
"It was very clear from the initial investigation that those four student were definitely involved," Peek said. "They have been suspended. As the investigation goes on, with the police department and the school system, there could be other things that take place. There could be other people involved."
Kim Jr.'s mother is calling for more arrests.
"Twenty children jumped my son and only four were suspended," Kim said. "The police detectives told us today they are working on it, but to make more arrests, that's up to the DA's office."
"We have not heard from the school system period. We feel like everyone has turned their backs on us," she said.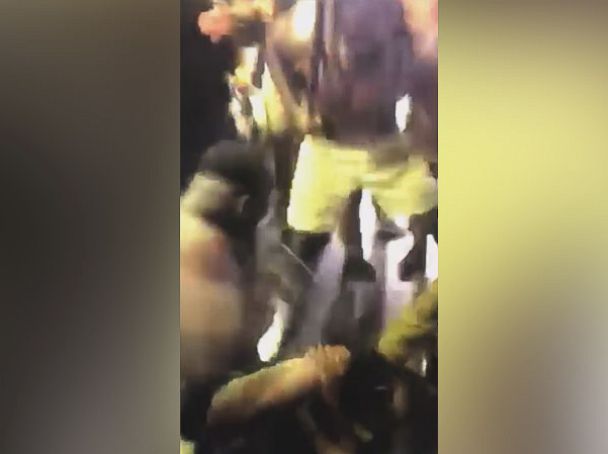 ABC News asked the school district whether they planned to reach out to the victim's family. Mobile School District Superintendent Martha Peek responded, "We learned of this yesterday and have been working on it. It was our understanding that the student had undergone some surgery. We were trying to be mindful of that and make sure that everything had been taken care of, before any contact was made."
Shortly after speaking with ABC, the Kim's say they received a phone call from the school district.
The school district said they plan to find out exactly what happened in that locker room.
"We are trying to check out every detail and we don't want to leave any stone uncovered," Peek said. "It's a bit of a complicated process to get in and get statements from everybody. But we are working on all of those things and are very disappointed that this happened."
In the meantime, Kim Jr. will have to undergo physical therapy. He is currently recovering at home, suffering from constant pain and mental trauma, his parents said. His doctor is optimistic that he will be able to return to the football field possibly next winter.
"This has to stop before someone else gets injured," Kim Sr. pleaded. "Thank God my son is here."
The Kims said, that since the incident, other parents in the community have come forward and shared similar hazing stories involving their children.
"This has been going on year after year," Kim said of the parents' allegations. "My son just got the worst treatment."
The school district said it is investigating those claims and the coach is cooperating.
Coach Riley phoned Kim Jr.'s parents the day after the incident to apologize, but Kim's parents say it is not enough. They are demanding that he be fired. Kim is also calling for the Davidson High football team to forfeit their upcoming 2018-2019 season.
"If we retaliate, when is it going to stop?" Kim said. "We need to send a strong message that this is not tolerated in America. If the adults are not the ones sending a strong message, then these kids think it's OK."
Peek echoed similar thoughts: "When you have an incident like this, you regret it. You then need to emphasize that this is not acceptable and will not occur in the Mobile County School District again."
The Kims told ABC their son will not be returning to Davidson High School.
Since the attack, three freshman players who say they did not participate in the alleged hazing incident have reached out to Kim Jr. and expressed their condolences. They plan to visit with Kim Jr. at his home.
Students from a nearby private school have reached out to Kim Jr. sending their best wishes and encouraging him to attend their school and play for their football team.
Coach Fred Riley was not available for comment.