— -- The Orlando nightclub shooter's use of a legally purchased AR-15-type rifle, which President Barack Obama likened to "weapons of war," has rekindled the debate about the sale and use of a civilian gun model often associated with the military.
Shooter Omar Mateen had two guns on him Sunday when he opened fire in the Pulse nightclub: a Glock 9 mm handgun and a Sig Sauer MCX .223-caliber rifle, which the U.S. Bureau of Alcohol, Tobacco, Firearms and Explosives classified as an AR-type rifle.
Though gun enthusiasts are quick to note that the Sig MCX is not exactly the same as an AR-15, the latter is one of the most common versions of a weapon that's used by both civilians and the military. The National Rifle Association even called it "America's most popular rifle" in a blog post on its website earlier this year.
The Sig MCX and the AR-15 have similar basic components and function but are made by different manufacturers with different features, some that a brochure for the MCX calls "revolutionary."
Owners say AR-15-type weapons are lightweight and easy to shoot with low recoil, making them good for target practice, competitive shooting and self-defense.
Bob Owens is one such owner of AR-15s, in addition to being the editor of Bearing Arms, a gun news website, and a shooting instructor in North Carolina.
His five AR-15s are among the more than a dozen guns in his collection.
"Usually, mine are for competition shooting or target shooting," Owens said of his AR-15, adding that he also has "one set up as a home-defense gun."
"The reason they're so popular is, one, they come in a wide range of prices. You can have them brand new for $500 or up to $2,000 to $3,000, depending on the customization," he said.
He said the AR-15 is generally used for hunting smaller prey, largely targeting animals weighing 5 to 40 pounds.
"It's so weak, they won't let you use it to hunt deer in many states," Owens said of the AR-15.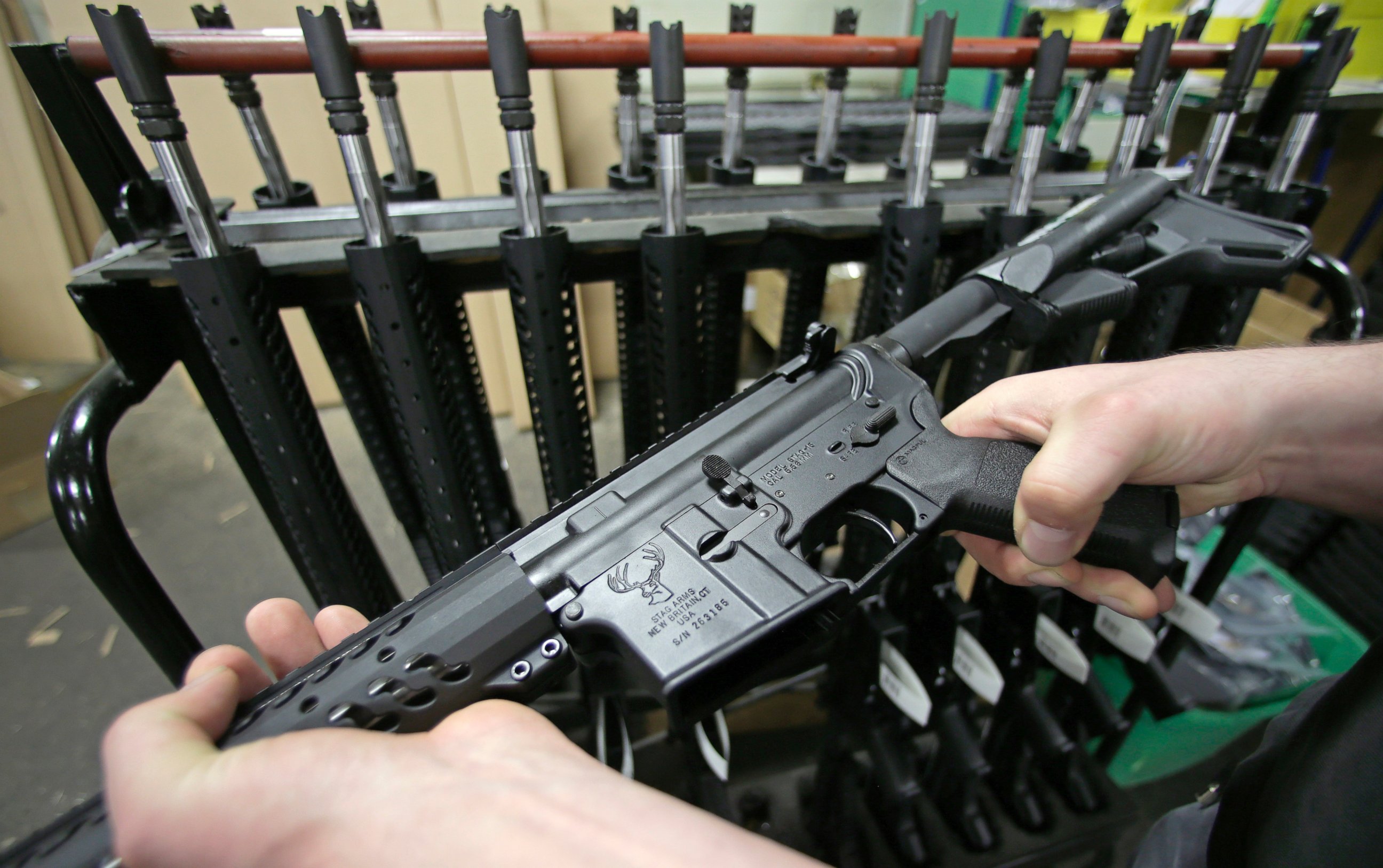 Ben Wilhelm, a veteran who served in Afghanistan and an NRA instructor, owns an AR-15 and doesn't view it as a substitute for a handgun.
"Most of the people who own an AR-15 probably do own a handgun or a shotgun," he said.
"An AR-15 is not my go-to for self-defense, and I'm not carrying one around downtown San Antonio," the Texas resident said.
"It looks scary to people who don't know any better," Wilhelm said of the AR-15.
In discussing the public debate about the AR-15-type weapons that were used in attacks like last year's in San Bernardino, California, and 2012's in Newtown, Connecticut, Wilhelm puts more of the blame on gun-free zones than on too many weapons.
"When you create gun-free zones, the only people who are going to obey those laws are people that are not a threat," Wilhelm told ABC.
He added, "What we've got to stop doing in this country is to stop leaving good people defenseless," adding that "none of my guns have ever killed anybody, and I hope to God I can live the rest of my life" without that happening.
He sees the prospect of any guns being taken off the streets or the reinstatement of the federal assault weapons ban, which Obama suggested Tuesday, as a threat to the Second Amendment and citizens' rights to protect themselves.
"The thing about an AR is it's kind of the go-to firearm for not only defending yourself from mobs of people, but you've got to remember what the Second Amendment was written for ... defending yourself from a tyrannical government," Wilhelm said.
"When guns are taken away, that's when genocides happen. Hitler disarmed everyone in Germany and in every country he conquered, and he killed 11 million people, and nobody could stop him. Pol Pot, Stalin, Mao [did the same]. It's not about gun control. It's about control. It's about elites having control," he said.
Obama expressed a different view in his comments Tuesday calling for reinstating the federal assault weapons ban, which Congress allowed to expire in 2004.
"If we really want to help law enforcement protect Americans from homegrown extremists, the kind of tragedies that occurred at San Bernardino and that now have occurred in Orlando, there is a meaningful way to do that," he said. "We have to make it harder for people who want to kill Americans to get their hands on weapons of war that let them kill dozens of innocents."
But for people like Katie Myers, the director of training at Blue Ridge Arsenal target range in northern Virginia, it's a matter of people controlling their own protection.
"We want to continue to be able to carry to protect our families, to protect ourselves," she told ABC News. "So when we talk about gun control, we're not really talking about gun control. We're talking about people control."
Myers owns six guns and has had her AR-15 for three years. She says she enjoys using it for target practice at the gun range, constantly trying to compete against herself.
"What I'm hearing is a lot of people want to keep guns out of hands of people who are going to do bad things. I, like just about every responsible gun owner, agree. We don't want people to take their firearms and hurt people on purpose or go into groups of people and do damage. That's not at all what we want," she said.
Myers has college-age children and said that protecting her family is her most important job.
"I will do whatever I have to do to keep them safe, and one of those things, as this world has gotten slightly darker year after year after year, is to become a concealed-carry permit holder and a concealed-carry permit user," she said. "I carry where I legally can."
ABC News' Lee Ferran and Janet Weinstein contributed reporting.