— -- U.S. Army veteran Allen Thomas has been searching for his twin children for nearly half a century, and finally, his search is over.
Thomas had been looking for his twins, a son and a daughter, ever since he had to leave them behind with their birth mother in South Korea more than 40 years ago. Thomas said their birth mother later put them up for adoption without his knowledge, and they were lost to him. One of the few things he had left were just a handful of photos.
"It's all I had all these years, so I just, wherever I went [the photos] went," Thomas, 68, told ABC News' "20/20."
Unsuccessful in his search for years, Thomas turned to Facebook this April, posting photos and documents and asking for help. The post was shared more than 1 million times, with prayers, encouragement and leads pouring in from around the world.
"20/20" offered to help Thomas find his twins and enlisted the help of investigative genealogist Pamela Slaton and ABC News' South Korea News Bureau. After months on the case, with the help of "20/20" and Slaton, Thomas was recently reunited with his son and daughter for the first time.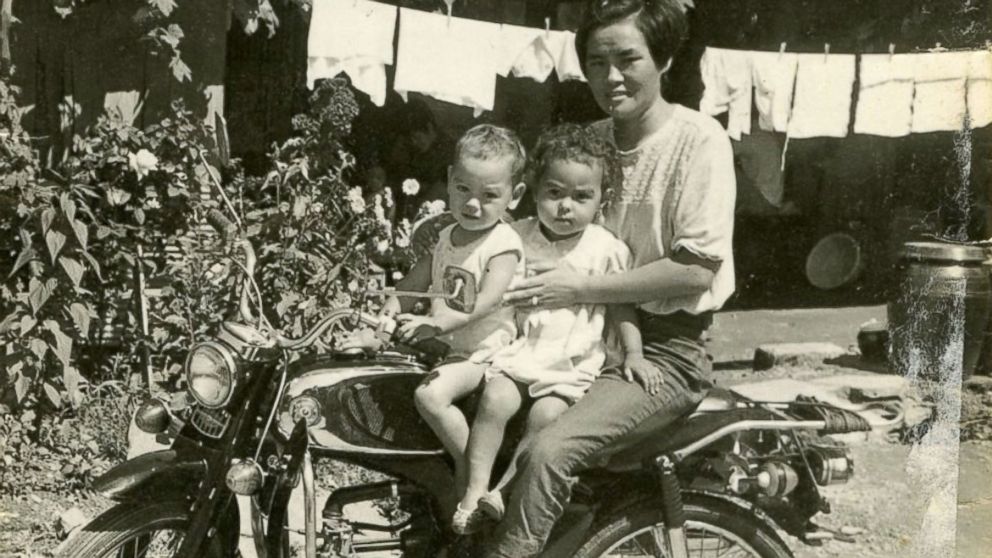 Thomas' story began when he was a 19-year-old Army sergeant stationed in South Korea in 1966, working on helicopters. There, Thomas said he met a woman named Pae Seong-Kuem at the Non-Commissioned Officer's Club.
Pae Seong-Kuem, who he called "Connie," was five years older with a son from a previous relationship, named Jae-Im. Shortly after they met, Connie became pregnant.
"It was [a] great surprise [as] far as I was concerned," Thomas recalled. "I was all for it."
On Sept. 10, 1967, Thomas rushed Connie to the hospital in Seoul, where she gave birth to twins, a girl and a boy.
"We didn't find out it was twins 'til she had 'em," Thomas said. "I loved it. I got a family right now, you know? I was really, really super proud."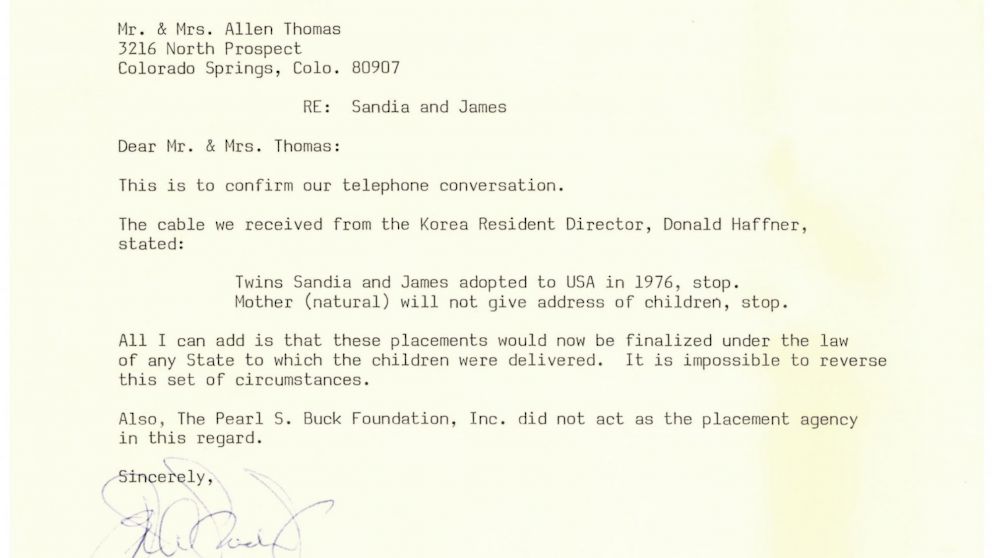 Connie and Thomas named the twins James and Sandra, and about a year later, Thomas married Connie when he was 21 years old and adopted her son Jae-Im.
But when his tour in Korea ended in 1969, Thomas said he couldn't get his family back to the United States because there was a problem with passports for Connie and Jae-Im, so he left his children and wife behind.
He told "20/20" he figured it was just a matter of time before he could cut through the red tape, and he continued to support his family in Korea from the United States.
"We were corresponding and she kept asking for money so I kept sending her money," Thomas said.
Thomas wanted to get back to his family in Korea so badly that he volunteered for a dangerous tour in Vietnam to be closer to them.
"I figured if I went over there, I would extend, then I'd go to Korea and get this situation squared away," Thomas said.
Thomas said he was finally reunited with his family during a 30-day leave from Vietnam, but by then a year had passed. While he loved seeing the kids, Thomas said his relationship with Connie had become strained.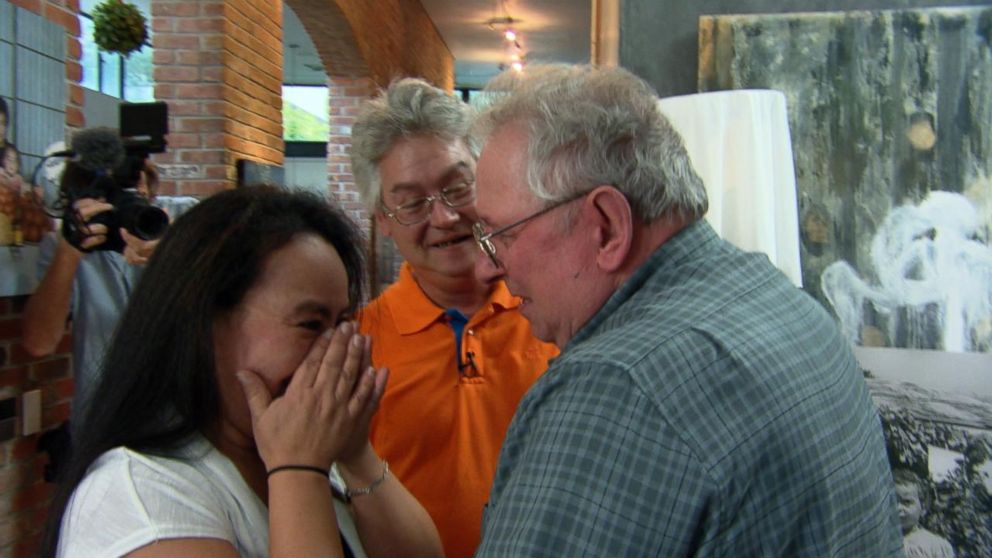 He said he still remembers the day he said goodbye to his family at the airport and boarded a plane to return to Vietnam. He had no idea it would be the last time he would see his twins for nearly half a century.
"I said my goodbyes, but when I turned and started walking on the plane [it was] very hard," Thomas said. "I couldn't turn around ... because I wouldn't leave."
Thomas divorced Connie in absentia in 1973 and started dating Polly Paquin, a high school friend who already had two children.
Thomas said Connie got in touch one last time in 1974, sending him a letter in which she offered to hand over the twins, then 7 years old, if Thomas would come back to Korea to get them.
"At that time, I had just went through bankruptcy. It was really hard, and there was just no way I could get over there," Thomas said.
But he didn't know he would never hear from Connie again. Thomas and Polly married in 1976 and the two raised a family in Colorado, including Polly's eldest daughter Charlene and her son, whom he adopted. They also had a third son together. But he never forgot about his other family.
"It was like they were always part of the family. It was never a secret. We always knew about them and wondered about them," Charlene told "20/20." "Their birthday would come along and dad would talk about, 'Well it's their birthday.'"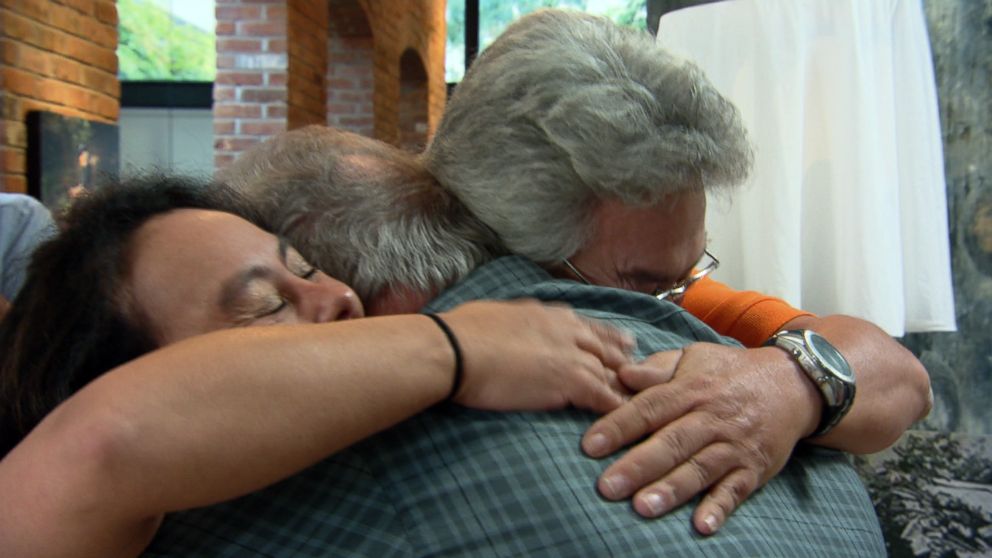 For years, Thomas wrote to Connie to ask about the twins but when the letters started to be returned without a forwarding address, Thomas said he, with Polly's help, contacted his congressman and the U.S. State Department to try to find out what happened to them.
In the 1980's, Thomas found out that Connie put the twins up for adoption in 1976. The State Department informed Thomas that the kids had been adopted to the U.S. and to contact the Pearl S. Buck Foundation to obtain additional information. The foundation, which helped support Asian-American children, confirmed that Thomas' twins were adopted into the United States in 1976 and that it was "impossible to reverse this set of circumstances." Because of privacy laws, Thomas was unable to have any further information.
"I was caught between two worlds. They were adopted under Korean law. Now all of a sudden they got the American law. Well okay, where are my rights? I was told I had no rights," Thomas said.
However, with the help of "20/20," Thomas was recently reunited with his twins for the first time over than 40 years.