In audio recording, Trump is heard discussing classified document he says he held onto
ABC News has obtained a recording of a 2021 meeting at Trump's Bedminster club.
ABC News has obtained an audio recording of former President Donald Trump appearing to acknowledge he held onto a sensitive military document after leaving office -- but can no longer declassify it because he is no longer president.
The contents of the recording, made during a July 21, 2021, meeting at Trump's Bedminster, New Jersey, golf club, have been previously reported and are quoted in the Justice Department's 37-count indictment related to Trump's handling of classified documents after leaving office -- but the recording itself has never before been heard publicly.
ABC News was able to confirm the authenticity of the recording from another source who has heard it.
The meeting involved people who were helping Trump's former chief of staff, Mark Meadows, with his memoir, according to sources. Special counsel Jack Smith's team has spoken to the meeting's attendees, which included autobiographers for Meadows and at least two aides to Trump, sources tell ABC News.
On the recording, Trump is heard attacking Joint Chiefs of Staff General Mark Milley and referencing a document that Trump claimed Milley had compiled.
"Well, with Milley -- uh, let me see that, I'll show you an example," Trump says on the recording. "He said that I wanted to attack Iran. Isn't that amazing? I have a big pile of papers, this thing just came up. Look. This was him. They presented me this -- this is off the record, but -- they presented me this. This was him. This was the Defense Department and him. We looked at some -- this was him. This wasn't done by me, this was him. All sorts of stuff -- pages long, look."
"Wait a minute, let's see here. I just found, isn't that amazing?" Trump says. "This totally wins my case, you know. Except it is like, highly confidential. Secret. This is secret information. Look, look at this. This was done by the military and given to me. As president I could have declassified, but now I can't."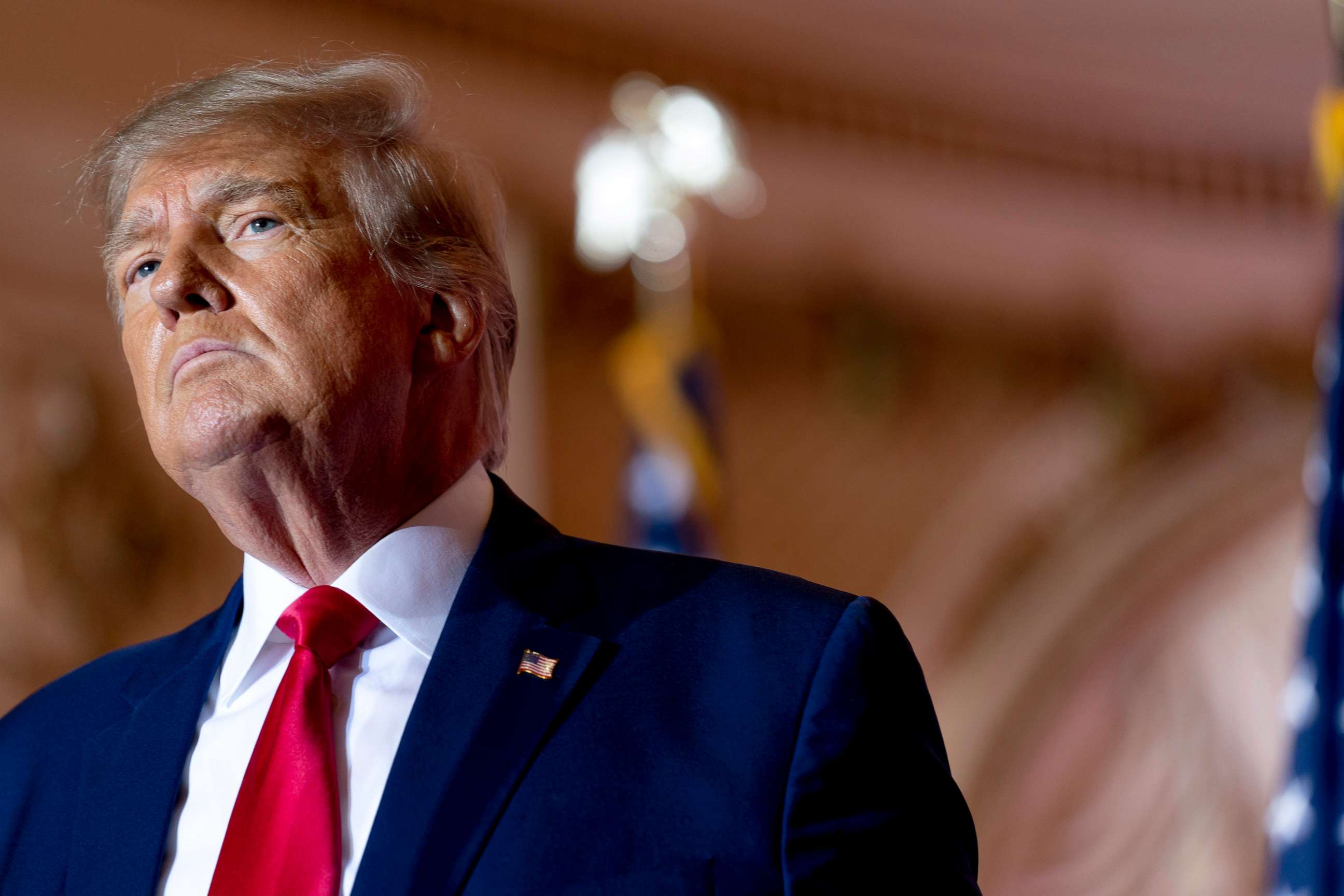 Trump pled not guilty this month to 37 criminal counts related to his handling of classified materials, after prosecutors said he repeatedly refused to return hundreds of documents containing classified information ranging from U.S. nuclear secrets to the nation's defense capabilities. He has denied all charges and denounced the probe as a political witch hunt.
Prosecutors say that Trump's acknowledgement on the recording that he could no longer declassify the document undercuts his argument that he had declassified all the documents in his possession before leaving the White House.
The audio recording was first published by CNN.
"The audio tape provides context proving, once again, that President Trump did nothing wrong at all. The president is speaking rhetorically and also quite humorously," a Trump campaign spokesperson said regarding the recording.
"As we've been saying from the moment President Trump rode down the golden escalator, the president did nothing wrong," Trump himself said in a statement.
In an interview with Fox News last week, Trump denied that the material in his possession at Bedminster was a classified document.
"It wasn't a document, OK? I had lots of paper -- I had copies of newspaper articles, I had copies of magazines," Trump said during the Fox News interview. "There was no document. That was a massive amount of papers and everything else talking about Iran and other things. And it may have been held up or may not, but that was not a document."
"I didn't have a document, per se," Trump said. "There was nothing to declassify. These were newspaper stories, magazine stories and articles."
ABC News reported earlier this month that Trump's attorneys had not located the material Trump was referencing in the recording.