Barbara Bush remembered at funeral as 'the first lady of the greatest generation'
Barbara Bush was the wife of one former president and the mother of another.
Barbara Bush was remembered at her funeral as a loving wife, mother and friend with a devilish sense of humor and who represented the best of the World War II generation.
"Barbara Bush was the first lady of 'the greatest generation,'" presidential historian Jon Meacham, a friend of the Bush family, said in a eulogy at Saturday's funeral service in Texas that drew signatories from across the nation and around the world.
Meacham recalled the snowy-haired former first lady's "long and consequential life," not least her promotion of literacy, her quick-witted humor and her trademark faux pearls.
"She was candid and comforting," Meacham said, describing her as a "point of light" who "kept everything and everyone together."
Some 1,500 guests filled St. Martin's Episcopal Church in Houston for the service. Barbara Bush, who died on Tuesday at the age of 92, had requested in her last wishes a modest funeral at the Gothic-style cathedral, where she and her husband, former President George H.W. Bush, were devoted members for decades.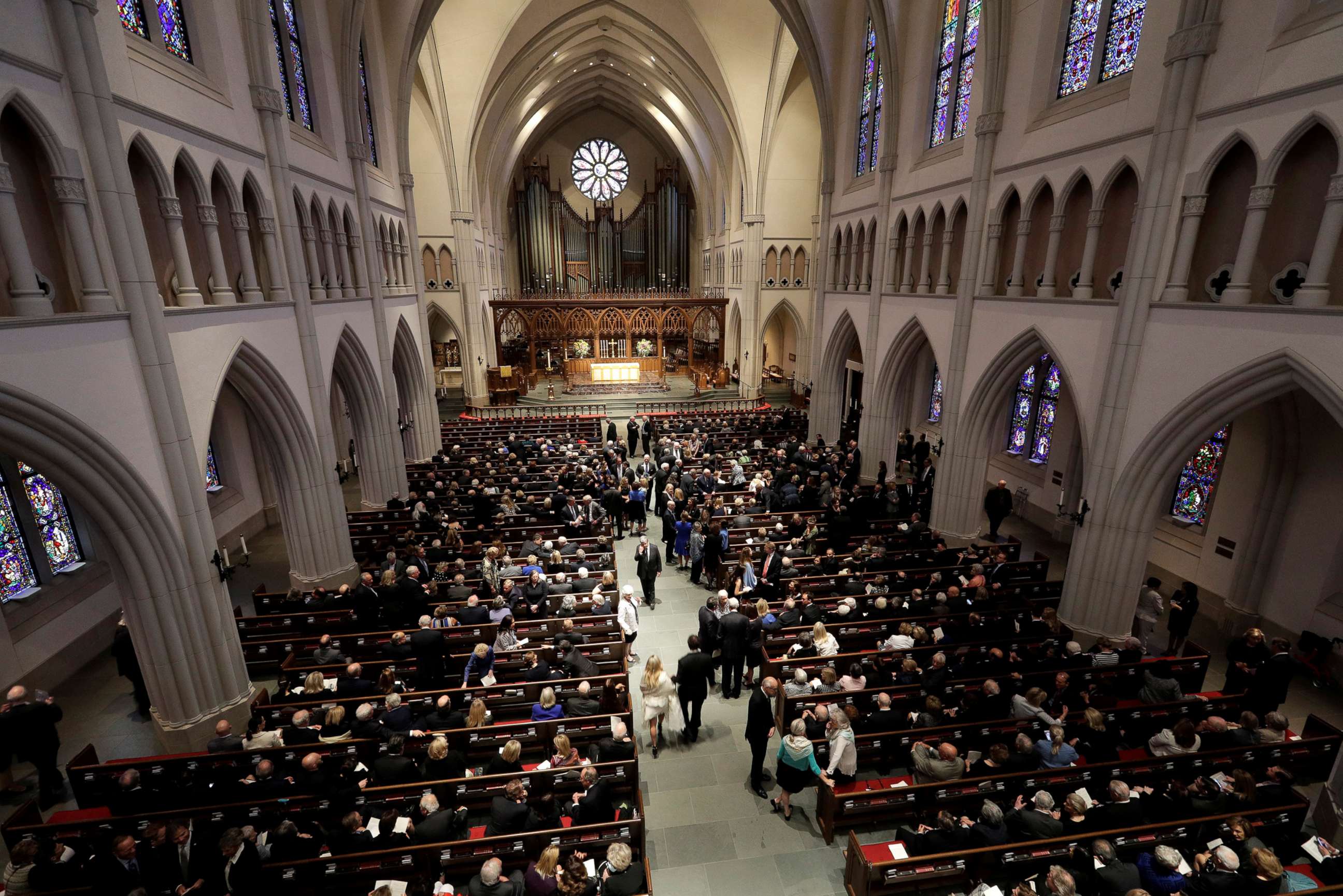 Former Florida Gov. Jeb Bush in his eulogy described his "precious mother" as someone who "filled our lives with laughter and joy."
"She was our teacher and role model on how to live a life of purpose and meaning," he said.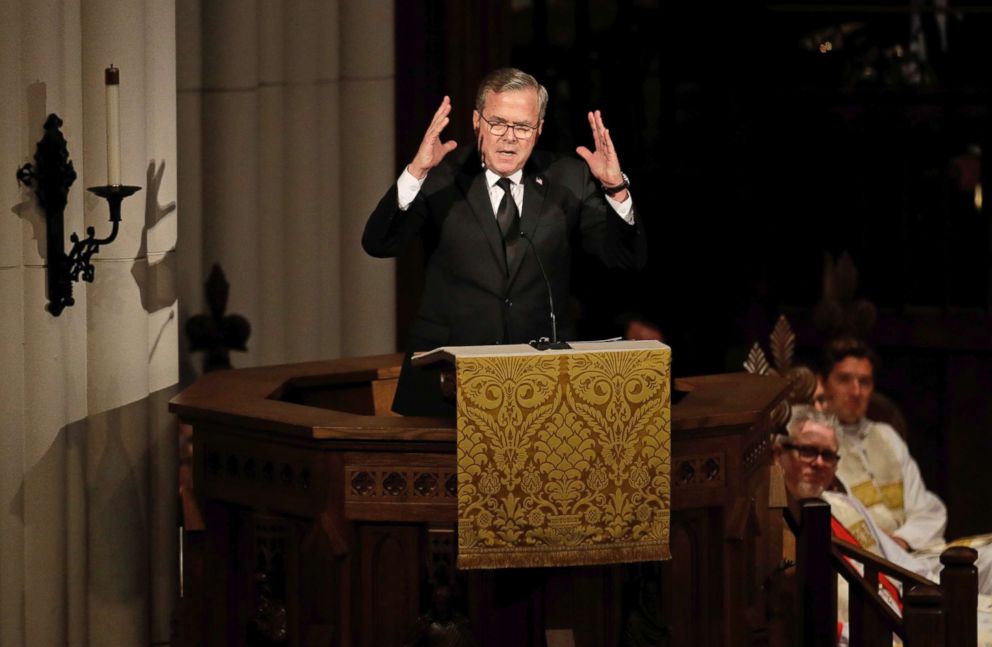 Susan Baker, the wife of James Baker who served as secretary of state under former President George H.W. Bush., also paid tribute to her longtime friend, Barbara Bush, whom she called "Bar."
In her eulogy, Susan Baker recalled how the former first lady "took me under her wing." She described her as "smart, fun and feisty" and an "amazing, caring and beautiful friend."
"The world saw a compassionate but strict mother who inspired her children with tender but firm lessons," she said. "Barbara, the tough but loving enforcer, was the secret sauce of this extraordinary family."
"Bar's beauty was evident in every day of her life," she added. "Saying goodbye to our special friend is painful."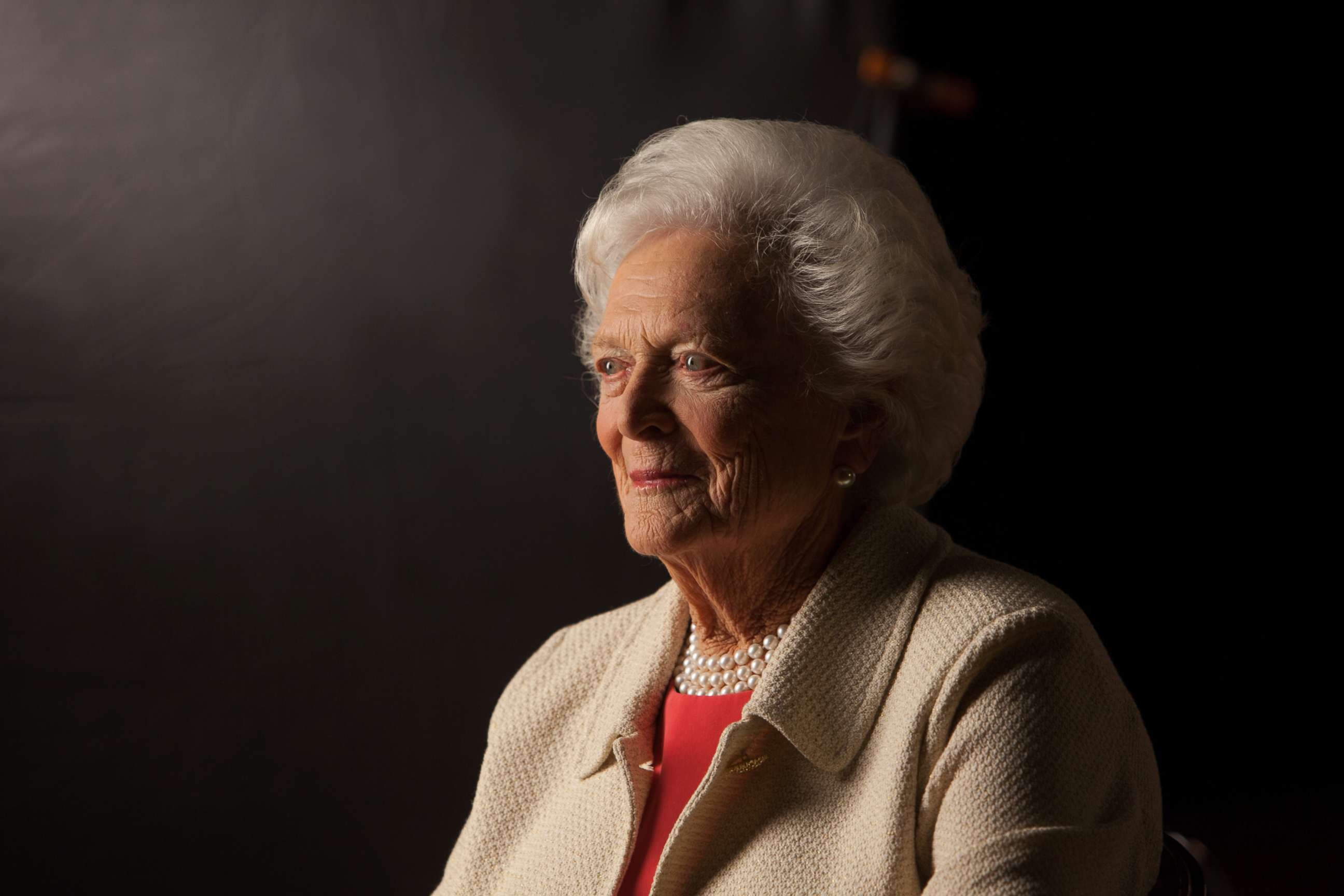 Barbara Bush's casket arrived Friday at St. Martin's, the nation's largest Episcopal church, where she lay in repose as the public was invited to pay respects from noon to midnight, according to the Geo. H. Lewis & Sons Funeral Home in Houston.
The Rev. Russell Levenson Jr. and the Rev. Dr. Peter Cheney were co-officiants of Saturday's service, which began at 11 a.m. local time. Barbara Bush's grandsons served as pallbearers.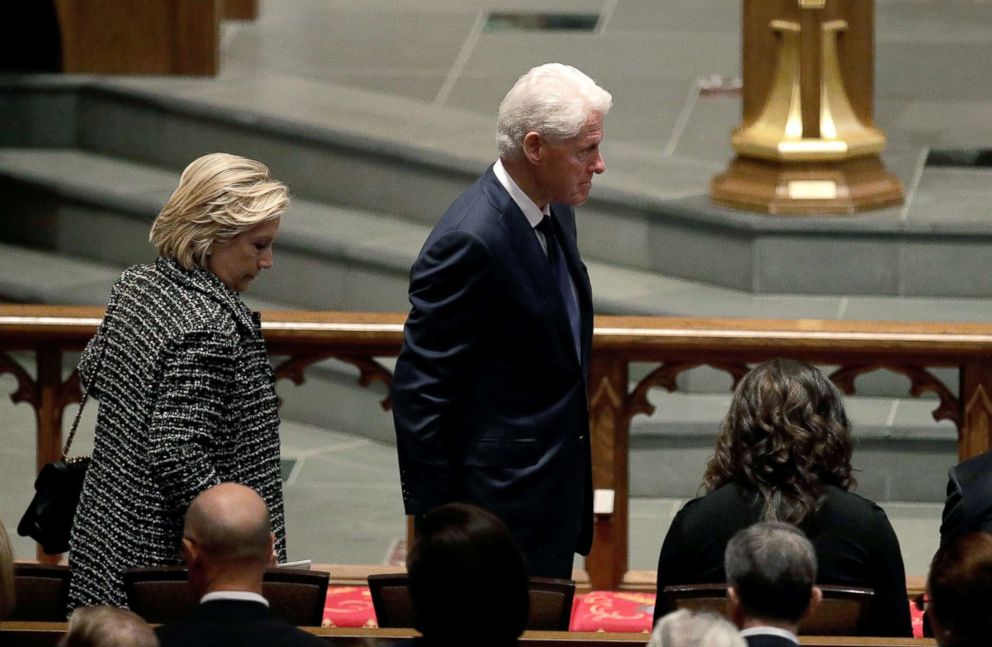 Four of the five living ex-presidents attended Saturday's funeral service, including former President Barack Obama and his wife, former first lady Michelle Obama, as well as former President Bill Clinton and his wife, former Secretary of State and first lady Hillary Clinton. The Clintons' daughter, Chelsea Clinton, was also in attendance.
Following the service, a funeral procession brought Barbara Bush's casket to the George Bush Presidential Library and Museum near Texas A&M University in College Station for a private service, where she was buried in a family plot beside her daughter, Robin, who died of leukemia at the age of 3 in 1953. The Texas A&M Corps of Cadets were expected to line Barbara Bush Avenue outside the library to pay tribute to the former first lady.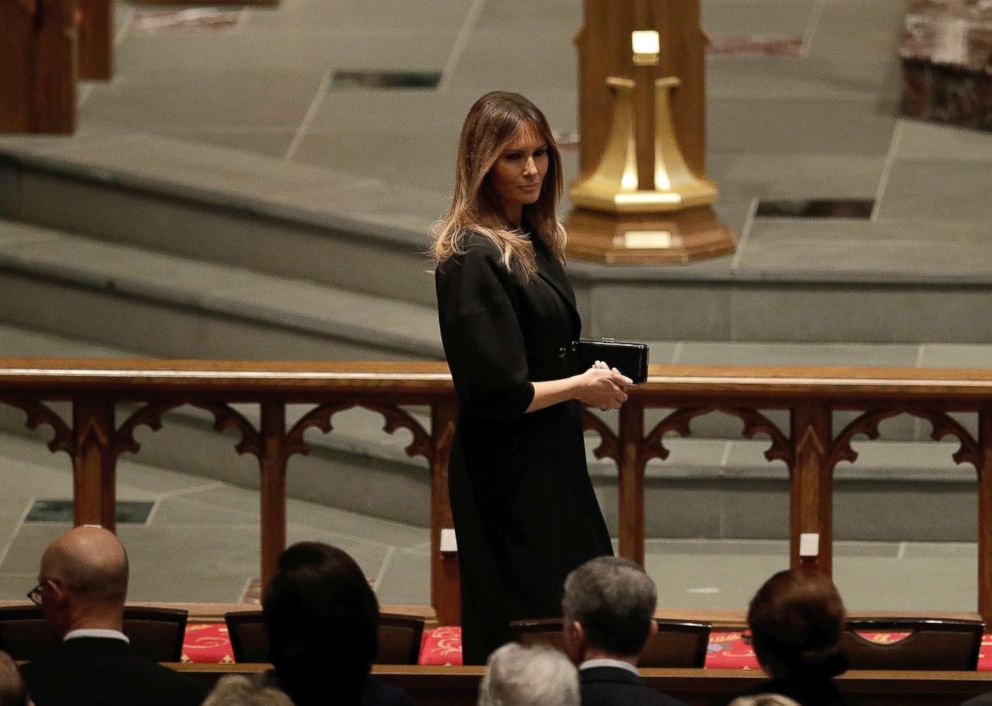 First lady Melania Trump attended Saturday's service "on behalf of the first family," White House deputy press secretary Lindsay Walters said in a statement. "To avoid disruptions due to added security, and out of respect for the Bush Family and friends attending the service, President Trump will not attend."
Similarly, in 2016, then-President Obama did not attend the funeral of former first lady Nancy Reagan, while his wife did. Sitting presidents have rarely in recent decades gone to the funerals of former first ladies, according to FactCheck.org, a project of The Annenberg Public Policy Center in Philadelphia.
Trump, who's at his Mar-a-Lago resort in South Florida for the weekend, extended his "thoughts and prayers" to the Bush family via Twitter and said he planned to watch Barbara Bush's funeral service from the "Southern White House."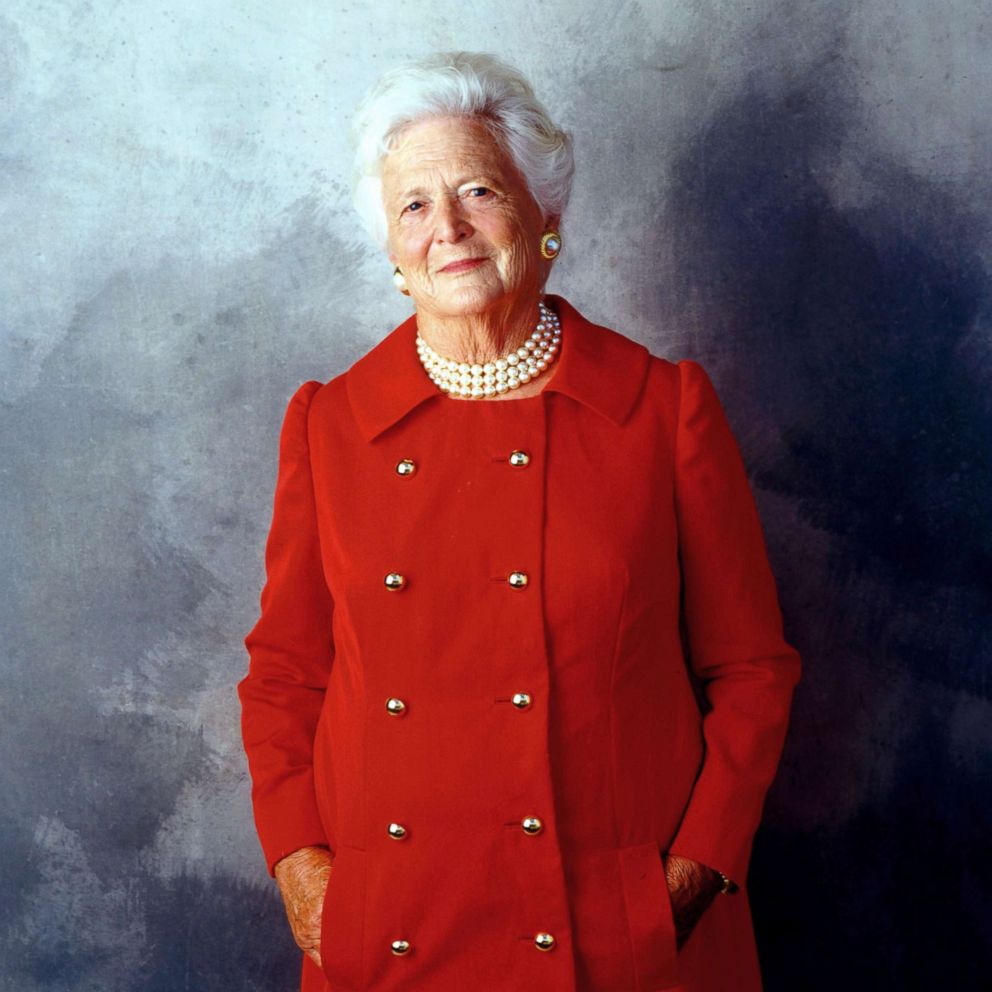 Born in 1925, Barbara Bush served as first lady from 1989 to 1993. She died shortly after deciding to forgo further medical treatments for her failing health.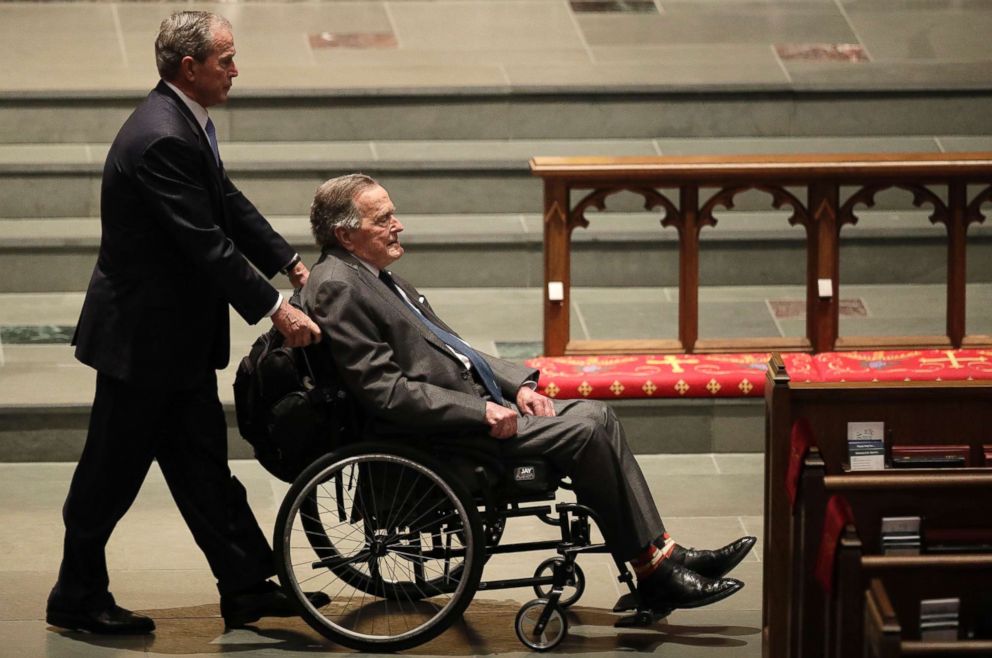 Former President George H.W. Bush is "broken-hearted to lose his beloved Barbara, his wife of 73 years," according to Jean Becker, chief of staff at the 93-year-old former president's office.
"He held her hand all day today and was at her side when she left this good earth," Becker said in a statement.
Former President George W. Bush described his mother as a "fabulous first lady and a woman unlike any other who brought levity, love, and literacy to millions."
Barbara Bush through the years
Barbara Pierce Bush, born June 8, 1925, is the wife of George H.W. Bush, who served as president of the United States from 1989 to 1993. She is the mother six, including George W. Bush, who was president from 2001 to 2009, and Jeb Bush, a former governor of Florida.
George Bush Presidential Library
"To us, she was so much more," he said in a statement after her death. "Mom kept us on our toes and kept us laughing until the end. I'm a lucky man that Barbara Bush was my mother. Our family will miss her dearly."
In his eulogy at Saturday's service, Meachum recalled a funny moment from the final days of Barbara Bush's life. She was in the hospital and asked her doctor if he'd like to know why her eldest child, former President George W. Bush, "turned out the way he did," according to the presidential historian.
"And then she announced, 'I smoke and drank while I was pregnant,'" Meachum said as laughter erupted from the crowd of mourners inside St. Martin's Episcopal Church.
ABC News' Bill Hutchinson contributed to this report.