Biden, Obama reunite for socially distanced conversation, slam Trump's handling of COVID-19 crisis
The two men also discussed the recent nationwide calls for racial equality.
Showcasing the online campaigning tactics that are likely to dominate the final months of the 2020 presidential race, former Vice President Joe Biden and his old boss, former President Barack Obama teamed up for a socially distant conversation to discuss the ongoing COVID-19 pandemic, the steps they believe need to be taken to right the American economy and the nationwide push for racial justice in the wake of the death of George Floyd.
The in-person discussion, filmed last week at the Obama Foundation's office in Washington, D.C. features both Obama and Biden clad in black face masks as they arrive for the conversation, as the two discuss their incredulity at President Donald Trump's handling of coronavirus.
"Can you imagine standing up when you were president and saying, 'It's not my responsibility. I take no responsibility.' Literally. Literally," Biden said.
"Those words didn't come out of our mouths when we were in office," Obama said as the shot of him exiting his car is seen.
"No. I don't understand his inability to get a sense of what people are going through," Biden said. "He can't relate in any way."
Without mentioning him by name, President Obama took aim at his successor's handling of the current coronavirus pandemic while expressing his optimism that his former vice president could help the country recover if elected.
"I have confidence that you're going to actually listen to the experts. And you're going to pay attention to the science, and you're not going to quit on trying to actually bend down the curve of disease and transmission rates," Obama told Biden.
The pair also discussed their administration's signature legislation, the Affordable Care Act (ACA), lamenting the president's attempts to do away with the law during the coronavirus pandemic, and defending their work as a starting point for health care coverage in the United States.
"It's like a starter house. It's the first house you get and it's not the end of the process it's the beginning of the process," Obama said of the ACA.
"Remember what I used to say? It's like Social Security when it's first passed," Biden added, noting the expansion of the program over time.
The images are the first of the two men appearing together in person during the 2020 campaign, and come months after Obama formally endorsed Biden in April.
The two men also discussed the current protests and push for racial equality and the Black Lives Matter movement, which both men agreed is largely fueled by a younger generation no longer willing to accept the status quo.
"What we have seen is this extraordinary mobilization across the country of people of every walk of life, every race, every creed who say we're past time to do something about this we understand we're not going to fix it all in one day. But we're going to take this seriously and we're going to start now," Obama said, noting that both his daughters and Biden's granddaughters have participated in the recent push for change.
"Policy is important, laws are important, budgets are important, but you know what's important also is what kind of values are you communicating?" Obama added, expressing his confidence that Biden's agenda will address all of the root causes of systemic racism, not just those reflected in the way America polices its citizens.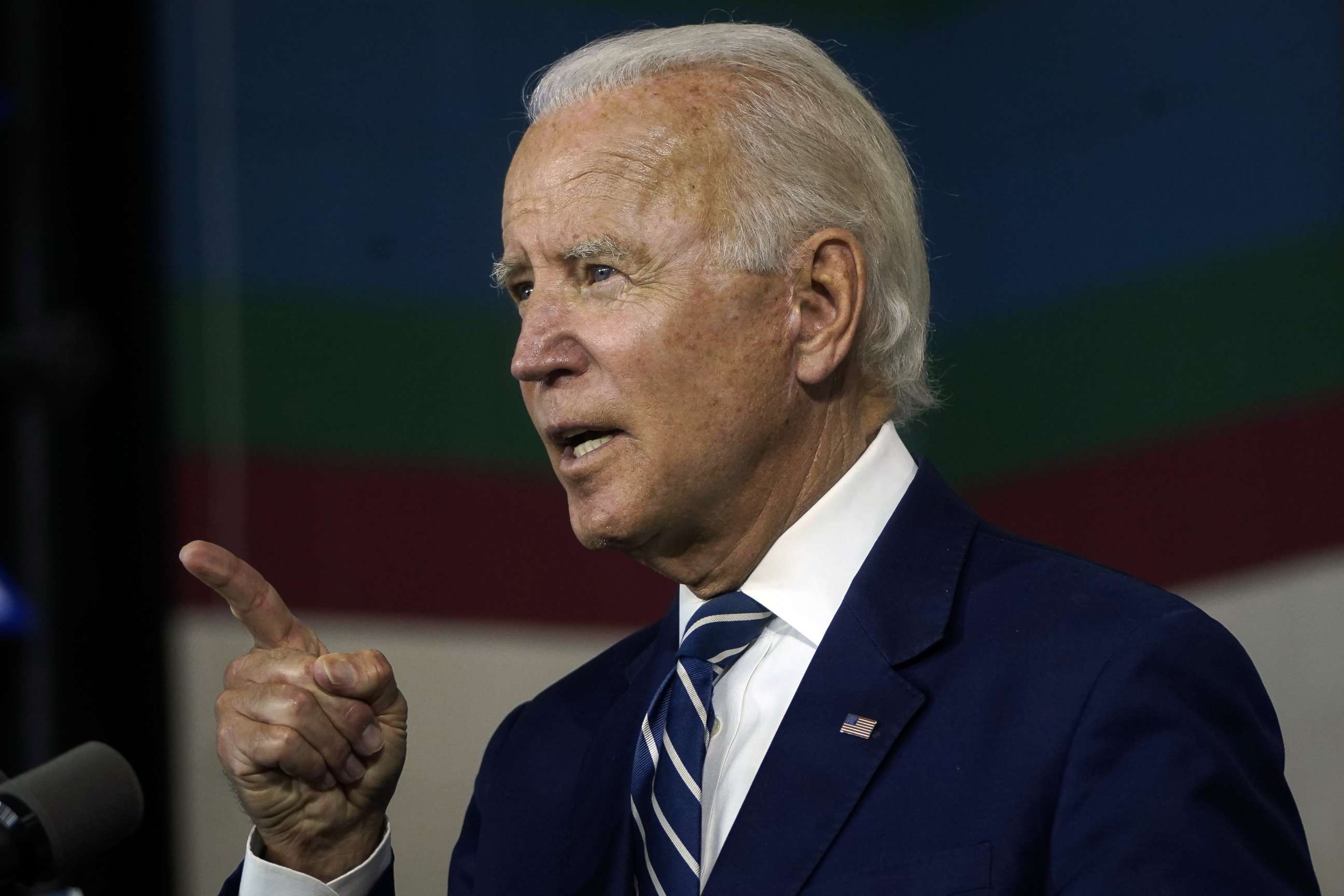 Biden, as he has throughout the entirety of his presidential bid, decried President Trump as a leader disinterested in addressing racial inequality, and who instead chooses to divide Americans to benefit his political standing.
"This guy has generated a sense out there that people are waking up to it. He ran by deliberately dividing people from the moment he came down that escalator. And I think people are now going, 'I don't want my kid growing up that way,'" Biden said of his Republican rival.
Obama consistently praised Biden as an "effective" vice president that is able to relate to the struggles facing American families.
"If you can sit down with a family, and see your own family and the struggles that you've gone through, parents went through or your kids are going through. If you can connect those struggles to somebody else's struggles, then you're going to work hard for it. And that's always what's motivated you to get into public service," Obama told Biden.
The former president pledged to support Biden's candidacy and added that he looks forward to helping out the man he worked so closely with for eight years.
"I'm looking forward to working with you to do whatever I can to help. And I have confidence in your commitment to making sure that we seize this moment that we have right now," Obama told Biden.
"Thank you, and I have faith in the American people," Biden responded.
The Biden campaign also used the video as a chance to beef up voter files, asking those interested in the video to text the campaign to be notified when the video goes live.
On Twitter alone, the two reached nearly 128 million followers when sharing the conversation, with nearly 121 million of those belonging to Obama. According to the Biden's campaign's Digital Director Rob Flaherty, a video previewing the conversation received more than 10 million views across social media platforms Wednesday.
While Obama remained on the sidelines during the Democratic primary race, he has reemerged to offer his support to the man who served alongside him for eight years. Most recently, the two paired up for a grassroots fundraiser in late June that featured a lengthy and wide-ranging conversation.
The event was also Biden's most successful money event to date, raising more than $11 million.
The new video featuring their chat also comes as Obama is set to participate in his second fundraiser on behalf of the Biden campaign next week.
According to an invitation to the event, obtained by ABC News, Obama will participate in a "virtual conversation" next Tuesday to raise money for Biden's campaign, which has begun to steadily close the money gap with Trump's reelection juggernaut.
An aide to the former president said that while the bulk of Obama's campaigning, both on the presidential level and down the ballot, is expected to happen after Labor Day, the video with Biden was a way to take advantage of the chemistry between the two men in a way that still modeled best behaviors to stop the spread of COVID-19, which continues to rage in many state across the country.
"[The] video is an example of our effort to bring together two beloved and respected leaders to discuss the pressing issues of our time and how Joe Biden will tackle them. We wanted to find a way to tap into the chemistry between the two principals but consistent with all social distancing protocols in order to model best practices," Eric Schultz, a senior advisor to President Obama, told ABC News.
As Biden continues to roll out his economic agenda, he has kept the coronavirus, and what he argues is the president's management of the crisis, at the heart of his argument for why Trump does not deserve a second term.
In a speech in New Castle, Delaware, on Tuesday, Biden assailed Trump's handling of the coronavirus crisis, casting him as a leader indifferent to the ongoing struggles the virus presents to the public health and American economy.
"For all [Trump's] bluster about his expertise on the economy, he's unable to explain how he'll actually help the working families hit the hardest," Biden said. "He's quit on you and he's quit on this country."
ABC News' Averi Harper and Beatrice Peterson contributed to this report.