— -- Migratory birds tend to fly south for the winter, but the climate phenomenon known as El Niño may have enticed an exotic bird into New York City, where hundreds flocked to Brooklyn's Prospect Park to catch a glimpse of it outside its natural habitat.
The Painted Bunting, a species of cardinal, has been frolicking and feeding on seeds since Sunday in one of New York City's most beloved parks, causing wild excitement among bird watchers and curious onlookers alike.
The male bird, with colors so vivid it looks as if it flew straight out of a coloring book, was seen as recently as this morning, bird-book author Tom Stephenson told ABC News.
Brooklyn Bird Club President Robert Bate said it has a blue head, bright orange front and feathers in at least four different shades of green.
"He's bright for a male," Bate said. "That's what makes him so unusual."
A female Painted Bunting was seen in Brooklyn in 1999, but her colors were duller, he said, adding that her colors are were of a light olive green shade.
Bird watchers tend to travel to the South -- including Florida, Georgia, Arizona and Texas -- to see what Stephenson described as "an unusual bird for the U.S."
"The Painted Bunting is one of North America's most spectacular birds," he told ABC News. "Its colors are more like South American." Bate, Stephenson and at least a hundred other onlookers watched the Painted Bunting feed on seeds for most of the day.
"He seems to have found a couple of little quiet corners where he'll be sure he won't be disturbed," Bate said, adding that the particular bird is healthy, active and emblematic of his species.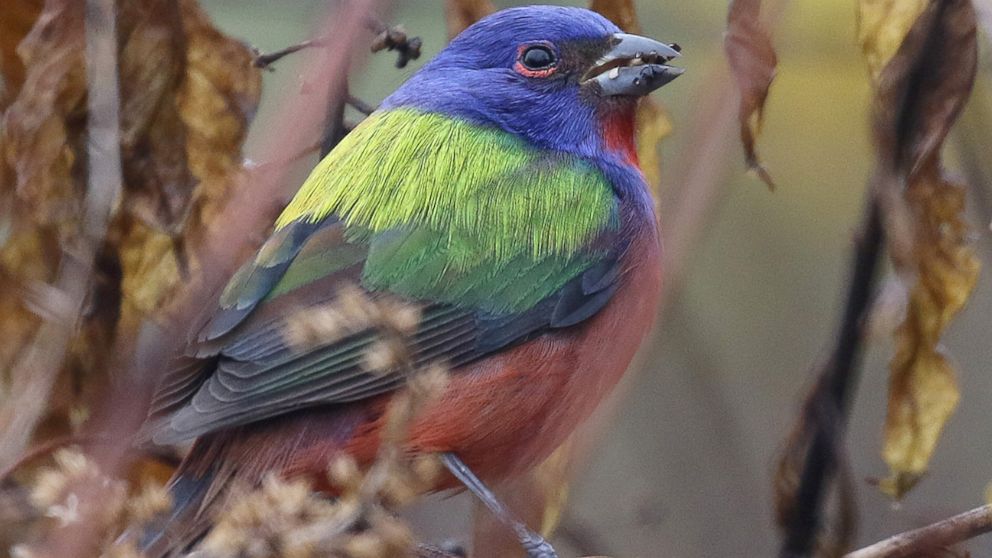 Stephenson credited the conservation of the vast greens in Prospect Park for attracting the bird, adding that when westerly winds blow birds toward the coast, they begin to look for somewhere comfortable to settle. Among all the concrete in New York City, the park was probably the only viable option for the Bunting, he said.
"If the habitat is good, they can feed and fuel," Stephenson added.
Although the bright bird has made a welcomed appearance, he could be gone "any day," Stephenson said.
"People are just thrilled with the bird," Bate said, describing the frenzy in Prospect Park as an "impromptu festival" for the bird-watching community.