The family of a 42-year-old Black man who died in a hail of bullets fired by North Carolina sheriff's deputies outside his home last week said on Monday that body camera video shows their loved one being "executed."
The family members of Andrew Brown Jr., a father of seven, and their attorneys said county officials only offered them a 20-second clip of one police bodycam video. The footage, they said, showed multiple sheriff's deputies, some armed with high-caliber rifles, unleashing a fusillade into Brown's car while his hands were firmly gripped on the steering wheel.
"My dad got executed just by trying to save his own life," Brown's son, Khalil Ferebee, said after he and several family members watched the video. "The officers were in no harm of him at all. It just messed up how this happened."
The family had planned to see the video at 11:30 a.m. ET. But an hour before the meeting they were informed of an unexpected delay. Harry Daniels, one of the lawyers for the Brown family, said he received an email at 10:29 a.m. on Monday from Pasquotank County Attorney Michael Cox that redactions were being made to the video.
"I was told by the district attorney that the family will get to see the raw footage, not the redacted version," Daniels said. "These county administrators are walking back the promises they have made. Show the tape. If you ain't got nothing to hide, show the tape."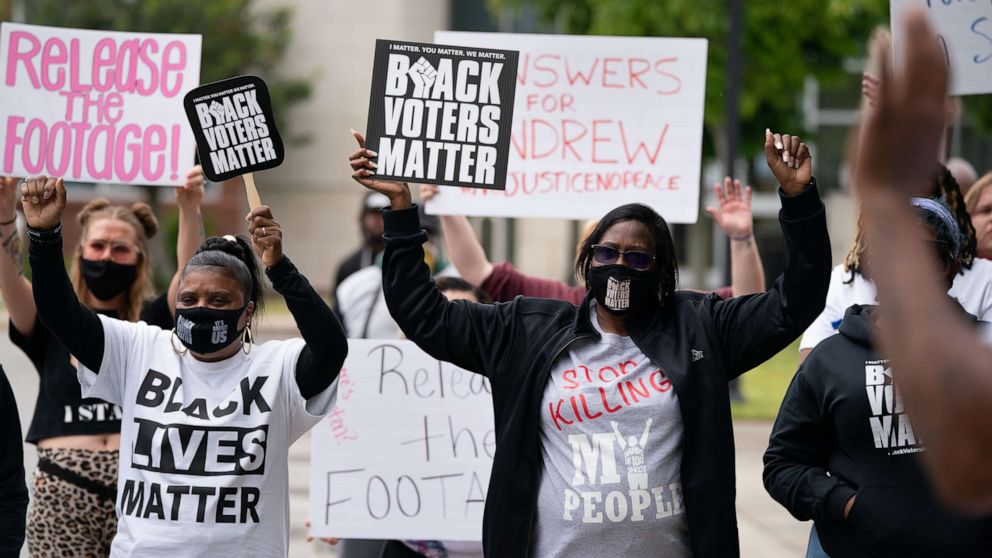 The family members were allowed into the sheriff's department just after 3 p.m., but officials refused to let most of their attorneys watch the video with them because they are not members of the North Carolina Bar Association. Elizabeth City attorney Chantel Cherry-Lassiter was eventually allowed to watch the footage with Brown's relatives.
One of the family's out-of-state attorneys, Bakari Sellers, claimed that when he and other lawyers protested and demanded to be allowed to watch the video, Cox allegedly berated him and told him, "I'm not going to be f------ bullied."
"We do not feel that we got transparency. We only saw a snippet of the incident. They determined what was pertinent," said Ben Crump, one of the attorneys representing the Brown family.
Cox released a statement Monday saying that while state law allows the county to show the body camera video to Brown's family in private, state law "also allows us to blur some faces on the video and that process takes time."
"This may be done when necessary to protect an active internal investigation," Cox said in his statement.
Lassiter said she and the family members watched the video clip multiple times and made copious notes.
"Let's be clear, this was an execution," Cherry-Lassiter said. "Andrew Brown was in his driveway. The sheriff truck blocked him in his driveway so he could not exit his driveway. Andrew had his hands on his steering wheel. He was not reaching for anything. He wasn't touching anything. He wasn't throwing anything around. He had his hands firmly on the steering wheel."
She said the video clip began with deputies running up to his vehicle shooting. She said she counted five deputies on the driver's side of the car firing at Brown while screaming obscenities and ordering him to show his hands.
"He still sat there in his vehicle with his hands on the steering wheel while being shot at," Cherry-Lassiter said.
She said Brown eventually tried to get away to save his own life. He backed out of the driveway, maneuvering around the sheriff's truck and away from the deputies.
"There was at no time in the 20 seconds we saw where he was threatening the officers in any kind of way," Cherry-Lassiter said. "He was trying to evade being shot."
She said the deputies ran after the vehicle and continued to fire at Brown as he drove a short distance and crashed into a tree.
"They were still shooting at him after the car had already crashed into the tree," she said.
Brown was pronounced dead at the scene.
"We saw one video, 20 seconds from bodycam. There were at least eight officers there. We only saw one bodycam," Cherry-Lassiter said.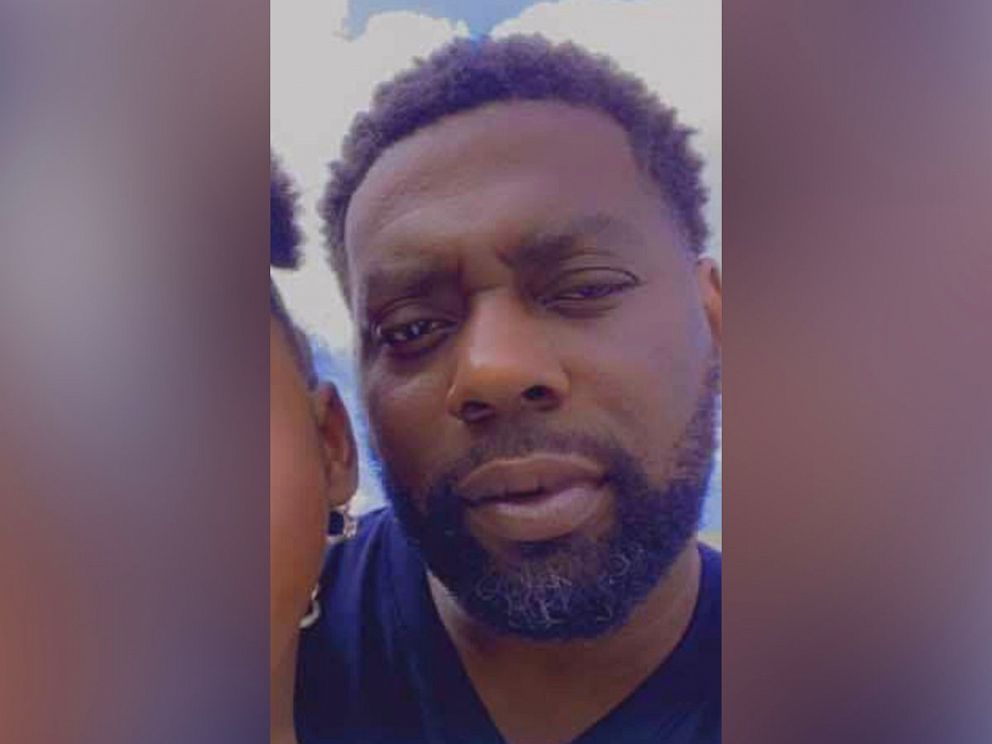 Seven Pasquotank County deputies involved in the shooting that erupted last Wednesday morning in Elizabeth City have been placed on administrative leave while the North Carolina Bureau of Investigation probes the circumstances of the deadly encounter. The names of the deputies have not been released.
In advance of the viewing by Brown's family, Elizabeth City Mayor Bettie Parker declared a state of emergency for her city on Monday morning. The emergency declaration went into effect at 8 a.m. and Parker said it will last "until deemed no longer necessary."
Pasquotank County Sheriff Tommy Wooten II said he is hoping file a motion asking a judge for permission to release the video to the public.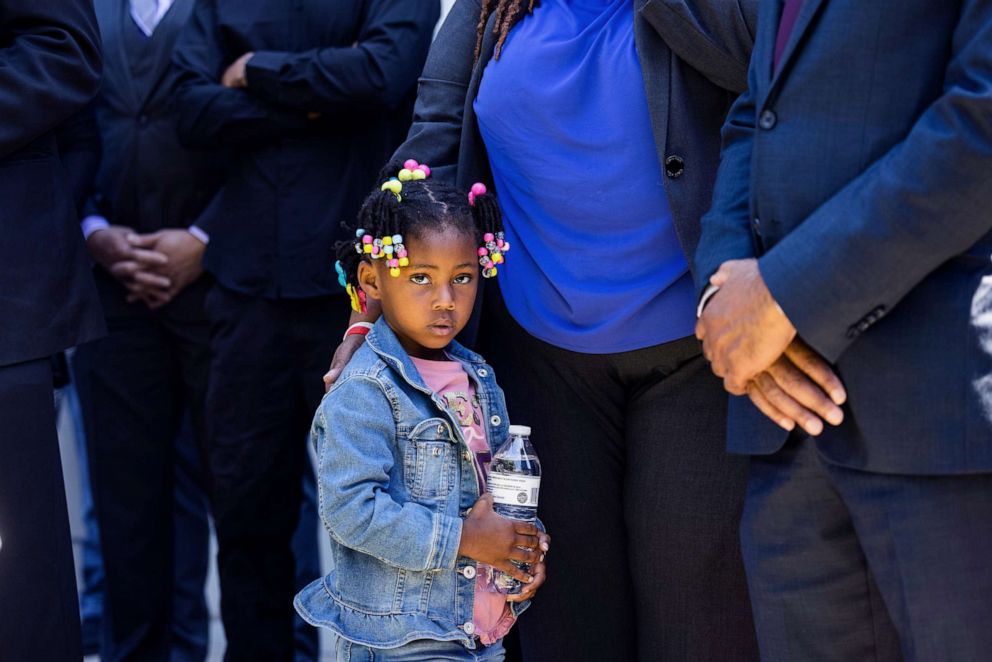 "It seems likely that the video and audio footage will be released in the very near future. In order to ensure the safety of our citizens and their property, City officials realize there may potentially be a period of civil unrest within the city following the public release of that footage," Parker, who is Black, said.
City offices in Elizabeth City, the county seat of Pasquotank County, were closed on Monday and government meetings, including a budget work session, were canceled.
Parker's order came despite peaceful protests that have occurred for five straight days in Elizabeth City since Brown's death.
The Pasquotank County Sheriff Department has released few details of the shooting in the town of 18,000 people.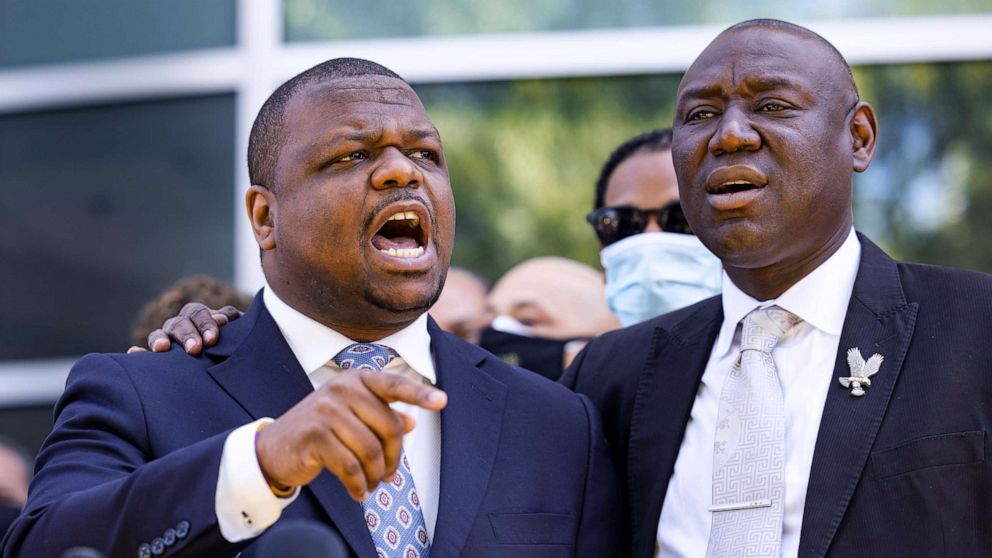 The shooting unfolded about 8:30 a.m. on April 21 when deputies from Pasquotank and Dare Counties went to Brown's home to attempt to serve an arrest warrant on Brown that stemmed from a felony drug investigation, officials said.
Deputies opened fire on Brown's car as he attempted to drive away from his home. A first responder was recorded on 911 dispatch saying Brown was shot in the back.
Attorneys for Brown's family said he was shot in the back of the head and they plan to commission an independent autopsy.
Wooten declined to say how many deputies discharged their weapons.
The shooting occurred one day after former Minneapolis police officer Derek Chauvin was convicted of second-degree unintentional murder, third-degree murder and second-degree manslaughter for the May 25, 2020, death of George Floyd, a 46-year-old Black man.
Brown's family said police found no weapons nor drugs in Brown's vehicle or home.
Wooten promised to be transparent about what occurred at Brown's home.
"If any of my deputies broke any laws or violated any policies that come out through this investigation, they will be held accountable," Wooten said.