— -- The defense team for Dzhokhar Tsarnaev made a stunning admission at the beginning of the accused Boston Marathon bomber's trial today: "It was him."
"We're all going to come face to face with unbearable grief, loss and pain caused by a series of senseless, horribly misguided acts carried out by two brothers, 26-year-old Tamerlan Tsarnaev and his younger brother, 19-year-old Dzhokhar," defense attorney Judy Clarke told the court. "We do not and will not at any point in this case sidestep or attempt to sidestep Dzhokhar's responsibility for his actions. We think the question of 'why' is important."
Clarke said it was that facet, the motive behind the deadly bombing, where the defense disagrees with the prosecution. Tamerlan Tsarnaev, Clarke said, was the one "who self-radicalized" and the defense plans to show evidence that Dzhokhar was "enlisted" by his older brother. The defense team gave a hint of a similar potential strategy a year ago when they filed motions to obtain information the attorneys believed would show that between the brothers, Tamerlan was an "all-powerful force who could not be ignored or disobeyed."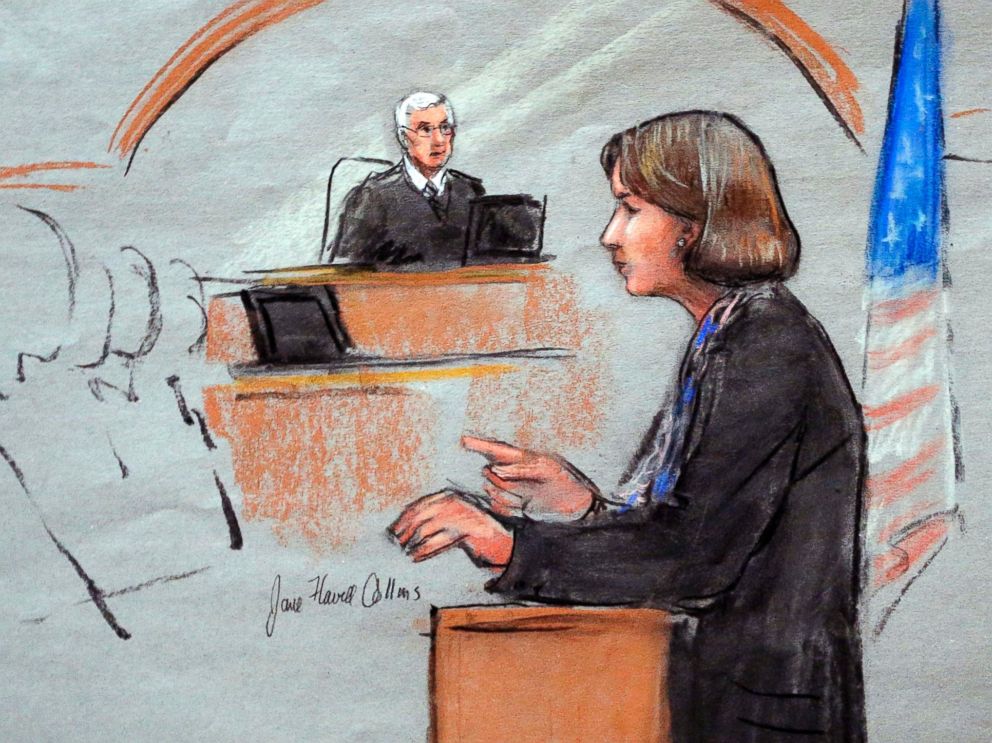 Earlier today U.S. District Judge George O'Toole seemed to strike a blow to such a defense, telling the court that whether Dzhokhar Tsarnaev is more or less culpable than his late brother is not relevant.
Dzhokhar has pleaded not guilty to the 30 counts against him, including charges of using a "weapon of mass destruction resulting in death." He watched impassively, at times rubbing his stubble and goatee, as the pain of his horrific crimes was described to the jury during the prosecution's opening remarks.
The trial comes just under two years after twin explosions ripped through the crowd near the finish line of the Boston Marathon in April 2013, killing three people – including an eight-year-old boy – and injuring some 260 others. More than a dozen of those injured lost limbs.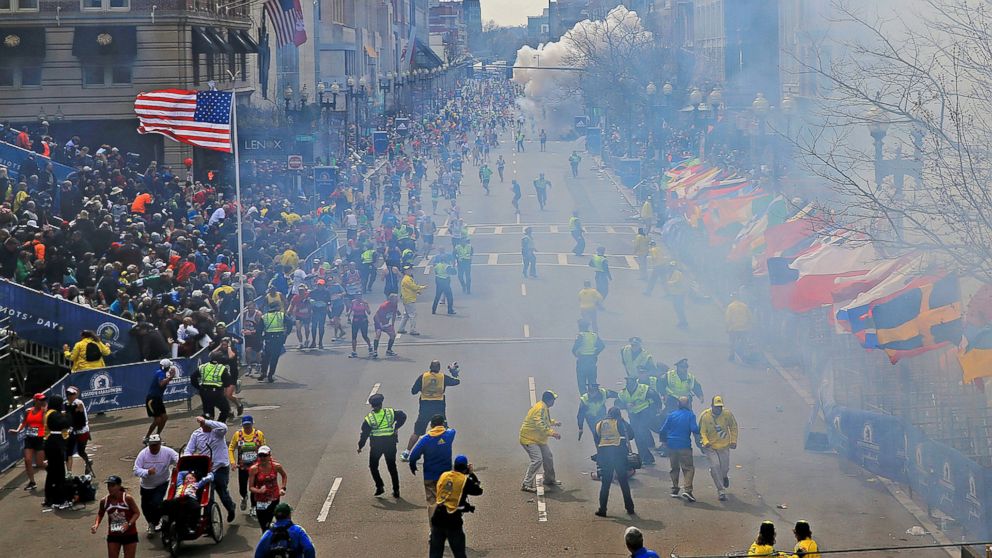 Prosecutors say Dzhokhar and his older brother Tamerlan Tsarnaev were responsible for the death and destruction, and that the two were photographed dropping backpacks holding the bombs before the blasts. The city of Boston was paralyzed for days during an intense manhunt, during which the pair allegedly gunned down an MIT police officer.
Tamerlan was eventually killed in a shootout with police days after the attack in the Boston suburb of Watertown.
Dzhokhar was caught hours later, bloody and hiding in a dry-docked boat. While hiding, Tsarnaev penned an anti-American missive on the wall of the boat, saying, "The U.S. government is killing our innocent civilians, but most of you already know that."
"We Muslims are one body. You kill one of us, you hurt [unintelligible] us all," another section of the note read.
After opening statements, the prosecution will immediately force jurors to relive the emotional pain of the marathon attack. The first three dozen witnesses are expected to be bombing victims: amputees and others who were maimed along with the father of Martin Richard, the eight-year-old killed when Dzhokhar Tsarnaev allegedly planted a backpack containing a pressure cooker bomb at the boy's feet. Their testimony will be followed by others impacted by the blasts, including Marathon organizers and business owners along Boylston Street where the finish line was.
Many survivors of the bombing are watching the proceedings on television from a separate, nearby courtroom.
Stories of Terror From the Finish Line
One of the first witnesses called by the prosecution, Shane O'Hara, managed the Marathon Sports store near the blasts. The court was shown video of panic inside the store after the explosions when people streamed inside seeking shelter.
O'Hara testified that people were trying to attend to the injured, using the store's merchandise as makeshift tourniquets.
"The thing that haunts me is making decision is who needed help first, who needed help more," O'Hara said.
Later the court was shown graphic video of the immediate aftermath of the explosions, filmed by the third witness called, Colton Kilgore. Kilgore's mother-in-law was running the marathon and when the bombs detonated, he said he was "blown through the air."
Kilgore testified there was smoke and shrapnel and what he described as an "acrid, disgusting smell."
Next was wrenching, visceral testimony from Sydney Corcoran, a 19-year-old of Lowell, Mass. who was 17 and a high school senior when she attended her first marathon to see her aunt run. She was near the finish line only briefly before "everything went up in smoke."
"I remember having my mom to the right of me and she was so happy for my aunt that she was just trying to get any type of view. My dad was a little bit behind us to our left. We're just waiting for her to cross and next thing I know we're immersed in smoke and our ears, it's like leaving a concert and having a ringing in your ears and everything is muffled," she said.
"I immediately lost my family even though they were probably feet away from me I couldn't see them. I didn't know that I was injured. I remember feeling like half of my right foot was gone. I remember trying to put pressure on it and I started to limp. I managed to limp over to a rail and I grabbed onto the rail and passed out for maybe a minute," she said. "Next thing I know I'm lying flat on my back and there are these men putting mass amounts of pressure on my thigh. They're tying tourniquets to my thigh. I can remember putting his forehead to mine and telling me that I was going to be okay."
"I was getting increasingly cold and I knew I was dying and I remember having moments of panic and seeing carnage and blood on the street. I had no idea what had happened I just knew it was bad. I remember thinking how can this be real, everything was so happy a few moments ago," she said.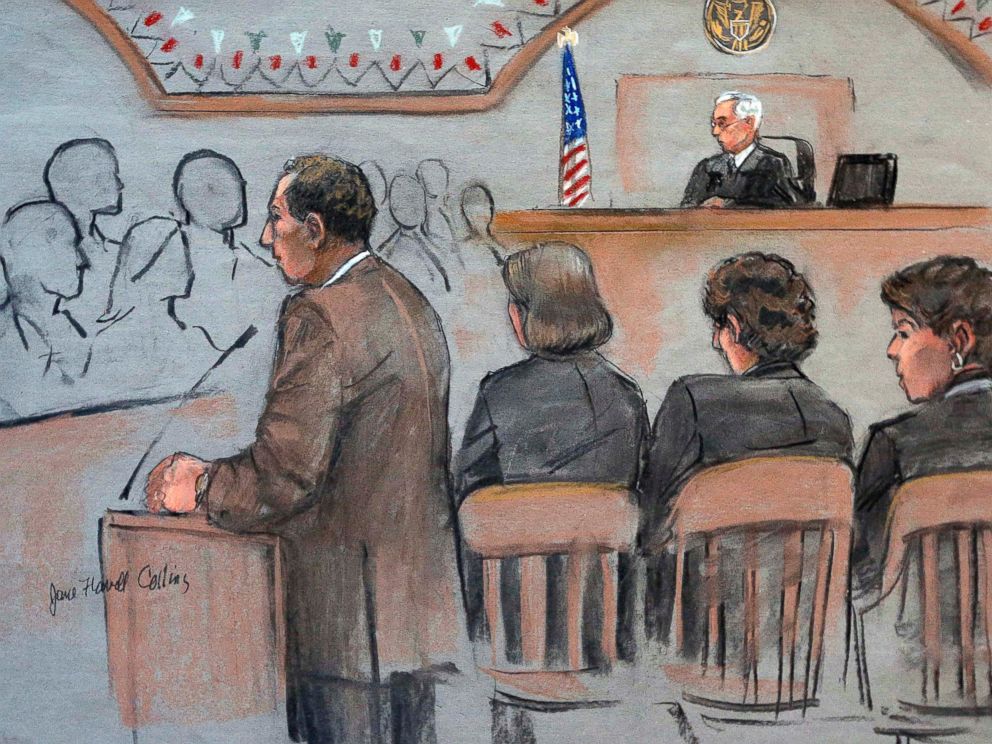 Another witness for the prosecution, Rebecca Gregory, a tourist from Houston, was celebrating her birthday in Boston with son Noah, 5 on the day of the race. She and her son were cheering on family member near finish line when the first bomb went off.
"I looked down and I couldn't see my legs. My bones were literally on the sidewalk next to me. I thought that was that day I would die," she told the court.
So far, the defense has declined to cross examine the government's witnesses.
Tamerlan Tsarnaev's Widow Under Investigation
While prosecutors focus today on Dzhokhar, authorities told ABC News they're also investigating whether Tamerlan's wife, Katherine Russell, knew of the deadly plot beforehand.
Russell is suspected of being the woman who accompanied Tsarnaev to a Macy's in Boston two months before the April 2013 attack where he bought five pressure cookers – two of which were allegedly used to make the bombs placed at the marathon finish line. In an affidavit to search the Tsarnaev's home, FBI agents said they were looking for clothing consistent with those seen on a security video at Macy's.
Lawyers for Russell and federal prosecutors initially declined to answer ABC News questions about Russell's status, but a senior law enforcement official said she could face charges of misprision of a felony, or failing to notify authorities of a crime about to happen.
Following Tuesday's ABC News report on Russell, an attorney for Russell, Joshua Dratel, said in a written statement to ABC News, "There is no video of Ms. Russell at a Macy's in connection with the purchase of pressure cookers, and any claim that there is such a video, or any claim remotely approaching that, is false. Also false is any allegation that Ms. Russell was involved in the purchase of any pressure cookers, or that she accompanied her late husband with respect to any such purchase by him."
Days after Tamerlan was identified as one of the suspected bombers, another of Russell's attorneys at the time, released a statement saying Russell was assisting the investigation into the bombing and was not aware of the plot beforehand.
"As a mother, a sister, a daughter, a wife, Katie deeply mourns the pain and loss to innocent victims, students, law enforcement officers, families and our community," the attorney, Miriam Weizenbaum, said then.
[This report was updated March 5, 2015 to include a statement from an attorney for Russell.]
Get real-time updates as this story unfolds. To start, just "star" this story in ABC News' phone app. Download ABC News for iPhone here or ABC News for Android here. To be notified about our live weekend digital reports, tap here.