— -- After a 12-year-old from Yukon, Oklahoma, hand-wrote letters to executives of 32 NFL teams, he was shocked and delighted to receive a personal response from the owner of the Carolina Panthers, who have undoubtedly made a fan for life.
When Heather Pope's son Cade was home sick from school the week before Christmas, he was "kind of bored" and "needed something to occupy his time," so he asked his parents if he could write to every professional football team.
Cade penned 32 letters—-one to the CEO, owner, or president of each team.
Pope said they "decided to go that higher route" because "getting a response from them would be harder but more meaningful."
"So we weren't quite sure what we could get back, if we could get back anything," she added.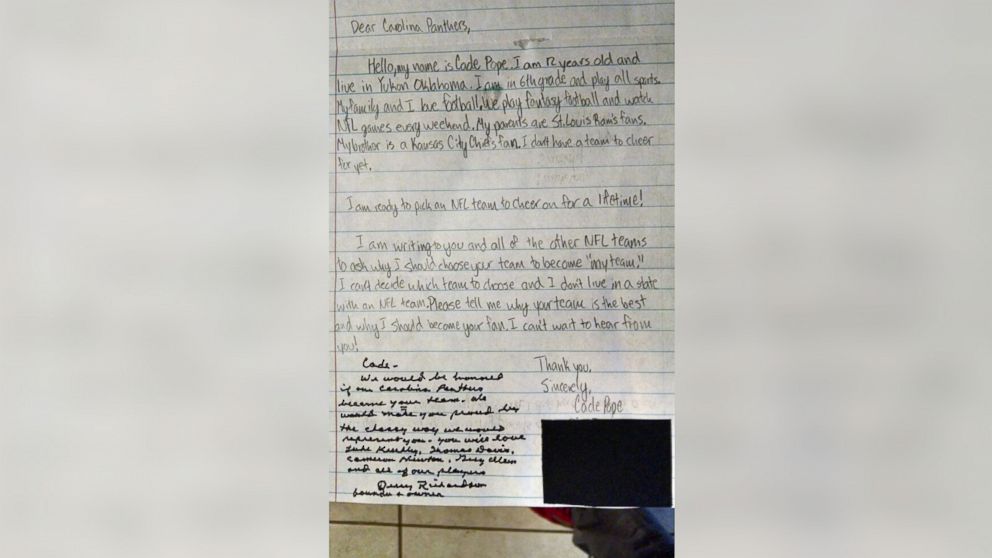 On December 26, Cade sent 16 letters to the NFC teams. On January 5, he sent 16 letters to the AFC teams.
A letter to Carolina Panthers owner Jerry Richardson was in the first batch.
Cade wrote, "My family and I love football. We play fantasy football and watch NFL games every weekend. My parents are St. Louis Ram's fans. My brother is a Kansas City Chiefs fan. I don't have a team to cheer for yet. I am ready to pick an NFL team to cheer on for a lifetime!"
Pope said, "With Christmas and different activities it took him about three weeks to hand-write all of those letters."
"He didn't really have one team that he wanted to hear from," she said. "He just wanted to see what kind of response he'd get."
Last Thursday, Pope was pulling into her driveway when a delivery man arrived with a box from the Panthers.
Cade was still at school, but she texted him a photo. "I asked him to guess which team it was and gave him a hint that they were in the playoffs. The Panthers was his first guess."
When Cade came home he opened the package to find a signed Carolina Panthers helmet as well as a handwritten note from Richardson.
Pope said the first line of Richardson's "kind response" stood out most. The team owner wrote, "'We would be honored if our Carolina Panthers became your team. We would make you proud by the classy way we would represent you.'"
Richardson also "talked very highly of some of his players."
Pope said Cade was "overjoyed that he got that kind of response."
Richardson "takes fan mail extremely seriously," said Panthers Director of Communications Steven Drummond. "He is one of those owners who will get the mail every day and read it and always write handwritten responses."
While the letter now resides in Cade's room, Pope says it's the gesture that impressed her most.
"It's not the merchandise, it's not the items they sent us," she said. "It's what they tell us. Why he should be their fan."