Brock Turner Walks Out of Jail After Stanford Sex Assault Sentence
Brock Turner served three months of his six-month sentence.
September 2, 2016, 3:11 PM
— -- Former Stanford University swimmer Brock Turner, who was sentenced to six months in jail for sexually assaulting an unconscious woman on campus, walked out of a jail in Santa Clara County, California, this morning, after serving half of his six-month sentence.
He left the facility shortly after 6 a.m. local time, with a pack of reporters waiting for him. He ignored questions as he walked quickly from the jail entrance to the backseat of a waiting car.
Turner received hundreds of pieces of hate mail while he was behind bars, James Jensen of the Santa Clara County Sheriff's Office told ABC News.
Now that he's out of jail, Turner, now 21, must complete three years of probation and register as a sex offender.
He's expected to return to his hometown in Greene County, Ohio. Within five days of his return, he must go to the sheriff's department to be photographed and registered as a sex offender, Greene County Sheriff Gene Fischer told ABC News, adding that postcards will be mailed to alert nearby homeowners that a sex offender lives in the area.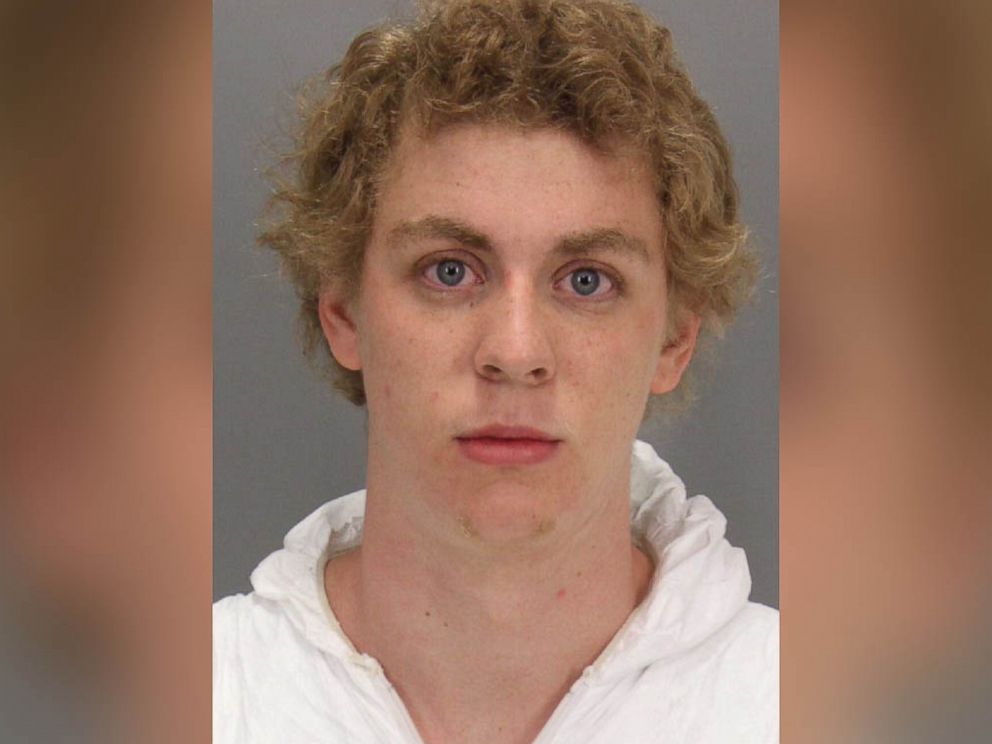 The January 2015 assault — digital penetration — was stopped by two men on bicycles who noticed that the victim wasn't moving, authorities said. Turner, who was 19 at the time, fled, but the witnesses tackled him and held him until police arrived, according to the Santa Clara District Attorney's Office.
Turner was found guilty in March of three felony charges: assault with intent to commit rape of an intoxicated/unconscious person, penetration of an intoxicated person and penetration of an unconscious person.
He was facing up to 14 years in prison. Prosecutors asked for six years, but Judge Aaron Persky sentenced Turner on June 2 to six months in jail and three years of probation, as recommended by the probation department.
"I think it was a wrong sentence," Santa Clara County Sheriff Laurie Smith said this morning. "It's a terrible crime. We have a victim. No woman should have to go through that," she said.
"And he should be in prison," she added, "but we're done with him today."
Palo Alto Mayor Patrick Burt was among the speakers at a news conference today held by protesters advocating for the recall of Judge Persky in the wake of Turner's six-month sentence.
The mayor today called for Persky to "accept responsibility" and resign. Burt said Persky has a "biased and distorted sense of justice" and an "extensive pattern of bias" -- he claimed Persky has empathy for defendants with whom he identifies.
California Assemblymember Nora Campos also spoke, saying, "We're here because justice did not happen at 6 o'clock this morning" -- when Turner was released from jail.
Campos also said, "We are here to stand with 'Emily Doe.'" The victim's identity has not been released.
"Emily, we know that that was a hard journey for you and your journey isn't over. But we came forward and we're here today to make sure that your voice, along with all the other women that have been assaulted from a sex crime, are heard," she said.
Campos was a coauthor on California bill AB 2888, which was inspired by Turner's case, that aims to ensure that anyone in California convicted of sex assault can't be sentenced to probation. The bill is now heading to California Gov. Jerry Brown.
Gary Goodman of the Santa Clara County Public Defender's Office -- who was not an attorney for Turner -- told ABC News Thursday that Turner is "not a predator."
"It was a bad mistake on that night. Nothing indicates it's anything more or less than that. And he will suffer the consequences for the rest of his life," he said.
Goodman also called Persky "a fair and very competent jurist."
"I support him because he has high integrity," Goodman said. "I support him because he's an honest player and he is able and willing and will make fair and correct calls."
"We'd be losing so much if he was recalled," Goodman said. "You need judges like that who are willing to make that big call. Whether it's popular or not, that's what we want from judges. We don't want somebody who's going to be affected by the media ... by pressure from outside sources."
Persky cannot comment, as the case is considered ongoing because of the possibility for appeal. However, the Santa Clara Superior Court announced last week that Persky had requested a transfer from the criminal to civil division, which will take effective next Tuesday, Sept. 6.
Turner's attorney declined to comment to ABC News.
ABC News' Jenna Harrison, Matt Gutman and Harry Traynor contributed to this report.