Reading on the ABC News app? Watch the full premiere episode of "Career Canines" on Facebook.
Odey, a 3-year-old vizsla trained to detect explosives, recently deployed to Houston in the aftermath of Hurricane Harvey and has even been called on to help at the presidential inauguration.
"Odey loves what he does. He's always rambunctious. He always wants to play. He's always on the go. So he loves working. This is a great job for him. He's perfect for it," said Braulio Fulp, Odey's handler.
Fulp is with the Transportation Security Administration's explosive detection canine team at Phoenix Sky Harbor International Airport. When he and Odey aren't deployed, they help keep the Phoenix airport safe by screening passengers, luggage, planes and vehicles.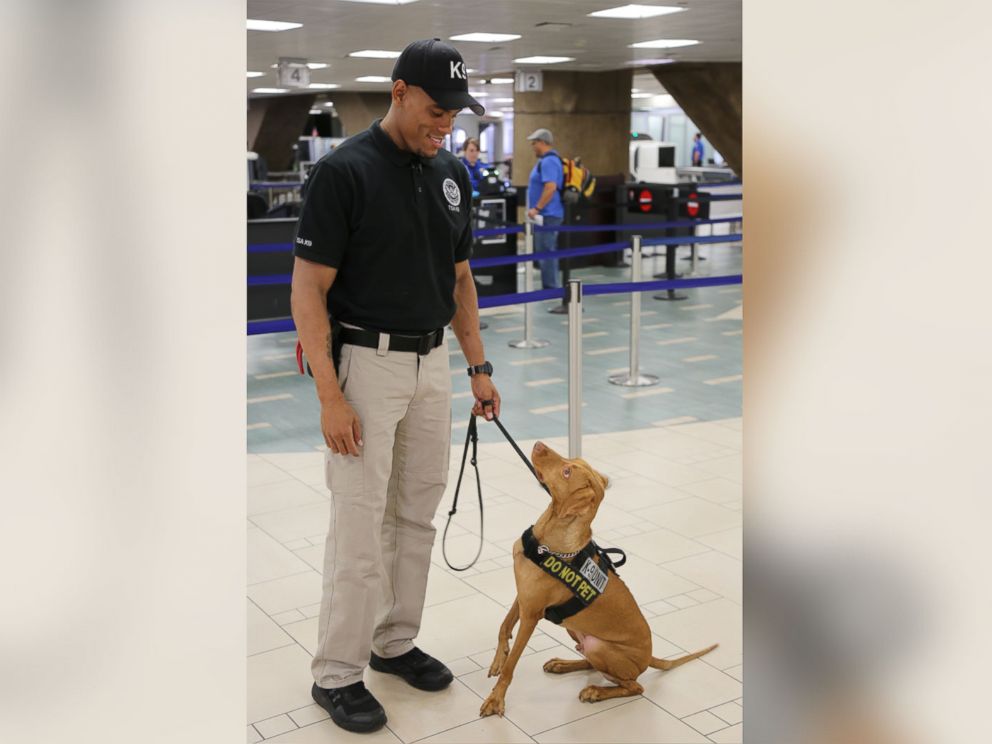 "Odey is trained to detect explosives. A normal working dog would just detect explosives in areas. Usually like on vehicles or a warehouse or an aircraft. We do that, and we're unique being with TSA that we're able to search people," said Fulp.
Fulp, an Army veteran of the Iraq War, sees his work with the TSA and Odey as a continuation of his service to the country.
"So being in the military for so long, my job was to clear out for my buddies behind me and to make sure the environment was safe so we could operate. Working with TSA, I continue to do that. The last thing we want to happen is something on a plane go off, or something in the airport happen, or something in the subway or train. So my main mission is to prevent that from happening," Fulp said.
He added, "My dog is able to serve the country. He'll get a card, and he has a tattoo on his ear, his badge number. So he's my little officer."
Fulp previously worked as an instructor and trainer for the Department of Defense's military dog program. Before partnering with Fulp, Odey went through an extensive training program at Lackland Air Force Base in Texas. On a normal day, Odey searches thousands of people, Fulp said.
Fulp rewards Odey for his work by playing with him.
"The more they want to play, the more we can harness that and use it for what we want to do, which is detect explosives," Fulp said.
Off the clock, Odey plays with various toys, but at work a particular one is reserved for when he detects explosives: a red Kong toy. Fulp uses the word "seek" to give Odey the command to search for explosives.
"When I give him that seek command, he's thinking, 'OK, something's hidden here. I have to find my ball.' He's looking for that smell that he associates with his ball," Fulp said. "He's looking for that odor that means 'I get to play.'"
Odey traverses the airport, searching people and sniffing passengers lined up to go through security or in the gate area.
To keep Odey sharp, Fulp and other members of the TSA explosive detection team set up training exercises. They plant training aids laced with the scent of explosives under vehicles, on planes or in bags carried by TSA employees. Odey will sniff out the scent, and when he finds it, he sits down to indicate to his handler that he has found explosives.
Fulp described his unique bond with Odey and how the two feed off each other.
"There's an old saying that it runs down leash. If you're having bad day, it's running down leash to your dog. So I have to keep that in mind whenever I'm working my dog. If I'm having the worst day ever, I have to reach down deep and get over it and work, because if I give off the aura that I've had a crappy day, it's going to go down leash, and my dog's not going to work as well," Fulp said. "It runs up leash as well. If he is having a really great day, it's obvious we're probably doing something right, so it's running up leash."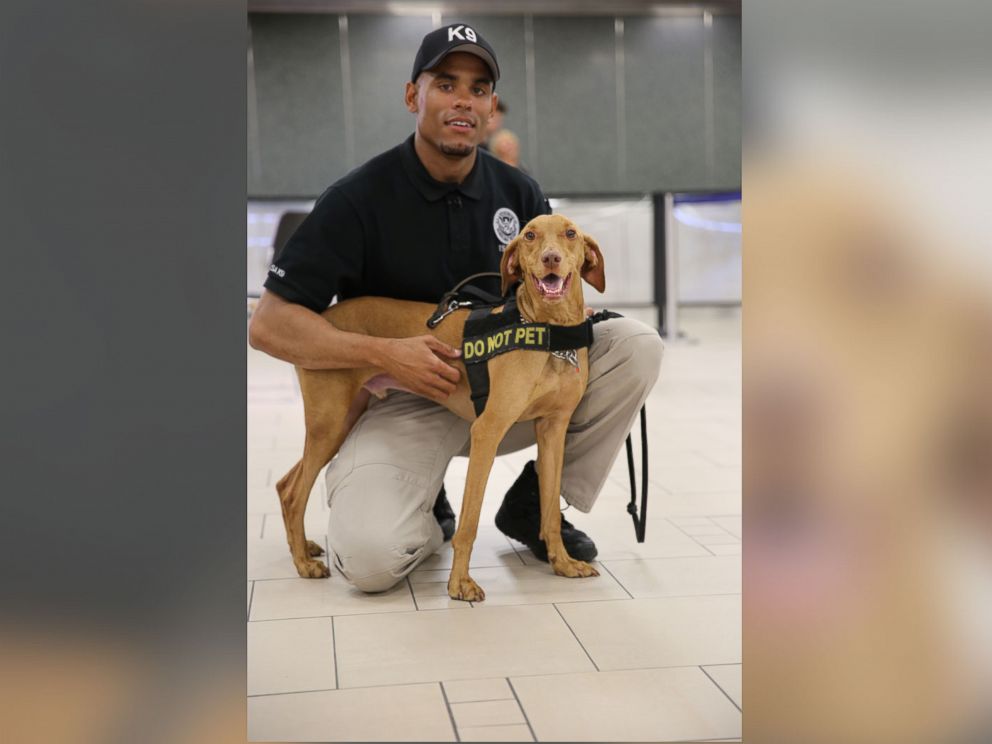 For Odey and his handler, their partnership extends outside the airport. Odey lives with Fulp.

"When we're off the clock, Odey, he has that on and off switch. When he's off, he's off. He's hanging out on the couch. We're watching my Tampa Bay Buccaneers get after it. Or we're watching TV, watching some news. He just hangs out on the couch with me," Fulp said.

Odey still has several years of being a working dog ahead of him, Fulp said, adding that when it's time for his partner to retire, he plans to adopt the dog.

"Odey is a partner for life," Fulp said.

Follow "Career Canines" on Facebook. Check in weekly for new episodes.