Cargo boat fire that killed 2 firefighters put out after 6 days
The cause of the blaze is still under investigation.
The massive fire aboard a cargo ship filled with cars that took the lives of two Newark firefighters was put out after nearly a week of burning, the U.S. Coast Guard said Tuesday morning.
Investigators said they will now begin investigating the cause of the blaze on the Italian freighter Grande Costa D'Avorio. The vessel will then be broken down for scrap.
"The salvage process could easily be one to two months," Coast Guard Capt. Zeita Merchant said during a news conference.
The most recent tests of the air and water around the ship's berth indicated they were safe, said Kevin Perry of Gallagher Marine Systems, the company that was hired by the ship's owner, Grimaldi Group, to extinguish the fire and conduct salvage operations.
Firefighters were dispatched to the Port Newark Container Terminal on July 5 at around 9:30 p.m. ET after receiving a report about multiple vehicles on fire aboard the ship.
The freighter was carrying used cars destined for Africa with a stop in Providence, Rhode Island, in between, according to the Port Authority of New York and New Jersey.
"The decks of the ship is essentially a parking garage," Port Director Beth Rooney said. "What we had burning were components and parts of cars."
Firefighters managed to extinguish the main body of the blaze but the flames had extended to multiple levels of the vessel.
At 10:25 p.m. ET the firefighters called a "Mayday" after two firefighters were trapped inside the ship followed by a second "Mayday" call 15 minutes later, city officials said.
Two Newark firefighters, Augusta Acabou, 45, and Wayne Brooks, 49, were pulled out and later died at the hospital.
Acabou served in the Newark Fire Division for 9 1/2 years and was assigned to Engine 16, Tour 1, according to city officials. Brooks was a veteran of the fire department for 16 1/2 years and was assigned to Ladder 4, Tour 1.
The last time a Newark firefighter was killed on the job was in 2007.
Five other firefighters were injured in the blaze, officials said.
One of the issues encountered by the firefighters was that their two-and-a-half-inch fire hose lines weren't compatible with the boat's one-inch connections, a source close to the investigation told ABC News on Thursday.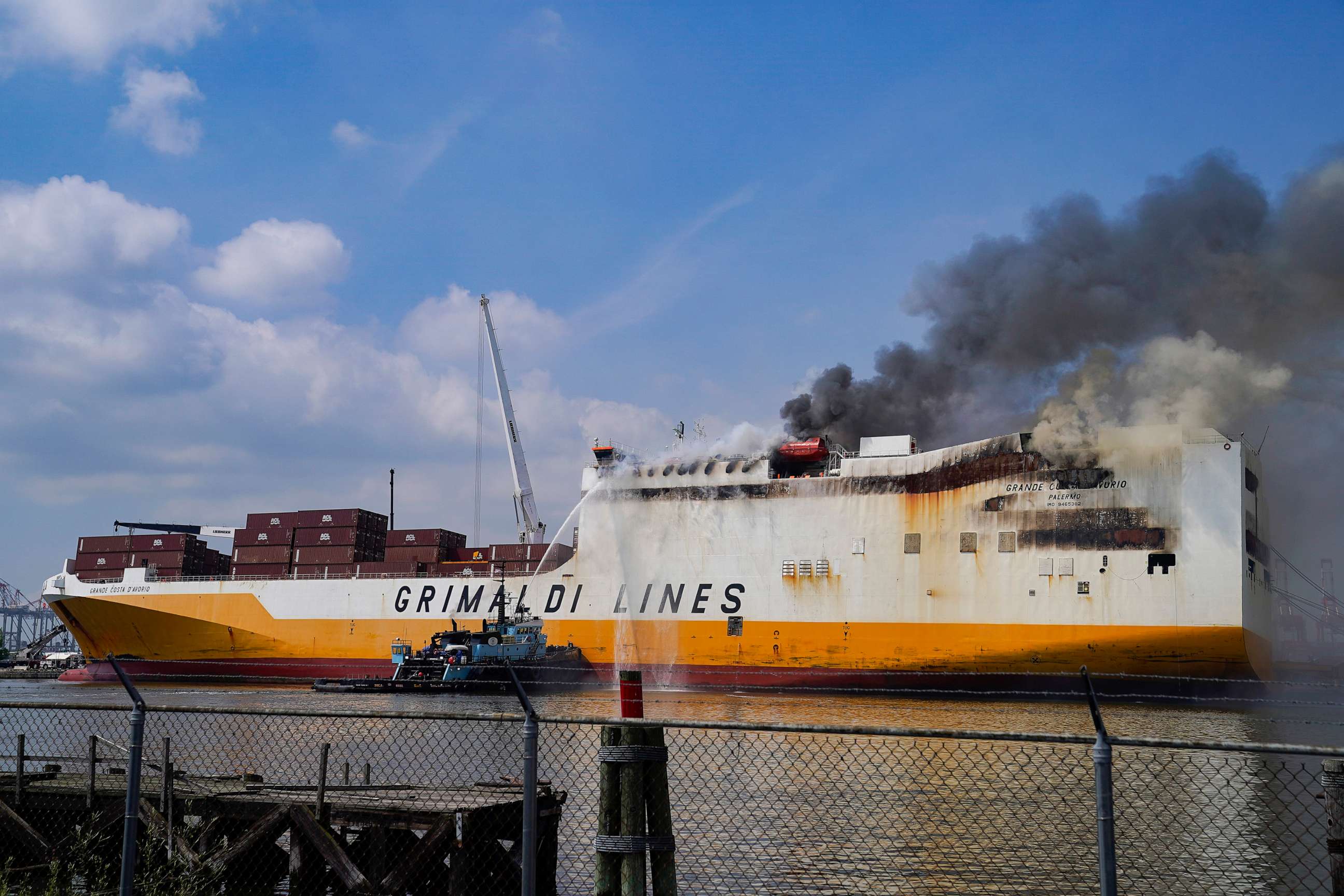 Instead, the firefighters were forced to use the fire hoses on the ship, which output less water and pressure than they were used to, the source said.
The New Jersey firefighters also weren't trained to handle blazes that take place on cargo boats, the source said.