— -- A prayer vigil in honor of Keith Lamont Scott turned violent Wednesday night in Charlotte, North Carolina, prompting the governor to declare a state of emergency, as riot gear-wearing police fired tear gas at demonstrators who threw bottles at police, blocked an interstate, threw objects at passing cars, jumped on vehicles, looted businesses, vandalized a Hyatt hotel and attacked its employees.
And one of the protesters was in critical condition and on life support after being shot by another civilian.
Four police officers sustained non-life threatening injuries, the Charlotte-Mecklenburg Police Department tweeted early Thursday morning.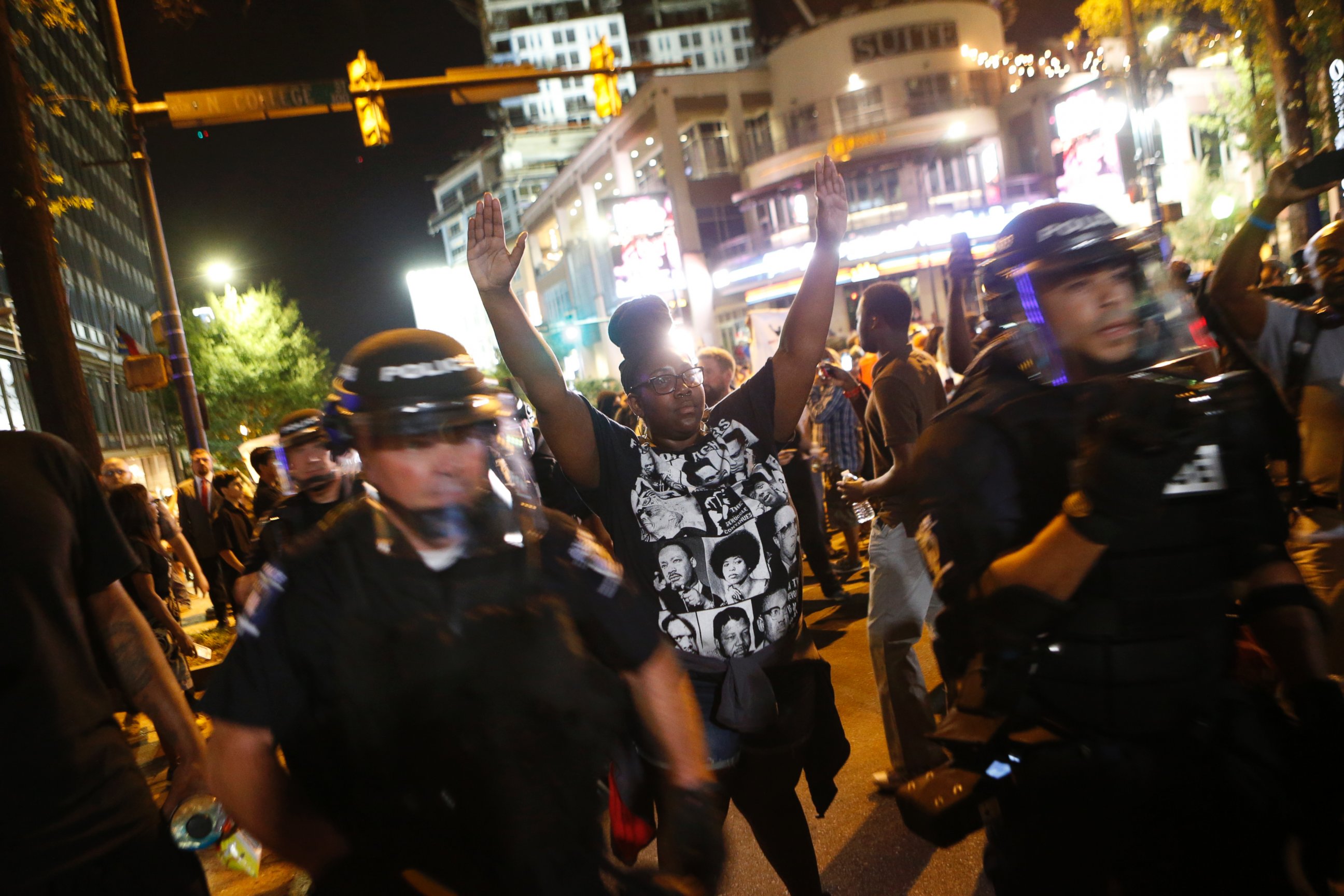 "Governor Pat McCrory has declared a State of Emergency upon the request Charlotte Mecklenburg Police Chief Kerr Putney," read a statement from the governor's office. "The governor has also initiated efforts to deploy the North Carolina National Guard and the State Highway Patrol to assist local law enforcement."
Earlier in the evening, Gov. McCrory said, "Upon a very recent request of Chief Putney, the State Highway Patrol is sending in troopers to further help the Charlotte Mecklenburg Police Department."
Also on their way to Charlotte are officials from the White House and the Department of Justice, according to ABC Charlotte affiliate WSOC-TV, citing Mayor Jennifer Roberts.
And the North Carolina NAACP State Conference said in a statement that it "will be in Charlotte to talk with the family, key members of the community and City leaders" on Thursday, followed by a press conference in the afternoon.
Roy Cooper, North Carolina's attorney general said in statement, "Violence will not bring justice ... We must come together as a community to get answers and find a better path forward."
WSOC reported that looters hit a Charlotte Hornets team store, which the NBA team confirmed. The Hyatt House hotel in the city's downtown also said protesters broke the property's windows and attacked two employees.
The protesters' wrath extended into cyberspace, as well: WSOC reported that the city of Charlotte's website had been hacked Wednesday evening.
Before midnight, protesters descended upon Interstate 277, which they blocked. According to WSOC, protesters also threw objects at passing vehicles.
The city of Charlotte initially tweeted that the protester who was shot by the other civilian was dead, but it later tweeted, "CORRECTION UPDATE: Civilian who suffered gunshot wound during protests is on life support, critical condition. Not deceased." The initial tweet also said police "did not fire shot" at the protester.
Charlotte-Mecklenburg Police Department spokeswoman Cindy Wallace said Wednesday night of the shot protester, "Officers responded to North College Street and East Trade Street to an ADW [assault with a deadly weapon] call for service at approximately 8:31 p.m. One person was located with an apparent gunshot wound and transported to CMC Main [Carolinas Medical Center]. This is all the information I have at this time."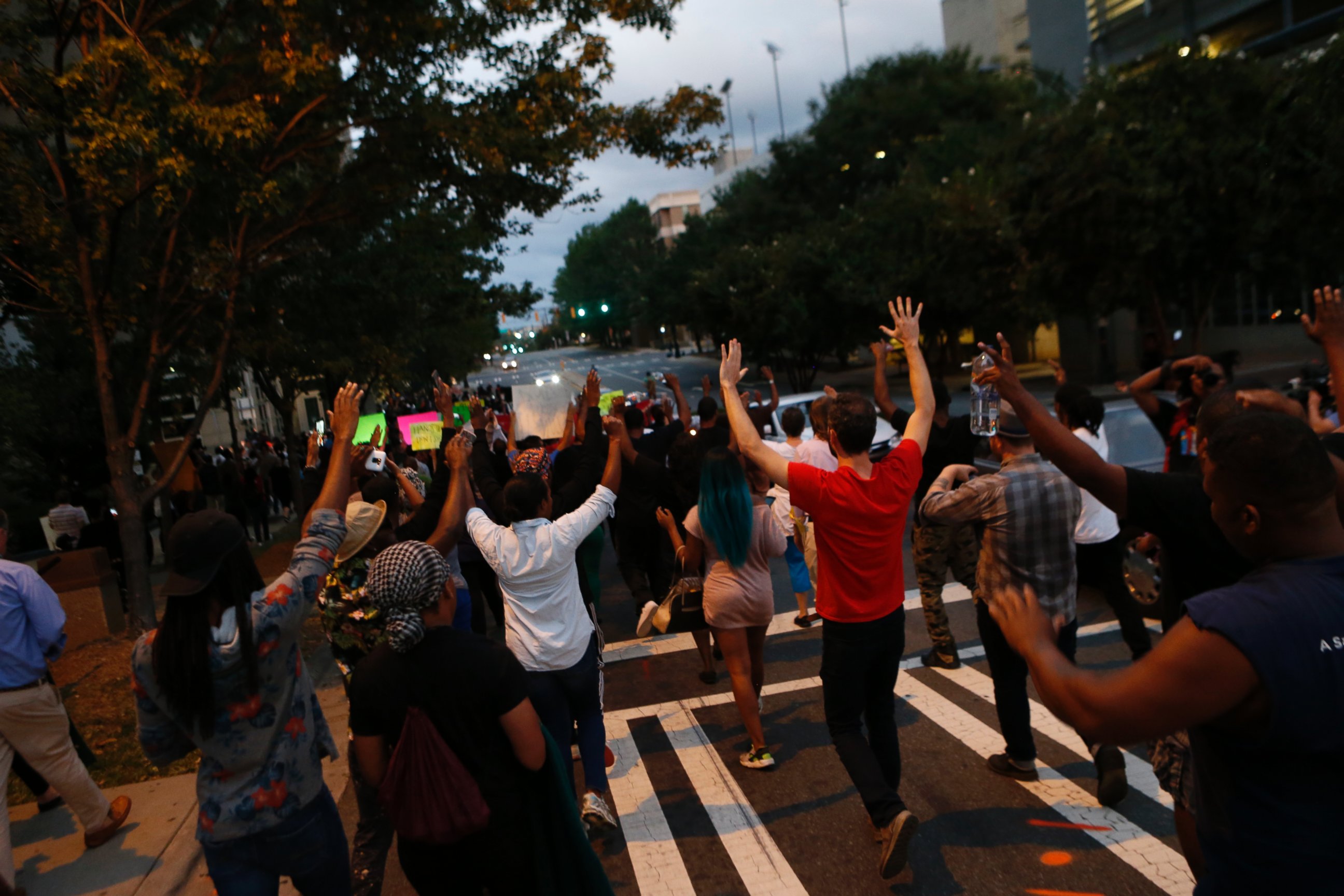 Keith Lamont Scott is the armed man who was fatally shot by Charlotte-Mecklenburg police at an apartment complex Tuesday. His wife issued a statement Wednesday afternoon addressing the protesters, and urging them to exercise restraint against law enforcement officers.
"As a family, we respect the rights of those who wish to protest, but we ask that people protest peacefully," the statement read. "Please do not hurt people or members of law enforcement, damage property or take things that do not belong to you in the name of protesting."
And governor Pat McCrory said in a statement Wednesday night, "Any violence directed toward our citizens or police officers or destruction of property should not be tolerated."
Hundreds of protesters Wednesday night shouted slogans, including "Hands Up, Don't Shoot" and "Black Lives Matter" while filling the streets of downtown Charlotte.
After protesters rushed riot gear-wearing police, officers responded by firing tear gas to disperse the crowd.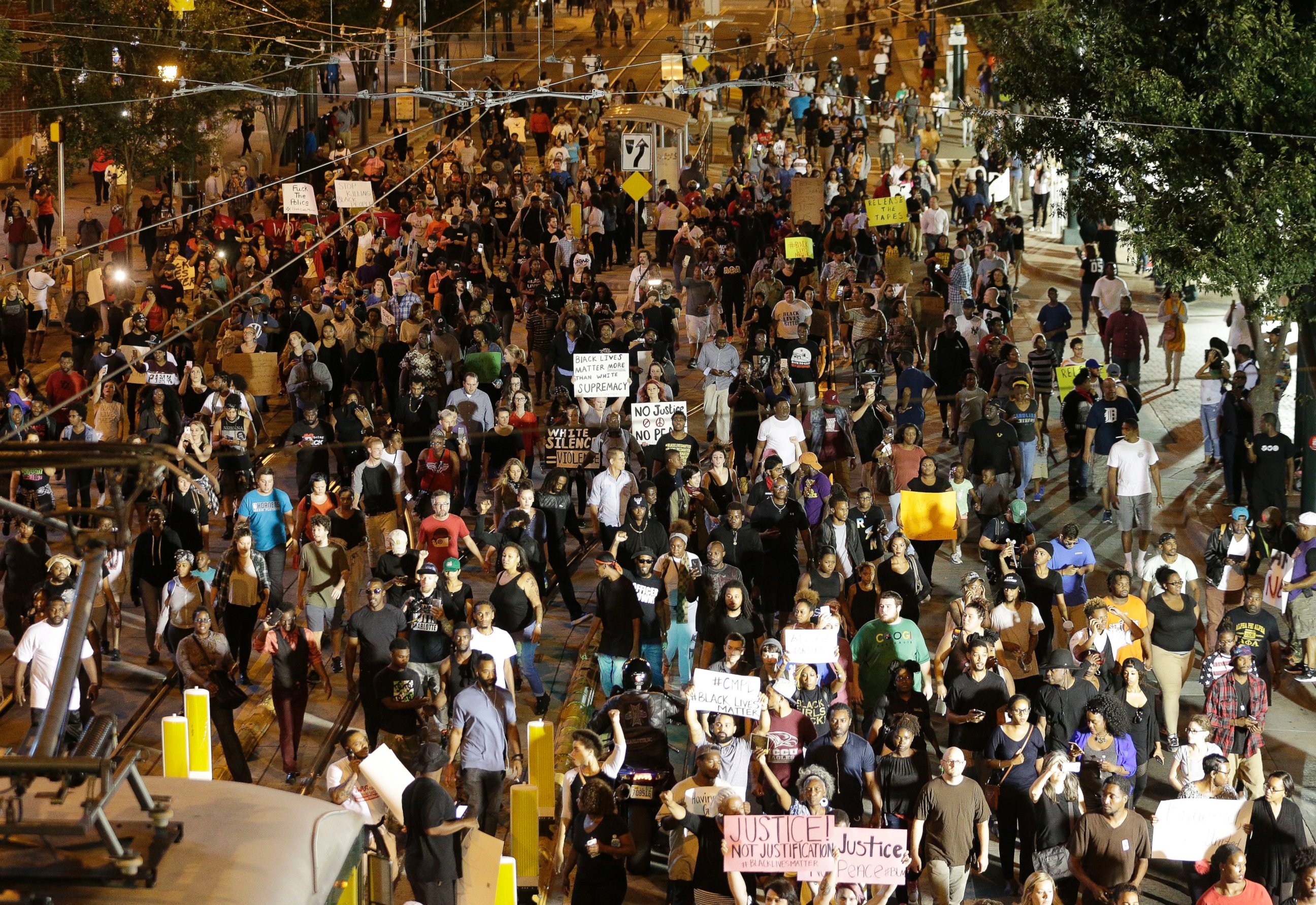 At least one person was injured in the confrontation, though it wasn't immediately clear how, according to The Associated Press. Firefighters rushed in to pull the man to a waiting ambulance, the AP reported.
ABC News' Darren Reynolds, Joshua Hoyos, and Matthew Foster contributed to this report.
Editor's Note: A previous version of this story reported -- based on a statement provided by the city of Charlotte at 9:33 p.m. -- that the protester shot by another civilian was dead. The city of Charlotte then announced at 10:42 p.m. that the protester was not dead, but on life support and in critical condition.