Charlottesville murder suspect's teacher: 'He thought Nazis were pretty cool guys'
James Fields frequently voiced approval for the Nazis, according to his teacher.
— -- The 20-year-old Ohio man police say accelerated his car into a crowd of counter-protesters in Charlottesville, Virginia, in an incident that left one dead and 19 injured "thought the Nazis were pretty cool guys," according to his former history teacher.
James Alex Fields Jr. was charged with second-degree murder following Saturday's incident. Heather Heyer, the 32-year-old victim, was marching alongside members of the Democratic Socialists of America and other activist groups at the time she was killed, according to witnesses.
Derek Weimer says he taught World History to Fields, as well as a course called America's Modern Wars, while Fields was a student at Randall K. Cooper High School in Union, Kentucky. He described Fields as being "fairly quiet," "smart," and also an open admirer of Adolf Hitler and the Nazis.
"He would say things that had that bent to it," Weimer told ABC News of Fields' interest in Nazism. "He really thought the Nazis were pretty cool guys."
Weimer said that he and Fields engaged in many private discussions, as well as the ones that were held publicly in class, and that Weimer frequently attempted to "challenge his beliefs" about Nazism.
He said that Fields confessed to reading and enjoying Mein Kampf, Hitler's 1925 autobiography -- a book that is considered a touchstone for white supremacist and neo-Nazi groups.
"He would usually make his points in a calm and respectful way," Weimer said, responding to a question about whether Fields had exhibited signs of the violence police say he displayed on Saturday.
Some of Fields' classmates at the school recalled a trip to Europe a group of students took after graduation in 2015, when they visited the Dachau concentration camp. Two of the students on the trip said when they arrived at the concentration camp, Fields said, "This is is where the magic happened."
Weimer noted that Randall K. Cooper High School is not particularly diverse, and said that as a result, he didn't have many opportunities to see Fields interact with many non-whites or Jewish people.
"We had between 1200 and 1300 students at that time," Weimer said. "Maybe four percent were black. There were only a handful of Jews. The school was just about six percent Latin-American."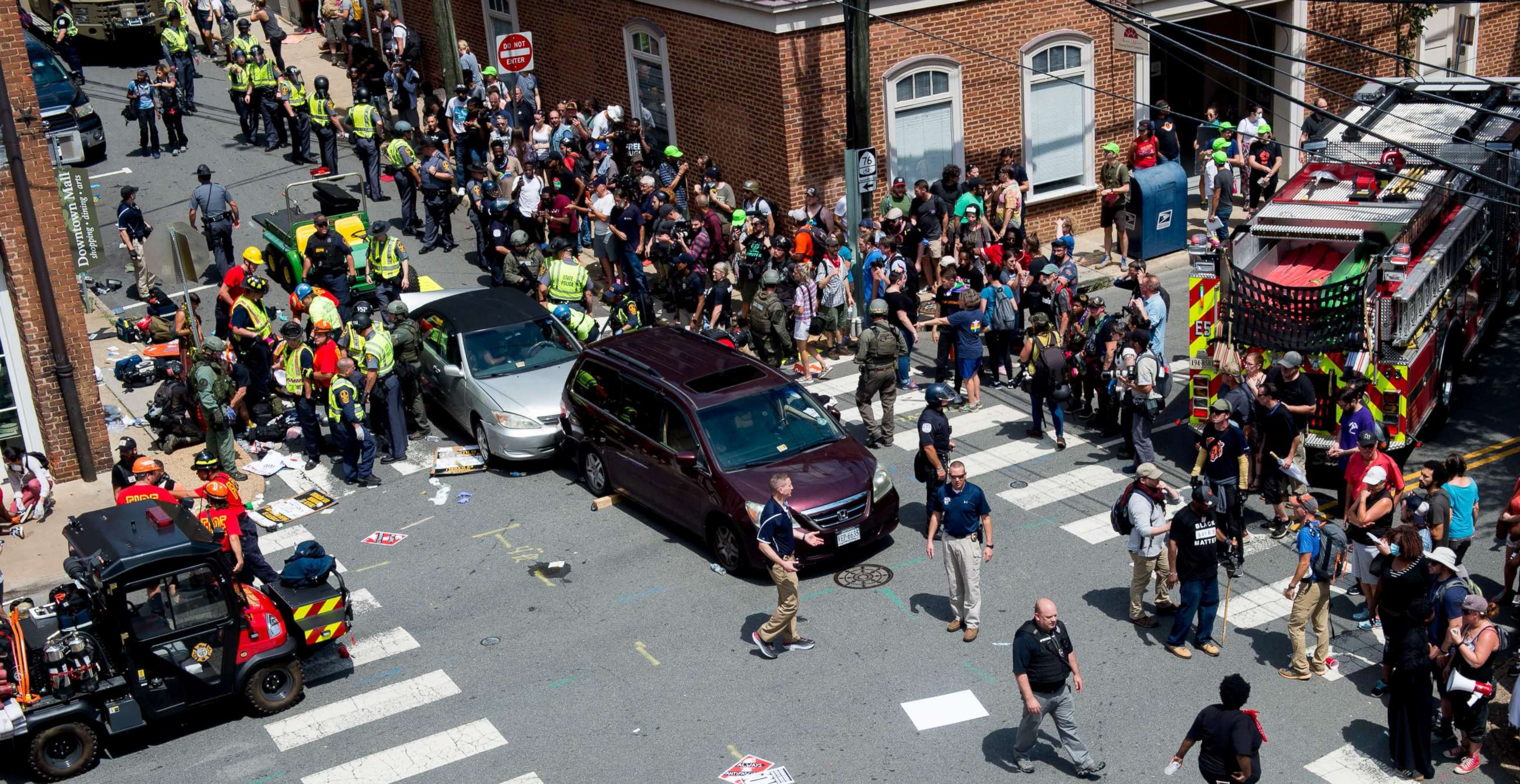 Fields attended basic training from August 2015 until December 2015, when he was released for failure to meet training standards, according to a statement from the Army.
"As a result he was never awarded a military occupational skill nor was he assigned to a unit outside of basic training," Army spokeswoman Lt. Col. Jennifer Johnson said.
He had an 'African-American friend'
Samantha Bloom, Fields' mother, told the Associated Press that her son James Alex Fields Jr. "had an African-American friend," in response to a question about whether or not he was a white supremacist.
"I just knew he was going to a rally. I mean, I try to stay out of his political views. You know, we don't, you know, I don't really get too involved, I moved him out to his own apartment, so we -- I'm watching his cat," Bloom told the AP.
"I thought it had something to do with Trump. Trump's not a white supremacist," Bloom added about her son's appearance at the white nationalist gathering.