— -- The night before running a marathon involves strict preparations. For 30-year-old Steve Bergstrom, preparing to run his sixth Bank of America Chicago marathon also involved some Sharpie work.
It all started two days before the race, when Bergstrom, who had broken up with his girlfriend a month before, decided to turn his back into a personal billboard, writing his Facebook page address and advertising his single status.
"I wanted to find a date that understood my priorities and lifestyle," the marathoner and fitness enthusiast told ABC News. "I thought, 'If I'm not getting anything, there's still a good chance someone else might get a good laugh out of this.'"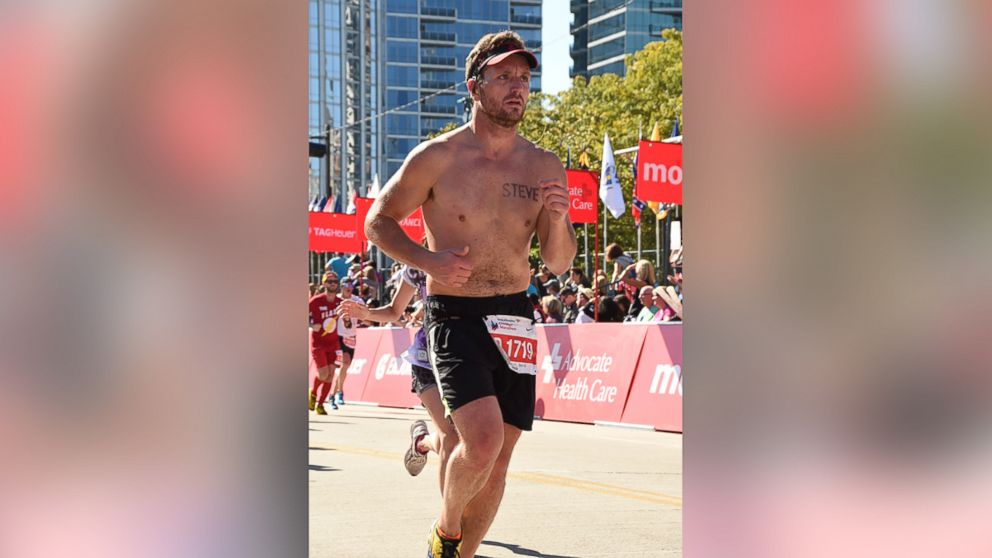 Bergstrom already knew he was going to run shirtless -- the forecast for Oct. 9, the day of the race, called for a warm day in Chicago. Becoming Internet famous was the last thing on Bergstrom's mind.
"This was absolutely not a ploy to get as many dates as I can," he said. "I would like to find myself in a position where I don't have to do this again."
Bergstrom received a dozen friend requests on Facebook, and shortly after the marathon, when an article was written about his race-day gimmick, he reached the platform's request limit of 1,000.
One of the early requests came from Liz Heisler, who, coincidentally, had come to watch the race with a funny sign.
"She was standing with a sign with a picture of her cat that said 'My mom is searching for a #catdad,'" Bergstrom said. "I told her if we don't meet up and have a drink when you held up a sign and I held up a sign, then we're missing out on good storytelling later."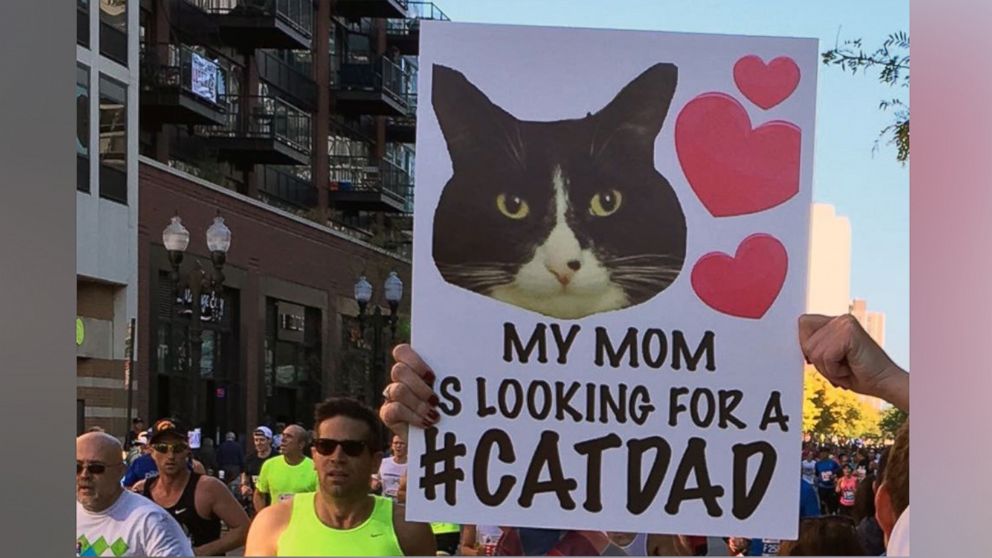 Heisler, also a runner, said she knows how a funny sign can help during the race, so she and her friends decided to make one featuring her cat, Matthew, asking for a date. On race day, Steve caught their attention more than once, but neither Heisler nor her friends were expecting anything.
"We saw Steve at a couple spots along the course. ... By mile 25, we thought, 'Why not?'" Heisler told ABC News. "I was the only single one in the group, so I'm the lucky one who friended him."
Since then, they've gone on two "great" dates.
"It's been a fun couple of weeks to say the least," Heisler said.